Highlights
Flipkart Big Diwali sale brings discounts on electronics
The sale is now live for all customers
Flipkart recently conducted a Big Dussehra sale
How do you want to celebrate Diwali this year? What do you want as a present? Are you looking forward to the Big Diwali sale to get the mobile handset of your choice?
In Brief
Flipkart and Amazon want to give their gadget savvy customers a big reason to celebrate this festive season that has a number of festivals lined up in two months, which is why they came out with the Big Billion Days Sale and Great Indian Festival, respectively, where users have loved all the exciting discount offers.
It is due to these sale offers that many consumers are able to buy all the excellent devices and gadgets that they otherwise could not due to it falling out of their budget limits, which is why e-commerce platforms utilize such opportunities to provide their loyal customers a treat so that the festive season is one they'll remember for a long time.
Flipkart seems to be keeping the momentum going as its new Big Diwali Sale 2022 has gone live for all users on the company's official website where they can avail discount offers on various electronic gadgets and make this Diwali a truly memorable one due to the offers in general.
The Diwali sale offer will be open until October 16, 2022, which will be a 5 day sale offer that all consumers can avail from midnight while Kotak and State Bank of India (SBI) credit card holders can get additional discounts while other shoppers are lucky enough to get exchange offers, and no-cost EMI options, along with Paytm-based ones.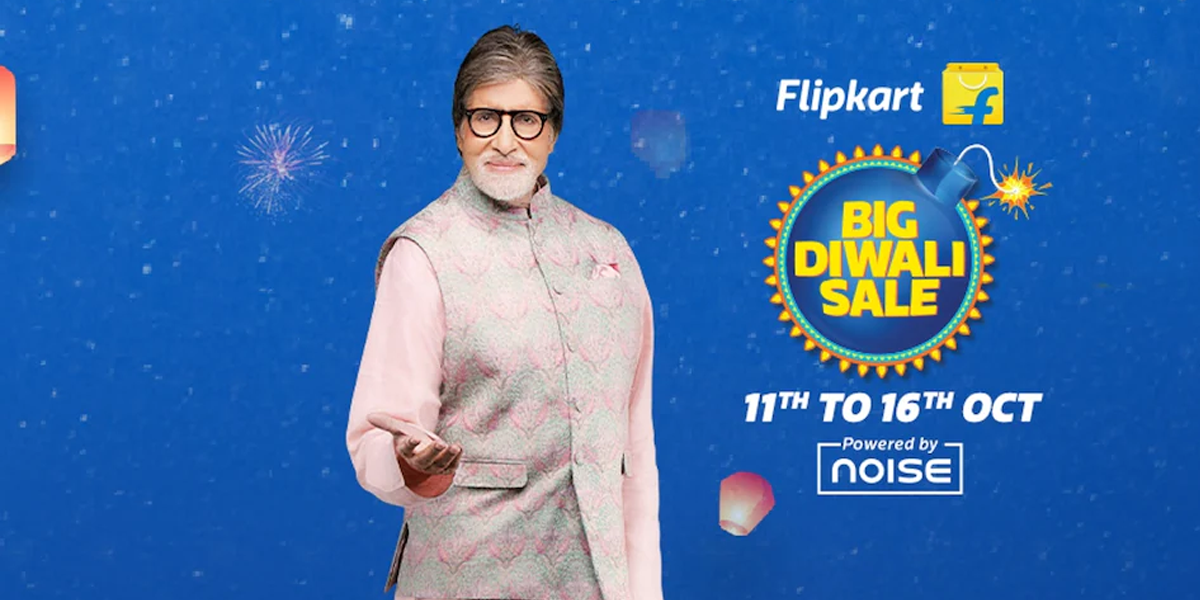 Best Mobile Offers during Flipkart Big Diwali Sale 2022
Let's look at some important smartphone deals and offers that customers can avail during the big Diwali sale because Flipkart wants to make sure that their offers are such that customers' can't refuse.
Google Pixel 6a– The MRP of this smartphone is Rs.43,999 but Kotak and SBI card holders can get a Rs.1,250 discount while no-cost EMI options start at Rs.5,700 and lastly, the bundled exchange offer is for Rs.16,900. As part of the sale, Pixel 6a is now available for Rs.34,199.
Vivo T1 44W– This model comes with an MRP of Rs.14,499, where Kotak and SBI card holders can get a Rs.1,000 discount, no-cost EMI options begin at Rs.2,417 per month, while the exchange offer is listed up to Rs.13,600, following which you can get it for Rs.13,499. It comes with a 6.44 inch touchscreen display and powered by octa-core Qualcomm Snapdragon 680 processor
Nothing Phone 1– The MRP of this model is Rs.33,999 while Kotak/SBI card holders get a Rs.1,500 instant discount where interested users can swap it for an old handset and get a Rs.16,900 discount offer upon purchase. So now it can be purchased for Rs.29,999.
Samsung Galaxy F13– Its MRP is Rs.11,999 where Kotak/SBI card holders can get a Rs.1,250 additional discount along with an extra discount of Rs.9,450 for interested buyers who want to exchange their old handsets. So now it can be purchased for Rs.9,999.
Also Read: Best Smartphones Under Rs. 60,000 You Can Purchase In India During The Festive Season; Check Out The List Here