After introducing M1 Pro and M1 Max, the next breakthrough chips for the Mac in October 2021, Apple has claimed to further intensify the competition in the graphics processing units (GPU) with the launch of with its new M1 Ultra.
The US-based tech giant Apple claims that it will give tough competition to Nvidia's giant RTX 3090 graphics card, the fastest GPU available right now.
A 64-core GPU — 8x the size of M1, the M1 Ultra ensures faster delivery of performance for the most graphics-intensive needs, such as 3D rendering and complex image processing.
What is GPU
It is a specialized processor originally designed to accelerate graphics rendering. Gradually, GPU has become more flexible and programmable, improving their capabilities. This made graphics programmers or designers to use with advanced lighting and shadowing techniques to create more interesting visual effects and realistic scenes.
Coming back to Apple and Nvidia, the M1 Ultra dubbed as the world's most powerful chip for a personal computer, has a combination of two M1 Max dies, they have been clubbed together to create a single powerful chip, M1 Ultra chip that has double the CPU cores, double the memory, double the memory bandwidth, and most importantly, double the GPU cores. M1 Ultra is available in the all-new Mac Studio, it brings unprecedented performance to the desktop. Apple has described this combination as ultrafusion and is ahead of its rivals like Intel, Samsung, and Qualcomm who are in the early stages of working together on a new standard that could let companies build processors out of Lego-like chiplets.
Huge bandwidth jump
With the help of a silicon interposer that connects the chips across more than 10,000 signals, providing a massive 2.5TB/s of low latency, inter-processor bandwidth — more than 4x the bandwidth of the leading multi-chip interconnect technology. This enables M1 Ultra to behave and be recognised by software as one chip, so developers don't need to rewrite code to take advantage of its performance.  While, Nvidia offers with NVLink for SLI or AMD with Infinity Fabric, which are used as high-speed links between GPUs.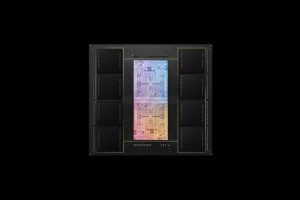 RTX 3090
With its RTX 30-series, Nvidia has practically killed off multi-GPU support as only the RTX 3090 offerS NVLink support. It has been observed that combining two RTX 3090s together for productivity or gaming rigs has hugely mixed results, though. Games that natively support SLI will offer performance benefits, while most will not offer any uplift and some will even see a performance drop.
The RTX 3090 is the fastest GPU on the market right now — until Nvidia finally delivers its delayed RTX 3090 Ti — and Apple claims the M1 Ultra can beat a single RTX 3090 while using 200 watts less of power.
Apple claims to deliver faster performance through M1 Ultra with a 64-core GPU as compared to highest-end PC GPU available while using 200 fewer watts of power.
However, similar claim was made by Apple about its M1 Max. It said that it can beat the RTX 3080, but the actual results were mixed.
When it comes to productivity-focused loads, the M1 Max turned out to be extremely well as compared to the RTX 3080.
Thanks to the M1 Ultra that has made Mac Studio incredibly powerful. Mac Studio is designed to replace the 27-inch iMac and even Mac Pro models for many.
With its M1 Ultra and Mac Studio, Apple id focuses on productivity applications rather than gaming.
Both the M1 Pro and M1 Max did not perform well in gaming reviews. Infact, they were found to be similar to an RTX 3060 in many titles. Experts believe that the M1 Ultra is not going to magically solve the lack of macOS games, or that most cross-platform games are still x86.
Also, Read Here: Inbase launches 'Urban Lyf M', an extremely versatile smartwatch