boAt Labs is one of the most prominent brands when it comes to the manufacturing of TWS earbuds that are extremely popular among music and game lovers, while the company has come out with a new pair of TWS earbuds- Immortal 121.
boAt Immortal 121 TWS earphones with RGB lighting, 40 hours battery life launched in India at Rs.1,499.
boAt unveils 'Storm Pro Call' with their biggest AMOLED Display yet!
Highlights
boAt has come out with Immortal 121 TWS earbuds which are the first one to come with Bluetooth Pro-level gaming TWS for Rs.1,499.
Immortal 121 will come with many interesting features like Noise-canceling algorithm, BEAST Mode, RGB LEDs among others.
In order to celebrate the launch of the company's first ever gaming TWS, boAt held a gaming event in Mumbai on December 12, 2022.
boAt Labs Launches Immortal 121 TWS Earbuds on December 12
There are innumerable gaming aficionados out there that want to play online games to their heart's content, along with their friends but nowadays they want to do so via earphones and what better than TWS ones for the occasion.
What many users look for in earphones of top brands is the sound quality, which comes of great use during intensive gaming sessions, where TWS make these sessions something to cherish as they only get enjoyable when your audio has the perfect sound quality where it is goes in perfect sync with the visuals.
boAt Labs is well aware of what their consumers want as they know their pulse, which is why it has come up with Immortal 121, which is classified as the perfect pair of wireless gaming TWS earbuds that can be purchased in this day and age.
Boat launches their latest ANC earbuds 'Airdopes 411 ANC'
boAt Immortal 121 Features
The earbuds are based on the Bluetooth v5.3 chip where the makers have promised a Super Low Latency lag-free audio of 40ms, along with the BEAST Mode, due to which the users can avail a seamless synced experience, irrespective of whether you are playing games or streaming videos throughout the day.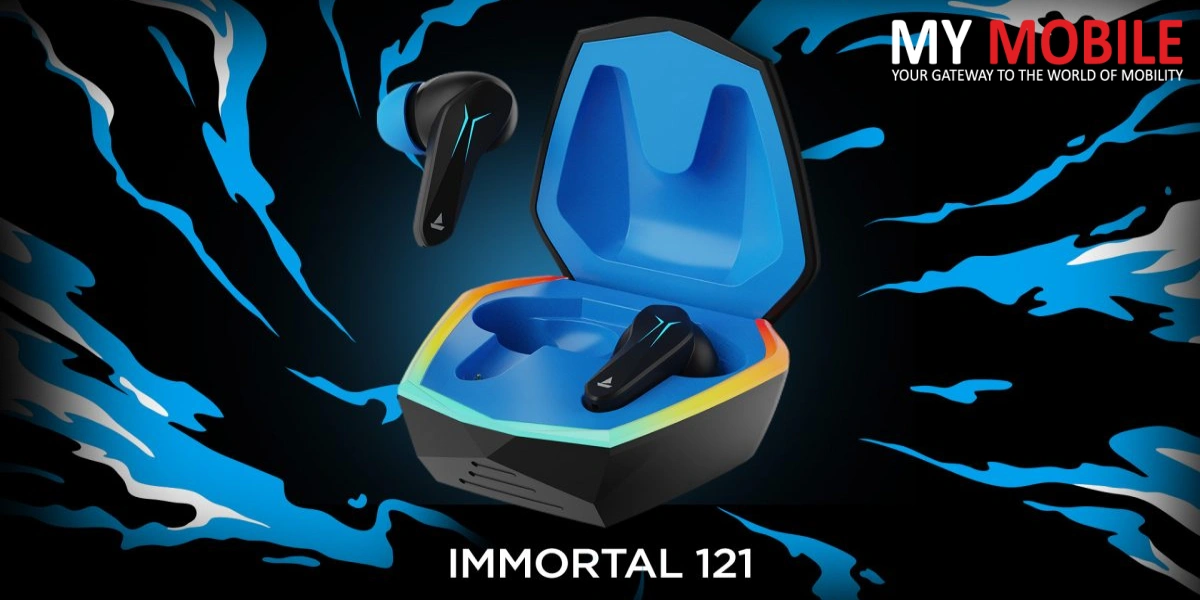 The boAt Immortal 121 TWS earbuds come with professionally tuned 10mm dynamic drivers, which provide an excellent audio performance that enhances the level of the game or movie that that you're watching.
When paired with boAt Signature Sound, the earbuds produce a strong bass that packs a punch, along with sharper trebles to provide with an in-depth and immersive gaming experience.
The makers want users to enjoy a steady and uninterrupted gaming experience, which is why they have created Immortal 121 that promises a playback time of 40 hours that the gaming aficionados will find right up their alley.
Then there is the ASAP Charge technology that uses the onboard USB-C interface for high-speed charging, which charges the earbuds within a few hours, something that users will be delighted to know.
A mere 10-minute connection to a compatible fast charger gives you a playtime of a jaw dropping 180 minutes. Also featured in the case is the Insta Wake n' Pair technology through which you can connect and disconnect with your Immortal 121 immediately.
All you need to do is open the lid to connect and close your earbuds to disconnect without any issue so that your focus remains on the game. Also, the entire TWS is IPX4 rated, which protects it from accidental water splashes and body sweat.
boAt Labs want to make sure The Immortal 121 is a whole new experience for the consumers, which is why it has incorporated ENx technology into the mics so that there is crystal clear streaming and voice chats among users.
There is also a noise-canceling algorithm and ENx technology that mutes out ambient sound effectively, while there are touch controls to manage quick and easy usage for the buds.
boAt Immortal 121 Price in India & Availability
boAt also held a community gaming event of its own kind in Mumbai on December 12, 2022 that was attended by the who's who of the entire gaming community and it was a unique experience to see dignitaries of the same industry under one roof, while the millennial generation will get to choose a legit career path in the gaming field.
Immortal 121 Earbuds will be available for purchase at the starting price of Rs.1,499 on e-commerce portals like Flipkart, Amazon, as also boAt Labs' official website starting today on December 13, 2022.
The event concluded with the unveiling of Immortal 121, which was the first hands-on experience for the community where these initiative aim to shape niche communities and subcultures built on pillars of unconventional paths with their #DoWhatFloatsYourboAt philosophy.