When you think of some of the best smartwatches that the market has to offer, the usual names that come to mind are an Apple watch or a Samsung Galaxy watch with some other brands lingering in the list below them. However, the new Amazfit GTR 4, given the price range, appears to be a strong contender for topping the list of dream smartwatches with all its top notch specifications and classic design.
The feature packed smartwatch has everything that makes it a great buy if you are looking for stylish yet useful at a certain price range. The GTR series has already offered some great models with each managing to successfully capture the frenzy of the market. And the Amazfit GTR 4 is here to provide a better design, bigger screen size, and much better battery life.
The smartwatch is powered by Zepp OS and is compatible with Android 7.0 and above versions as well as all iOS 12.9 and above versions. It comes with various sensors to provide every possible smartwatch functionality. It has BioTracker 4.0 PPG biometric sensor (supports blood-oxygen, 4 PM + 2 LED) for keeping an eye on your health. The smartwatch has different types of movement sensors, which include an acceleration sensor, gyroscope sensor, geomagnetic sensor, barometric altimeter and ambient light sensor. For proper positioning on the wrist, the smartwatch is featured with a dual band and a 6 satellite positioning system.
It comes with WLAN 2.4 GHz and Bluetooth 5.0 & BLE connectivity options.
The makers are calling Amazfit GTR 4 the industry's first dual band smartwatch, which provides proper error free wrist positioning. It also circularly polarised GPS antenna, real-time navigation, smart trajectory correction, and run track mode to suit every possible requirement that a user can have.
Amazfit GTR 4 also stands out amongst its competitors in the market for its exceptionally great design. The one piece metallic middle frame with stainless steel navigation crown and a large 1.4 inch high definition AMOLED display gives Amazfit GTR 4 a both classy and casual look making it a perfect choice to sport on every occasion. The ultra long 13 days battery life with more life to be added with the new battery saver mode gives it more than a couple of reasons to be worn all day long.
According to Amazfit's official product support page, "the Amazfit GTR 4 has a large 46 mm aluminium alloy case which weighs 34g. The back of the case is made from polycarbonate and apart from the sensors, also has two magnetic pins for connecting the charger. The watch can withstand up to 5 ATM (or 5 bars) of pressure which means you should have no problem wearing it while swimming in a pool, washing your hands, or showering."
Most people purchasing a mid range smartwatch are always concerned about the connectivity issues they are going to face no matter what the makers have to say. Amazfit GTR 4 offers WLAN 2.4 GHz, Bluetooth 5.0 & BLE for connectivity. For Bluetooth calling, users can pair the watch with their smartphones via Bluetooth in order to maintain the connection for receiving calls through the watch. At the same time, while the watch is connected to your smartphone via Bluetooth, you can even make calls through the same Bluetooth on the watch using the Phone app as an interface. When the smartwatch and smartphone are connected, a prompt will be displayed on the watch signalling an incoming call. The users will be able to ignore or receive the call via the watch.
The smartwatch also offers music storage and playback support for a workout motivation boost.
Also, Read Here:
Amazfit Supports GPS System With New GTR 4, GTS 4 Smartwatches
Amazfit Diwali Sale
Tech News Wrap: Amazfit GTS 4 Display Set Launch…and more
Select music can be enjoyed on the watch for playback via the built-in speaker or simply through Bluetooth enabled headphones. Users can also control the music on their smartphones through the watch via an enabled Bluetooth connection.
Currently, Amazfit GTR 4 price in India starts from ₹ 16,999.
Moreover, here are all the details of technical Amazfit GTR 4 model specifications and everything you need to know about the smartwatch.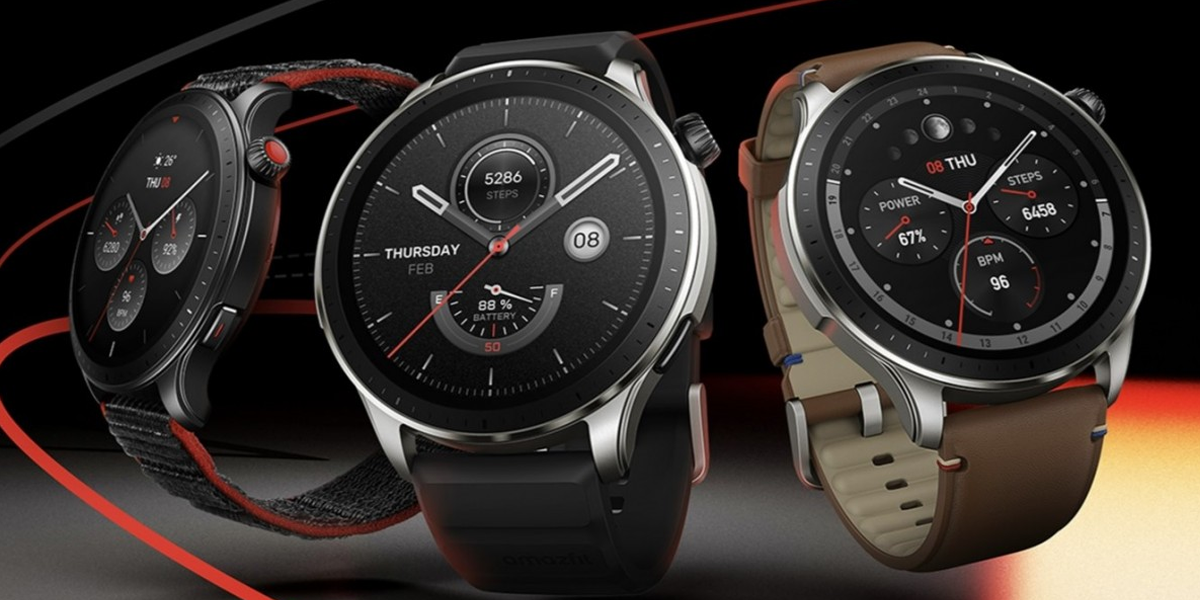 Design
Colour – Superspeed black (Fluoroelastomer strap), Vintage Brown Leather (Leather Strap, Racetrack Grey (Nylon strap)
Dimensions – 46 x 46 x 10.6mm (without heart rate base)
Weight – 34g (with strap)
Body Material – Aluminum alloy middle frame, high-gloss sprayed PC bottom shell
Buttons – 2
Water resistance grade – 5 ATM
Display
Material – AMOLED
Size – 1.43 inch
Resolution – 466 x 466
PPI – 326
Touchscreen – Tempered glass + anti-finger print coating + anti-glare bezel
Battery
Battery Capacity – 475 mAh (rated value)
Charging Method – magnetic charging
Theoretical Charging Duration – Approx. 2 hours
Typical Usage Scenario Battery Life – Up to 14 days
Battery Saver Mode Battery Life – Up to 24 days
Clock Mode Battery Life – Up to 50 days
Heavy Usage Scenario Battery Life – Up to 7 days
Accuracy GPS Mode – Up to 25 hours
Balanced GPS Mode – Up to 44 hours
Power Saving GPS Mode – Up to 52 hours
Sensors
Health – BioTracker 4.0 PPG biometric sensor (supports blood-oxygen, 4PM + 2 LED)
Movement – Acceleration sensor, Gyroscope sensor, Geomagnetic sensor, Barometric altimeter, Ambient light sensor
Positioning – Dual band & 6 satellite positioning systems
Connection – WLAN 2.4 GHz, Bluetooth 5.0 & BLE
Other
Microphone support
Speaker support
Motor linear support
Strap
Materials – Fluoroelastomer / Nylon Quick release
Width – 22 mm
Minimum and Maximum wrist dimensions – Fluoroeslatomer & Leather straps : 150 mm – 215 mm, Nylon strap – 150 mm – 210 mm
Buckle – Classic pin buckle
Packaging List
Smartwatch (including standard strap), magnetic charging cable instruction manual
Supported Devices
Android 7.0 and above, iOS 12.9 and above
Application
Zepp App