Finnish mobile giant Nokia has launched the 2660 flip phone in India. The flip phone has 4G LTE connectivity and runs Nokia's Series 30+ operating system. It has a 1.77-inch outer display with QQVGA resolution and a primary display that is 2.8 inches in size.
A Unisoc T107 SoC along with 48MB of RAM and 128MB of internal storage power it. A microSD card allows for storage expansion of up to 32GB. It has a rear camera with an LED flash that is 0.3 megapixels. There are three colour options available for the Nokia Flip.
Earlier on Tuesday, Nokia tweeted, "The all-new Nokia 2660 Flip is here with a brand new look. Armed with a long-lasting battery, wireless FM radio and dual screen, the Nokia Flip is an open and shut case of being a pure legend."
Large buttons and a large screen are included with the flip phone. It supports Dual SIM and the SIM size for the phone is nano.
Also Read: Nokia G60 5G Review – Perfect Mid-range Phone Made from Recycled Materials?
Here is all you need to know about the brand new Nokia 2660 flip phones in India:
Display and camera of Nokia 2660 Flip
Users of the Nokia 2660 Flip receive a 2.8-inch TFT type display with a pixel density of 143ppi and a resolution of 320 x 240 pixels. The secondary display is 1.77 inches long, and the resolution is at 2.8″ QVGA.
Regarding optics, the Nokia 2660 Flip's rear side houses a primary camera with a resolution of 0.3MP. The Digital Zoom and LED Flash are the two main features of this camera. Additionally, this camera can capture images with a maximum resolution of 640 x 480 pixels.
The phone does not have a front camera.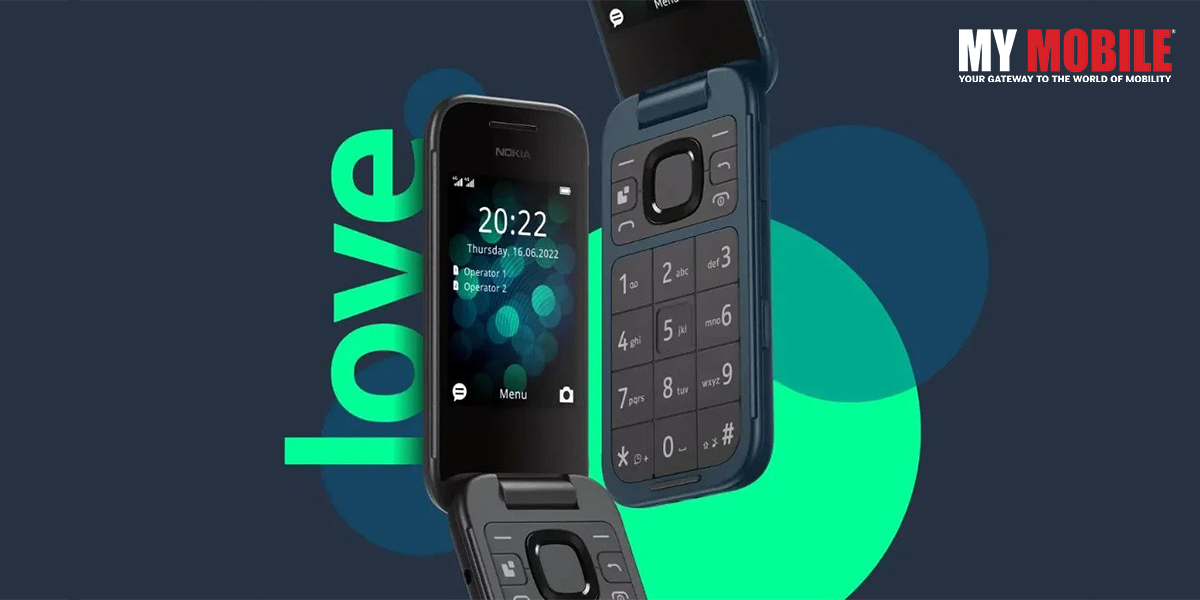 Battery and Configuration
The Nokia 2660 Flip has been equipped with a Li-ion battery. This particular battery is removable and has a capacity of 1450mAh. It has a removable battery that supports 2.75W charging. According to the manufacturer, the phone has a maximum talk time of 6.5 hours and a maximum standby time of 24.9 days on a single 4G SIM.
Also Read: Nokia T10 Tablet – Portable, Secure with Nokia's Signature Build Quality
The 2660 has an intriguing feature in that it has a charging cradle similar to those found in cordless landline phones. On the website for Nokia, it is stated that Nokia 2660 Flip is compatible with a charging cradle2 so you can store and charge your phone in one convenient place.
The Nokia 2660 Flip has a Unisoc T107 chipset and a 32-bit Single Core, Cortex A7 processor with a top speed of 1GHz, allowing it to function flawlessly while performing any task. Series 30+ OS powers the flip phone.
The device has a 1.77-inch out display with QQVGA resolution and a 2.8-inch primary display with QVGA resolution. It comes with 128MB of built-in storage and 48MB of RAM. A microSD card can be used to increase the storage (up to 32GB).
Storage and Connectivity of Nokia 2660 Flip
The Nokia 2660 Flip is a dual-SIM (Nano) phone that supports 4G connectivity on the connectivity front. It has a Micro-USB 2.0 port, a 3.5mm audio jack, and Bluetooth v4.2 support. Users of the Nokia Flip are provided with 128MB of memory, which can be expanded to 32GB, to meet their storage needs. It does not have WiFi or GPS.
Also Read: Nokia G11 Plus Review
It also has a dedicated emergency contact button, a loud audio setting, a one-year replacement warranty, and a hearing aid compatibility (HAC) setting. The emergency contact button enables users to call five of these numbers right away. Whether the phone is open or closed, the button is simple to reach.
Nokia 2660 Flip price in India, availability
The cost of the one and only 48MB RAM + 128MB storage variant of the Nokia 2660 Flip in India is Rs. 4,699. According to the company's website, it is currently accessible via Nokia's website in the colour options of Black, Blue, and Red.
Nokia first unveiled the flip phone in July of this year. The Nokia Flip was introduced earlier this month in a few markets, excluding India.
The company states that it weighs about 123g and has dimensions of 18.9 x 108 x 55mm. IT is not waterproof, so one must be careful while using it in the rain.
Conclusion
Even though the Nokia 2660 Flip is a cheap device, it does have an eye-catching and fashionable exterior. It has two displays, one of which is visible when you open the flap and the other of which is on the inside.
Also Read: Nokia G60 5G- The Most Sustainable Device You can Buy Right Now !!
There is a respectable selection of configurations that enable users to easily make calls, send texts, play music, and play simple games. The manufacturer even added a camera to the gadget, along with an LED flash.
The all-new Nokia 2660 Flip is here with a brand new look.

Armed with long lasting battery, wireless FM radio and dual screen, the Nokia 2660 Flip is an open and shut case of being a pure legend

Buy Now – https://t.co/BwHIO9T0zs#ClassicsCalling #Nokia2660Flip #LoveTrustKeep pic.twitter.com/gBIiHFfMqV

— Nokia Mobile India (@NokiamobileIN) August 30, 2022