Acer is amongst the top brands in the market even though it has somehow stayed behind the likes of Lenovo or HP or Dell when it comes to market share. The Aspire subbrand is arguably the most important one in Acer's portfolio and if you are looking for something that can become your gaming partner then the Acer Aspire 7 is here for you. The Nvidia GeForce RTX 3050 GPU, Intel's 12th Gen i5-1240P, 8GB of DDR4 memory, and 15.6-inch IPS FHD display with a resolution of 1920 x 1080p, Acer Aspire 7 specifications appear to have everything going in its favour. The brand has tried to step its game up and seems to be doing quite well to improve its gaming series laptops. And if there is one thing that sells best in this product category then it is the budget laptops. Now combine the two and you'll have the best combination of pocket-friendly gaming laptops.
Acer Aspire 7 price in India currently starts at Rs 62,999, which makes it quite a steal when all specifications are looked at. Now, for a deeper understanding of where the laptop stands against your gaming ambitions, here's our Acer Aspire 7 review.
Design
In the design depart, Acer Aspire 7 finds the perfect balance between elegance and jazzy, a combination that is a must for gaming laptops. They must be chunky and hold onto the class. The Charcoal Black colour and slight shimmer when light touches the surface give it an elegant look and feel. The aesthetics are understated and that's exactly what seems to be working for Acer Aspire 7. Most important, the laptop comes with a robust build quality supported by a 19.90 mm1 Aluminum lid and chassis. The hinge of the laptop appears adequate and the keyboard deck is raised slightly in order to provide a comfortable typing experience.
Processor
Intel's 12th Gen i5-1240P mobile processor in Acer Aspire 7 is one powerful processor that promises to provide optimum performance for pretty much any task one would want to perform on a laptop. It is packed with packs a total of a whopping 12 cores with 16 threads and the max clock speed can be expected to be 4.40GHz. Intel's P-series of 12th Gen mobile processors have been developed and designed in order to provide high level performance even through a thin-light notebook.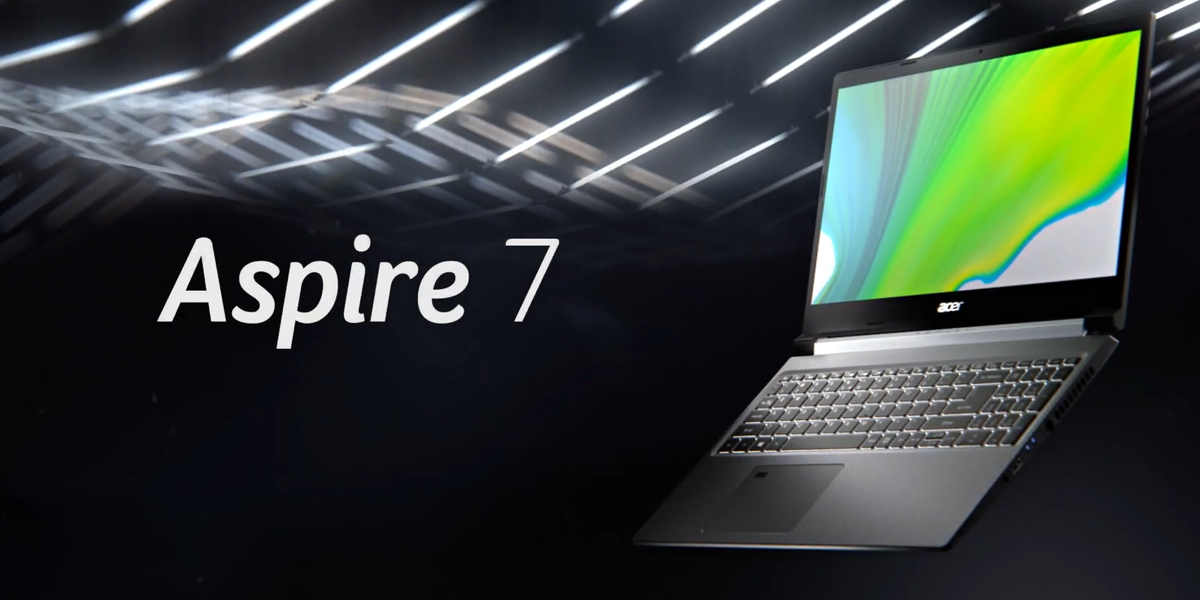 Graphics
Acer went all out when it comes to the graphics, as it seems they knew what they were targeting. The Nvidia GeForce RTX 3050 GPU is a truly ultimate choice for a budget gaming laptop and the performance of the laptop only reiterates this fact. The laptop further features the company's Ampere Architecture, which comprises dedicated 2nd Gen RT Cores as well as 3rd Gen Tensor Cores. These specifications are combined to provide an ultimate gaming experience where seasoned gamers would be able to have a great time with some of the latest generations of popular games.
The graphics card also includes Nvidia's all-the software-based goodness, which means it comes with Nvidia Reflex for lower latency and Nvidia DLSS for better performance among others. These allow users to play the latest games the way they should be played.
Display
Displays play an important role when gaming is what one will be using the device for. The Acer Aspire 7 display is a perfect combination of perfect size and perfect portability. It sports a 15.6 inch IPS full high definition display that is supported by 1920 x 1080p resolution. The size will appear perfect while using as it provides better immersion compared to a 14 inch screen size but at the same time has comfortable portability against a high size of 17 inch laptops. Those who want can also try to have a higher screen-to-body ratio of 81.67 per cent for better immersion.
In order to enhance the complete experience of viewing on this laptop screen, users can even use Acer's BlueLightShield, ComfyView, and ExaColor technologies.
Memory
The entire system of Acer Aspire 7 is supported by 8GB of DDR4 memory. The memory standard is good for all types of gaming and shouldn't give any problems. Having said that, there are times when gamers feel the need for more when it comes to memory in a laptop. For such situations, the memory of Acer Aspire 7 can be easily upgraded up to 32 GB RAM through the two soDIMM modules.
And as for storage, Acer Aspire 7 appears to be quite sorted in this department as it carries 512GB PCIe Gen3 NVMe SSD, which is one of the fastest storage standards in the industry right now.
Connectivity
Devices that are designed and developed keeping gamers in mind usually sport better connectivity options because of the need to attach many gaming peripherals. The case isn't different when it comes to Acer Aspire 7. The laptop arrives with three USB 3.2 ports, an HDMI port for a second display, and a USB Type-C Thunderbolt-4 port that can be used to connect with a number of other devices if need be.
The versatility of the USB Type-C Thunderbolt-4 port is well-known amongst the gaming community and tech enthusiasts. However, for those who aren't aware, it can be used to output video signals, provide power to compatible devices and provide high-speed data transfer simultaneously. Furthermore, these ports can even be used for regular connectivity options such as connecting to an external monitor, PCIe devices like capture cards or even storage systems.