A smartwatch was considered a fashion statement and a thing for fitness enthusiasts until the onset of the COVID-19. As most watches do, a smartphone tells the time and date along with basic fitness activities. However, with the integration of Artificial Intelligence (AI), a smartwatch now comes with a myriad of applications and boasted with advanced features to help the user improve their quality of life.
Today, it has become common to see people wearing a smartwatch as they have become more health-conscious. Smartwatches are a great device that helps people reaches their fitness goals. From aiding in weight loss to monitoring health, smartwatches have become perfect companions to maintaining the quality of life. With technology advancing at a rapid pace, AI-based smartwatches are proving to be beneficial for health.
Monitors heart rate
Heart rate monitoring plays a crucial role in people's everyday life especially in those who are in sports or exercise regularly. AI-based smartwatches track resting heart rate that is extremely beneficial in knowing how much effort the user is exerting while exercising. Based on the heart rate monitoring, a smartwatch sends the user the notification alarming them whether they need to do more exercises. Smartwatches have proved to be a great way of helping users to avoid injuring themselves.
Tracks exercise and fitness activities
AI-based smartwatches keep a regular track of the user's progress. When a user exercises or performs any sports or fitness activity, their progress is logged every second that they can review anytime. This helps the user make adjustments to their daily regimen. As a result, the user makes improvements or reduces their effort in the workout/activity as featured on the smartwatch.
Helps to track diet
Another way of reaping the benefit of an AI-based smartwatch is its feature of keeping track of the diet. As people are increasingly becoming diet conscious, they have understood the concept of eating healthy and the importance of maintaining their diet. Whether a user is following a weight loss diet or eating healthy to manage any lifestyle disorder, it is obvious to get distracted. However, an AI-based smartwatch sends notifications to the user and keeps them aligned with their dieting goals. Smartwatches monitor calories and provide other related information for attaining healthy eating habits.
Monitors sleep
Sleep plays an integral role in balancing the body's important functions and hormones. Before the advent of smartwatches, it was next to impossible to track sleeping habits. With AI-based smartwatches, users can track their sleeping habits and make improvements in their schedules as per their body needs. A smartwatch works intelligently in tracking the number of sleeping hours and logging it for the user to make adjustments. For instance, the smartwatch tracks deep sleep or rapid eye movement and stores the data for users' assessment and helps them improve their sleeping patterns.
Monitors SpO2 levels
Oxygen is necessary for the body. It needs to be distributed from lungs to body cells for people's health. During the second wave of COVID-19, oxygen saturation played an important role in determining the patient's health. Monitoring SpO2 levels became essential and people started to leverage the smartwatch's capabilities in tracking SpO2 levels. Equipped with the blood oxygen sensor, AI-based smartwatches help in keeping a real-time check on the blood oxygen level for the user that sends a notification when the SpO2 level drops.
Companion for women's health
In the present world, women have become advocates for their own health. Also, with the emergence of lifestyle disorders such as PCOD and PCOS, women face irregular periods, stress, anxiety, etc. Considering the scenario, many brands of AI-based smartwatches have come up with advanced features of tracking the menstrual health of women. Apart from tracking fitness and health activities, these smartwatches track women's menstrual cycle and predict their periods, days of ovulation and fertility.
Helps managing stress
An AI-based smartwatch is equipped with advanced features to track stress and anxiety levels. It monitors stress-causing activities i.e. heart rate variability (HRV) to measure the intervals between the heartbeats. When a user's HRV drops, the smartwatch immediately alarms the user to take steps to relieve the stress. In addition, the smartwatch provides the user with suggestions to follow certain breathing and meditation techniques to recover from a stressful event that further reduces the chances of developing anxiety or panic attacks.
Bottomline
Smartwatch has become an integral part of human life. With technological advancements, most of the brands are embedding new-age tools that improve the effectiveness of the smartwatch for a healthy life. It is also predicted that AI will help smartwatches to intelligently detect the users' bad sitting or resting posture and notify them to enhance their physical health along with emotional and mental wellbeing.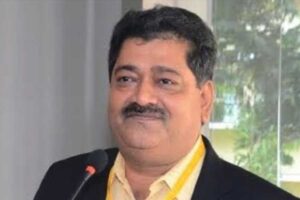 The author is CEO at MINIX India.