Emerging wearable audio brand Truke recently expanded its product line-up with the launch of Air Buds Lite and BTG 3 TWS earbuds in India. Priced affordably at Rs 1,399, both the new products come with similar features but different designs, and cater to two different consumers segments. The Truke Air Buds Lite is available in Black and Blue colour options, whereas the BTG 3 comes in Black and Red colours. Although these earbuds look superb on paper, especially in terms of features; it's time to put them to the test. Read on to find out where they stand on different parameters of excellence.
Build and Design
We had Air Buds Lite in Black colour and BTG 3 in Red shade for review. They offer a striking design but are different in terms of exterior and looks. While the former comes in a rectangular-shaped charging case with curved edges, the latter sports a pebble-like case. The Truke BTG 3, in particular, has got a groovier design sporting a Spiderman-like look at the front with LED indicators that glow in different colours, which is enough to demonstrate that it's aimed at gamers. The Air Buds Lite, on the other hand, features a toned-down matte finish. Both the products are tiny in size and slip easily into your jeans pocket.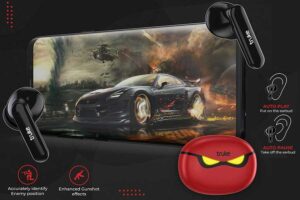 In terms of build quality, both these earbuds consist of a high-quality plastic materials. The lid will not let you down as it offers a satisfying experience when you open and close it. The earbuds sport a standard design with a 45-degree angle for a better fit in the ears. Besides, you get a short stem that looks nice and is comfortable to your ears. These TWS devices are reasonably lightweight and will not cause any sort of irritation even while wearing them for long hours. There is a USB Type-C port to charge these earbuds at the bottom of the case. Interestingly, both these earbuds come with an IPX4 rating for sweat and water resistance, which indeed matters a lot in a country like India, where you cannot ignore the harsh weather conditions.
Taken as a whole, both these earbuds offer a decent look with traditional feel and impressive build quality. They are extraordinary at the given price.
Also Read: Tecno Camon 18 Review: A good deal under 15k!
Functionalities
Both the Truke Air Buds Lite and BTG 3 TWS earbuds easily get connected to your smartphone. The pairing is done via Bluetooth 5.1, which ensures that there is a strong and reliable connection between the smartphone and the earbuds. Once you pull out the earbuds from the case, it will be turned on and putting it back will shut down the earbuds. They offer a good range and clear audio, and I hardly experienced any distortion in sound even away from the source in the next room.
The touch sensors on these devices work seamlessly, ensuring real-time play and pause. Having no option to adjust the volume via the earbuds is a shortcoming with these products. Appreciatively, the in-ear detection works well and one can activate it by tapping thrice on the left earbud. Besides, there is a High-Precision Contact Sensor that detects the wearing status of the device and automatically plays the music once the buds are in the ear canals.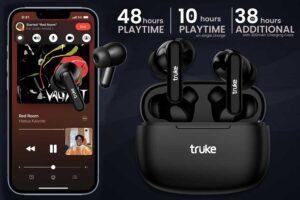 Performance
When it comes to the performance of an audio device, looks hardly matter. Here, only audio output happens to be the key. The Truke Air Buds Lite and BTG 3 earbuds house 10mm audio driver, which delivers a tempting audio performance. They support low latency of 55ms and produce a balanced audio output that is neither too loud nor too low. Sometimes, even 30 per cent of volume was sufficient, while using the device.
Besides, these earbuds offer AI-powered Deep Neural Network Call Noise Cancellation technology, which ensures improved noise cancellation. You'll enjoy listening to your favourite music and watching movies without worrying about the ambiance noise around. There was punchy bass with deep and rich sound quality. In terms of call quality, the audio was crisp and clear and I didn't experience any sort of problem outdoors.
There is a specialised gaming mode in these devices, which offer a best-in-class gaming experience, thanks to the low latency feature they come with. In addition, these earbuds are super-charged with Empirical Technology that promises 2X energy efficiency, 2X transmission speed, and 1.8X reliable connection.
Battery
The best part with Truke devices is that they come with a very strong battery life. The buds offer 10 hours of playtime on a single charge, with an additional 38 hours with a 300mAh charging case, packing in a total of 48 hours of playtime. These earbuds can be fully charged in around two hours.
Conclusion
What do you expect from a device with its price as low as Rs 1,399? These earbuds are simply outstanding, thanks to the impressive features they come with such as decent design, punchy bass, AI-powered noise cancellation, and specialised gaming mode. It's up to you to decide which one to purchase depending upon your need – such as Air Buds Lite is sophisticated enough to be used daily, whereas BTG 3 will give you a sporty feeling.
Also Read: Cellecor ActFit A3 Pro Review: Classic look with basic features