ZinQ Technologies has been known to find elementary solutions to everyday tech problems. Its latest innovation continues that streak. The ZQ-1200 is a combination of a full-sized wired keyboard and an ambidextrous mouse. Rather than spending time and money on two separate devices, you get both at the price of one. If you're a PC user, having a combo such as this one will aid you in various ways.
The ZinQ ZQ-1200 spill-resistant wired USB keyboard and mouse combo is one of the best options priced at Rs 499 that will help you set your desk space for work and play. Most mice and keyboards use wires because of the superior response times as you need accessories that can make you proactive and increase your overall output. This black coloured combo does exactly that, with its Plug & Play connectivity with a long wire, which makes it easy to move around your desk and work with it, providing no delays or lags, and an extremely fast connection.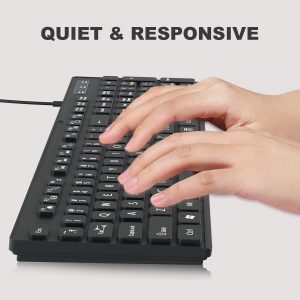 The combo is more than it meets the eye. The simple-looking devices have a lot to offer. The keyboard itself provides such a balmy typing experience with its soft press keys that your fingers won't undergo any soreness even if you've typed for hours. Moreover, the keys are noiseless, and that's a win-win. To conserve your time, the keyboard has the pre-installed rupee symbol key. Even the mouse has equally engaging features that you can use to leverage your daily tasks. It has a 1600 DPI which is also an appropriate setting for gaming. It has a long USB cable that gives you ample space to adjust according to your comfort. The powerful optical sensor makes it surface-friendly. But its USP lies in its ambidexterity, i.e., it's an equally utilitarian device for a left-handed user as it is for a right-handed user. Despite all of this, the combo has a 12-month warranty from the date of purchase.
"Efficiency is the key. ZinQ's focus on lifestyle improvement via tech helps us to brainstorm in deducing answers to our consumers' often raised queries. The ZQ-1200 is a combo that's targeted towards those professionals who are conformed to desk jobs that require copious hours of PC usage. It (the combo) has been combined to reduce a user's time spent online searching for the right pair of keyboard and mouse. There are a lot of features that one can use to his/her advantage," adds Arnav Mutneja, Founder and CEO, ZinQ Technologies.
You can buy the ZinQ ZQ-1200 combo of wired keyboard and mouse from Amazon.