Xiaomi India has finally started the rolling out of the much-awaited MIUI 13 update for Xiaomi and Redmi smartphones. As of Q4 2021, surpassing 500 million monthly active users globally, the latest OS claims to offer an all-round upgrade and improved core experience.
MIUI 13 claims to provide improved performance, refined design, and multitasking features, and brings faster storage, higher background process efficiency, smarter processing, and longer battery life. It also comes with other useful features such as Super Wallpapers, Mind Maps in Notes, enhanced Control Centre, Game Turbo, amongst others.
Muralikrishnan B, Chief Operating Officer, Xiaomi India, said, "We take pride in making MIUI the most user-centric and user-friendly OS for a phone. Over the last few years, we have spent significant time addressing feedback from millions of fans worldwide towards improving the overall experience on MIUI. With MIUI 13, we are focusing on improved performance, refined design, multitasking and optimization features."
"The latest update ensures that your smartphone never feels old by efficiently managing storage and RAM, automatically allocating CPU/GPU to apps in focus for the best performance and enhancing battery life. MIUI 13 has also been finely tuned on every level and is optimized to offer the most fluid and responsive interface till date," he added.
Elevating the core experience to a new level
MIUI 13 introduces Optimized File Storage System, a new system-level method of managing the way files are stored on devices. On older devices, as we constantly write and rewrite the data, over time the device's storage ends up being fragmented. After just 36 months, this slows read and write speeds by as much as 50%. The new Optimized File Storage System on MIUI 13 reduces fragmentation and actively manages stored data, improving defragmentation efficiency by up to 60%. In roughly about 36 months, some other Android OS read and write speeds drop by as much as 50%. MIUI 13 retains up to 95%—giving users a "new" experience longer and prolonging device lifespan.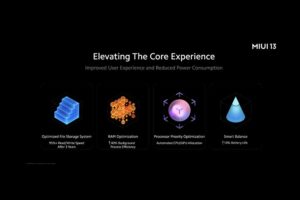 To further boost performance, MIUI 13's RAM Optimization, an ultra-fine memory management method, brings RAM efficiency to a new level. This feature analyzes how apps use memory and divides a single app's RAM usage processes into important and unimportant tasks. Then it closes all unimportant tasks, allowing apps to use memory only for what's important to you right now, enabling you to run more apps without sacrificing performance.
MIUI 13 also comes with Processor Priority Optimization(PPO), which dynamically allocates system resources based on usage scenarios, making MIUI more fluid and responsive. Without PPO, smartphone processors distribute resources across all of your apps relatively equally. PPO prioritizes the active app above all others, allowing the CPU to focus on important tasks, giving you faster speeds and higher performance where and when you need it.
Smart Balance is another powerful experience upgrade in MIUI 13.  It's designed to automatically find the balance between performance and power consumption, so you can get the power and speed you need to stay on the go. With Smart Balance, overall battery life can be extended by up to 10% in MIUI 13.
All-new features to improve user experience
In addition to core experience improvements, MIUI 13 also introduces cool new features that elevate your experience.
Sidebar is an efficiency tool in MIUI 13, allowing you to access all your favorite apps in floating windows with just a swipe—without leaving your current app. This is perfect for multitaskers who want an easier way to pull up multiple apps at once, or quickly swap between them. You can also customize the feature with up to 10 apps in the sidebar.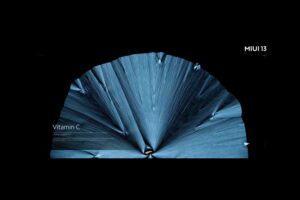 With an aim to improve aesthetics, MIUI 13 offers a wide selection of Super Wallpapers. In partnership with Beauty of Science, the company brings you a bunch of Live Wallpapers that can be downloaded from the themes store. This has been developed by using a polarized light microscope to capture the crystallization process of different substances like Vitamin C, citric acid, salicylic acid, and more to bring an array of dynamic wallpapers for you. MIUI 13 also adds a host of new static wallpapers to completely revamp the way your smartphone looks.
Availability
The following models will roll out MIUI 13 in the first wave, with the release schedule for other devices to be gradually published
Mi 11 Ultra
Mi 11X Pro
Xiaomi 11T Pro
Mi 11X
Xiaomi 11 Lite NE 5G
Mi 11 Lite
Redmi Note 10 Pro Max
Redmi Note 10 Pro
Redmi Note 10
Redmi 10 Prime
Also Read: Realme 9 Pro Series launch date finally revealed: Details inside