HIGHLIGHTS
* WhatsApp has introduced a new 'keep in chat' feature.
* It allows users to save the important messages in chat for future recall even in the disappearing messages setting.
* It will be the sender's discretion whether the messages can be saved for later or not.
Meta CEO Mark Zuckerberg has announced a new WhatsApp feature for users that will allow them to keep relevant messages saved in a chat, irrespective of having the disappearing messages setting turned on. The new feature is called 'Keep in Chat'.
While the purpose of disappearing messages is to keep the conversations private as the chat disappears after a specific period of time, the 'keep in chat' feature allows users to save important messages that they might want to refer back to in future. WhatsApp's idea behind it is that it is the sender's choice if others can keep that chat for later or not.
To enable the new feature, the sender of the WhatsApp text will be alerted as and when someone keeps a message in the disappearing messages setting. Then it will be on the sender's discretion to either allow the user to save it or to veto the decision. In case of negative, the messages sent by the user will get deleted once the timer expires.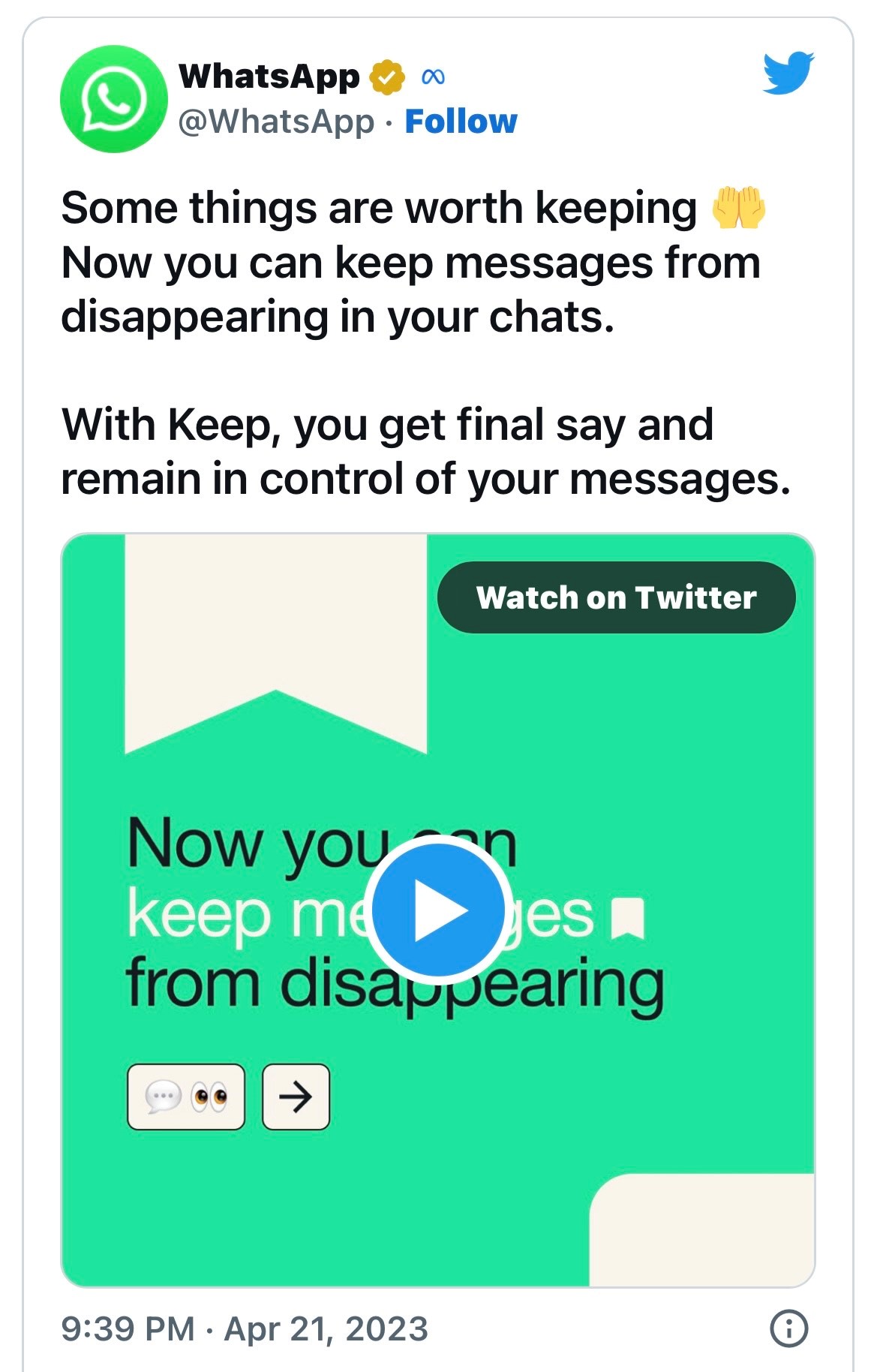 WhatsApp announced this feature via a tweet and mentioned "Some things are worth keeping." Have a look.
If you're in a WhatsApp group chat where the disappearing messages feature is turned on, there's now a way to keep some important chats, like an address or voice note someone sends you.
WhatsApp's "Keep in Chat "announced Friday, lets you bookmark messages sent to you, although veto power remains with the sender.
"Anyone in a disappearing message thread can long press on a message to keep it," Meta CEO Mark Zuckerberg explained in his Instagram broadcast channel. "The sender will be notified if it was saved and can decide if it stays or remains a disappearing message." Disappearing messages is a privacy measure that was announced at the end of 2020.
Meta says it can also help declutter your phone and increase storage. It lets you set a timer for when messages in your WhatsApp chat will be deleted, with options for 24 hours, one week or 90 days.
Here's how to turn on Disappearing Messages
Open your chat on WhatsApp.
Tap on the three vertical dots in the top right corner.
Select Disappearing messages.
Choose which message timer you want for when messages will automatically be deleted –24 hours, 7 days or 90 days.
Hit the back arrow in the top left corner.
Once it's on, here's how to save a message
Long press on the message you want to keep.
Tap the bookmark icon at the top of the screen, located next to the reply arrow.
The message sender will then be notified of your request to save that message, and will have the power to veto it.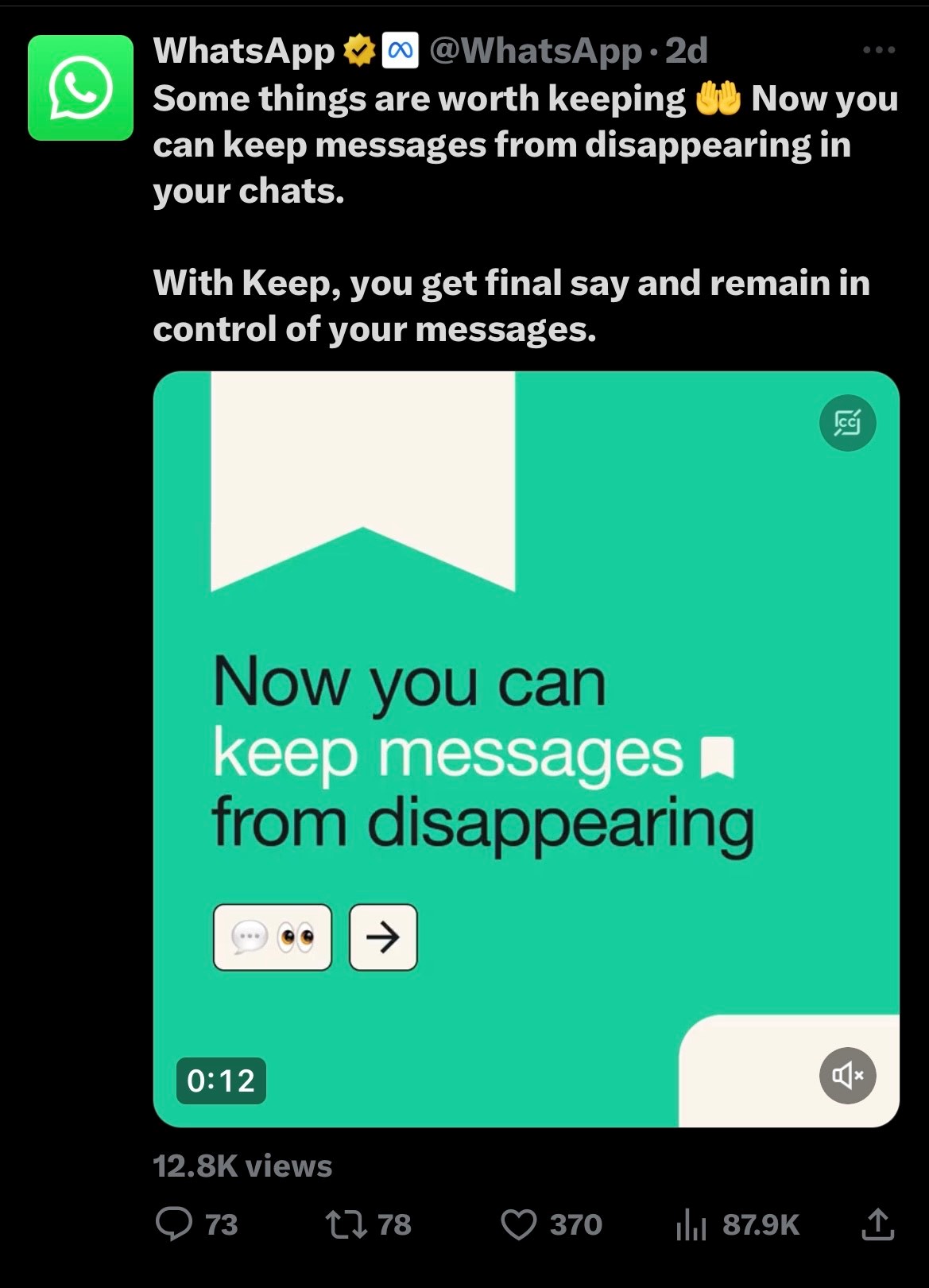 If you don't see the option in your WhatsApp chats yet, it's because Meta is rolling the capability out over the next few weeks.
Messages saved in WhatsApp will be put in a Kept Messages folder and organized by chat, the company said.
How will the 'Keep in Chat' feature look like?
The saved messages in the chat will be kept with a bookmark icon, and users will be able to access these messages in the Kept Messages folder. Zuckerberg, in the announcement, said, "We hope people enjoy this new update and the flexibility to keep the messages they need." He added the feature will roll out globally over the next few weeks.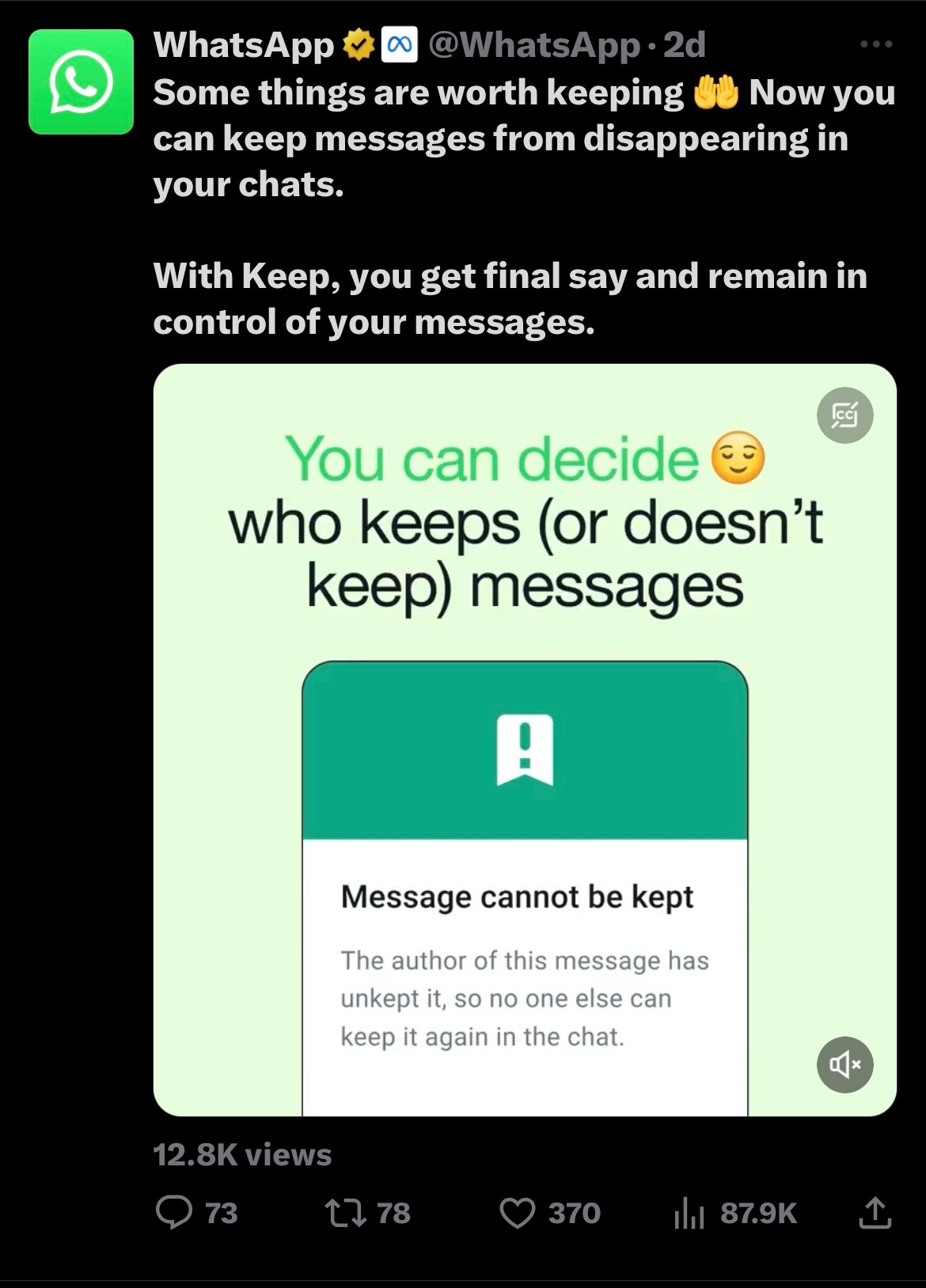 In related news, the Meta-owned app is reportedly testing a new feature that will allow users to add new description to forwarded media files including forwarded videos, images, GIFs, and documents.
Faqs WhatsApp New Feature
1) WhatsApp's new Keep in Chat feature allows users to save disappearing messages?
Ans) WhatsApp's disappearing messages is a great privacy feature for users who want their messages to disappear after a set time. Now, the instant messaging service will allow the senders of disappearing messages to keep some of the texts they send in the chat even if the feature is turned on.
Earlier this year, it was reported that WhatsApp is testing such a "Kept Messages" feature, and now, the instant messaging service has made it official. With disappearing messages, conversations do not stitch around forever. This acts as a layer of protection for messages that you wouldn't want falling into the wrong hands. But what if there is a message or voice note that you want to keep in the chat despite the feature being turned on? That is where the Keep in Chat feature comes in handy.
When someone in a group chat keeps a disappearing message, the sender of the message will be notified, and they will be able to veto the decision. If the sender decides that the message should not be kept by others, their decision is final. This would mean that no one can keep it, and the message will automatically be deleted when the timer expires, just like disappearing messages usually do.
If you save any disappearing messages, they will be labelled with a bookmark icon, and you can see them in the Kept Messages feature, organised by chat.
WhatsApp says that the new feature will be rolled out globally over the next few weeks.
2) How to Disable disappearing messages on
Ans) Android and iPhone
You can disable disappearing messages at any time. Once disabled, new messages sent in the chat will no longer disappear.
1. Open the WhatsApp chat.
2. Tap the contact's name.
3. Tap Disappearing messages. If prompted, tap CONTINUE.
4. Select Off.
Similarly if you want to enable or disable Disappearing Messages in a group then you will have to open the WhatsApp group chat who's messages you want to disappear.
3) What can I do if I've lost access to my WhatsApp account?
Ans) Chances are that a hacker has taken over your account. When this happens, you can't log in, and all of your account information is in the hands of the hacker. Getting your account back can be complicated. Fortunately, you can still reclaim your WhatsApp account.
4) If I receive a text verification code from WhatsApp, does that mean someone is using my account?
Ans) One of the more notorious ways someone can gain access to your WhatsApp account is by obtaining the text verification code. If WhatsApp sends you a text verification code that you didn't invoke, it's best to ignore it. You may even receive multiple codes back to back. However, WhatsApp will only send so many verification codes within a specific period. Afterwards, the app will lock you out if you log out.
5) How many days does WhatsApp web stay logged in?
Ans) Your phone doesn't need to stay online to use WhatsApp on linked devices, but your linked devices will be logged out if you don't use your phone for over 14 days.
6) How far does WhatsApp web work?
Ans) Once a phone is paired with a computer, it will stay linked, even if both devices aren't using the same internet connection or gasp, in the same place. There is no distance limitation.
7) Can someone read WhatsApp messages from another phone?
Ans) You just need to pair the Android device with another mobile. Suppose your child has enabled Notification permission for WhatsApp, you can read the incoming WhatsApp messages from the dashboard. Screen Mirroring can even help you see the live screen of the original device.
8) Can I Use Whatsapp Web Without A Phone?
Ans) No, you cannot use WhatsApp Web without a phone. Although it's an online-only service, users still need an active phone with Internet connectivity to make WhatsApp Web work. A phone with an active Internet connection is needed for WhatsApp Web to work and to be able to send messages. This is to make use of WhatsApp's end-to-end encryption where messages are encrypted from the sender's device and can only be decrypted by the intended receiver. Also, the messages are sent from the registered same phone number, which cannot be accessed with a working phone.
9) How To Download Whatsapp Web On My Computer?
Ans) You cannot download WhatsApp Web on your PC. It's an online-only service, which can be accessed by visiting the link given above. You can also google WhatsApp Web.
10) How To Log In To Whatsapp Web?
Ans) WhatsApp Web login can be performed by simply pointing your phone that has the WhatsApp account configured to it, to the QR code shown on the web page. Follow these steps to log in to WhatsApp Web:
Open WhatsApp on your phone.
Open Settings and scroll down to WhatsApp Web.
The following screen will open the camera scanner. Now visit the following web address given above and scan the QR code on it.
Once done, the service will fetch your WhatsApp conversations and present it on your computer.
11) Can I Make A Video Call On Whatsapp Web?
Ans) No, it's not possible to make a call using WhatsApp Web. You can still send voice messages using the web app on any Windows or Mac system. Simply press the microphone icon on the bottom right corner to record your message and send it. However, if you still want to make a call, you may use the WhatsApp app on your Android or iOS-based smartphone. You can also download the desktop app to make WhatsApp calls from your computer.
Also Read: WhatsApp Web: How to Check Whether Your WhatsApp Web QR Code Has Been Hacked?
Also Read: Latest WhatsApp update brings sticker maker tool for iPhone users: How to use this WhatsApp Sticker Maker
Also Read: WhatsApp to let users share status updates to Facebook stories; edit contacts within app