WhatsApp is constantly changing itself to improve the user experience by adding new features and replacing the old ones. However, before rolling out any new feature, the instant messaging software gives it to a few beta users. In this way users get to evaluate the compatibility before releasing it to the general public. Both Android and iOS users get to test the same. Now, WhatsApp has recently added tools for disappearing messages as well as a drawing editor for Android users.
WhatsApp New features: Changes in Media Visibility
For disappearing messages, the platform is implementing changes to the media visibility option. Previously, all media files were automatically saved to the Camera Roll. However, with this new version, users would have to explicitly adjust the settings. A feature called 'View Once' had been added to the Windows beta app by another WhatsApp update to the Universal Windows Platform app. The function, which was first made available to Android and iOS users last year, allows a message to self-destruct once it has been viewed once.
WhatsApp is introducing some changes to media visibility!

WhatsApp is now rolling out to all users some changes to the way media from disappearing chats is automatically saved on the latest beta and public builds of WhatsApp for Android and iOS.https://t.co/MOxgeT2IHl

— WABetaInfo (@WABetaInfo) April 8, 2022
WABetaInfo found that "WhatsApp is now automatically turning off the option "media visibility" for disappearing chats on WhatsApp for Android, which let people view media in their phone's gallery. This is to ensure a better privacy experience when using disappearing messages and to help keep media more private in disappearing chat threads."
He further added, "In addition, WhatsApp is rolling out the same change on WhatsApp for iOS, where the option "Save to Camera Roll" is automatically turned off for disappearing chats. In this case, images, videos, and GIFs are never automatically saved in your camera roll if the general setting is enabled."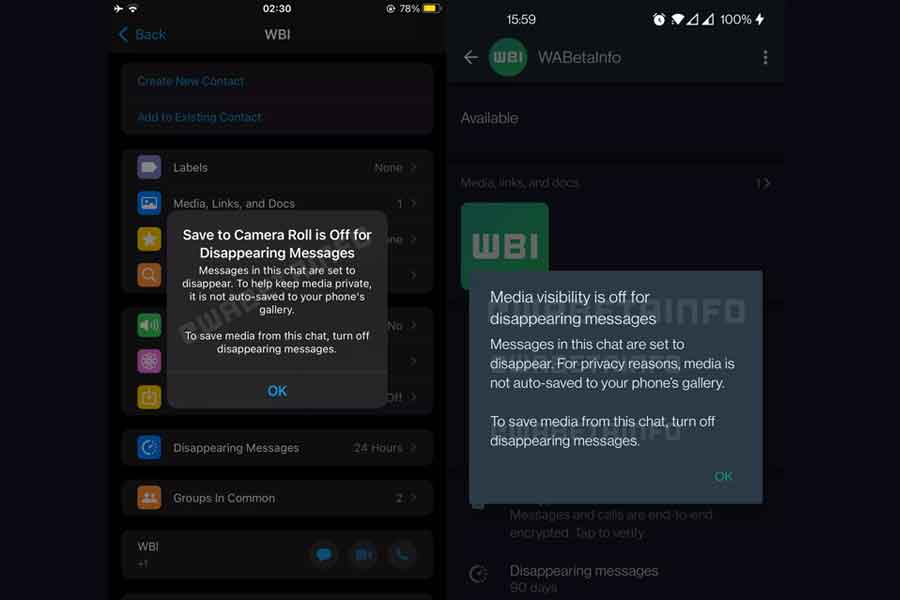 In disappearing conversations, you can still save media manually: certain Android users already have the ability to save media manually. You may save media in WhatsApp for iOS as you normally would. The adjustments are being handed out to all beta and public build users. Also, these should be visible within 24 hours, he added.
WhatsApp New feature: New Drawing tools
Along with changes to the Media Visibility, WhatsApp is testing out new drawing tools at the bottom of the screen. It includes a new pencil and a blur tool. According to WABetaInfo, the blur feature was previously only available on WhatsApp for iOS, but it is now available on WhatsApp for Android as well.
? WhatsApp beta for Android 2.22.9.7: what's new?

WhatsApp is rolling out new drawing tools to some beta testers today!https://t.co/mpjbW5iSrs

— WABetaInfo (@WABetaInfo) April 9, 2022
Users can install the current beta from the Play Store, to start utilising the new drawing tools. However, if the new drawing editor is still not there, it implies it isn't yet ready he added.
Also Read: WhatsApp soon to launch poll feature: Here's what to expect