WhatsApp has been a surprise packet since the start of the year 2022. We can see many new features targeted to improve user experience and make the in-app experience much better. Some of them have been rolled out already and some are still in the beta version. Like we already have the message reaction feature, we can now transfer large files, and we also have the multi-device login functionality. So, following the trend, WhatsApp has introduced its latest update for group voice calls. Readout what it has for the users!
WhatsApp will soon support 32 people in a group voice call
WhatsApp announced a bunch of new features and this is also one of the major ones. WhatsApp will now support 32 participants in a group voice call. It has been a substantial jump from the previous limit of 8 participants. Also, this limit only follows the voice calls as of now. However, we can expect it to come for the video calls very soon.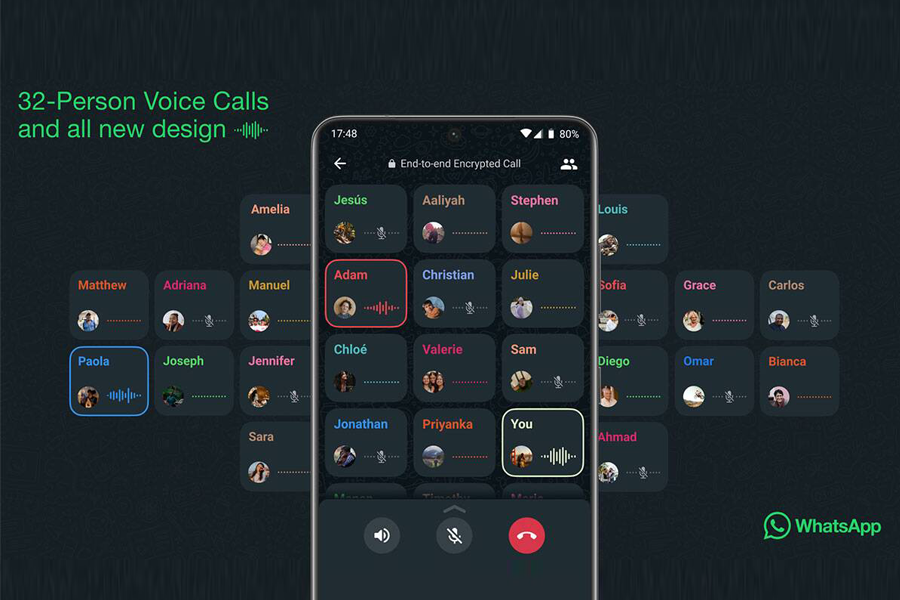 The rollout of the new feature is happening across Google Android as well as Apple iOS. WhatsApp has also updated its FAQ new limit. The latest FAQ section claims "Group calling allows up to 32 participants to voice call with each other using WhatsApp for free. Apple users can also make use of the new call limit." The listing on App Store shows that the new update brings support for 32 participants.
The listing on App Store also states that "Group voice calls now support up to 32 participants, and include an updated interface with a social audio layout, speaker highlight, and waveforms."
How it is going to work?
When you receive a group voice call, the incoming WhatsApp group voice call screen will display the members who are presently on the call, with the person who added you mentioned first. The 'Calls' page will display the history of group voice calls. You may view the individual participants from the call by tapping the call history. If missed calls are still active, you can join them.
WhatsApp New Features
Along with this great feature, WhatsApp had also announced a slew of other features last week. Let's have a quick look at what it has offered to the users!
Message Reaction
The reaction feature is nothing new. If you use Facebook and are a big fan of Instagram, you must have heard of it. It is a significant update to WhatsApp as there are many messages that we don't want to reply to directly. This comes in handy when we want to save that awkward silence of a text and avoid that unnecessary chitchat. Using the reaction feature, people can easily respond to all their messages by sending only one reaction. People may rapidly express themselves without having to send a slew of fresh texts.
Large File sharing
Another significant update that WhatsApp has brought for the users. The file-sharing limit on WhatsApp has been increased to 2 GB. WhatsApp claims to be doing this to make it easier for individuals to cooperate on projects. Before the formal launch, specifics regarding the file format will be published.
Communities
WhatsApp will soon launch Communities, an innovation to better manage groups and have more meaningful discussions, in response to user requests from around the world. A WhatsApp spokeswoman described communities as a "directory of groups," adding that the feature will allow anybody to "create their own community with various groups yet shared links." This was "based on feedback that people get disoriented because of the numerous groupings," according to the spokeswoman. Anyone may start a community and invite numerous groups to participate. However, the groups will only become members of the community if their respective administrators accept the invitation. For example, you may have a single community for a single firm with many groups of users from various user groups inside that organisation.
Also Read: WhatsApp Communities feature coming soon: Check details inside!