If you are a WhatsApp user, this new report should rightly alarm you. According to the latest Cybernews report, mobile numbers of approximately 500 million WhatsApp users across the globe have been put on sale in an incident of a massive data breach.
The report says that according to an ad posted on the hacking community forum, they are selling a large database of 487 million WhatsApp user mobile numbers from 2022 in the community. The database of mobile numbers includes users from more than 80 different nations such as the US, the UK, Italy, Egypt, and Saudi Arabia among others. The list of nations also includes India.
The mobile numbers leaked in such a data breach are generally used for phishing attacks on a large scale. Many industry experts have warned WhatsApp users across borders to be extra cautious while answering messages and calls from any numbers that are hard to recognise.
As per the Cybernews report, the seller actor has claimed during the online illegal sale of mobile numbers that the leaked database includes at least 32 million US user records. The actor has also claimed that the database includes around 45 million users from Egypt, 29 million users from Saudi Arabia, 11 million users from the UK, 35 million users from Italy, 20 million users from France, 10 million users from Russia and 20 million users from Turkey among others.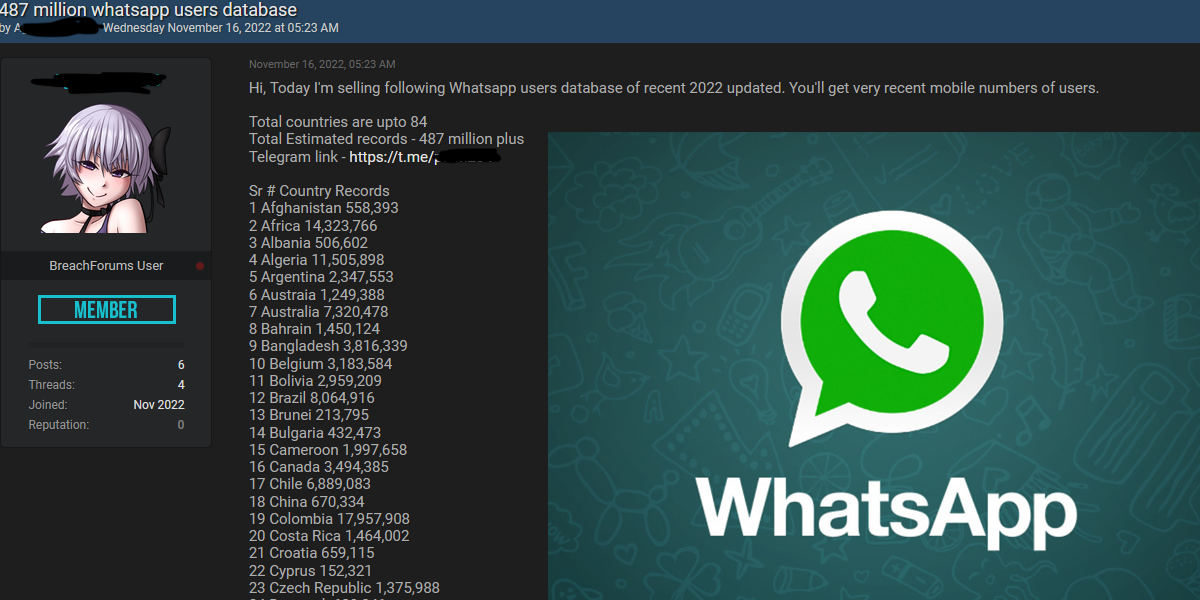 Several media reports have claimed that the data is being sold at a heavy rate.  The report reveals, "threat actor is selling the US dataset for $7,000 (approx. ₹5,71,690). While the cost for the UK and Germany datasets is $2,500 (approx. ₹2,04,175) and $2,000 (approx. ₹1,63,340), respectively."
It must be noted that there has been any official word yet on whether the data is genuine and the entire Cybernews story is based on the claim made in the hacking community. This is also not the first time a Meta owned platform is facing massive data breach allegations. A similar incident was reported last year as well when information from over 500 million Facebook users was offered online at no cost.
Recommended Reads: