Twitter is one of the most reliable and popular social media platforms among people. It has always helped you raise your voice, empowering your opinions and giving them global reach. With these many years of existence, it has also worked on its various features in improving user experience continuously. Now, it is coming with a new feature for Android where the users can select and copy a part or full text easily.
On Twitter for Android, you'll soon be able to copy text from tweets
The feature is not fresh or latest. It was available for iPhone users for quite some time now. However, if you're an active Twitter user on Android, it must've been a pain to copy the text there. Therefore, Twitter is bringing this functionality to Android users now. It may look like a little thing, but anyone who spends a substantial amount of time on the bird app is bound to stumble across something they'd like to copy and share.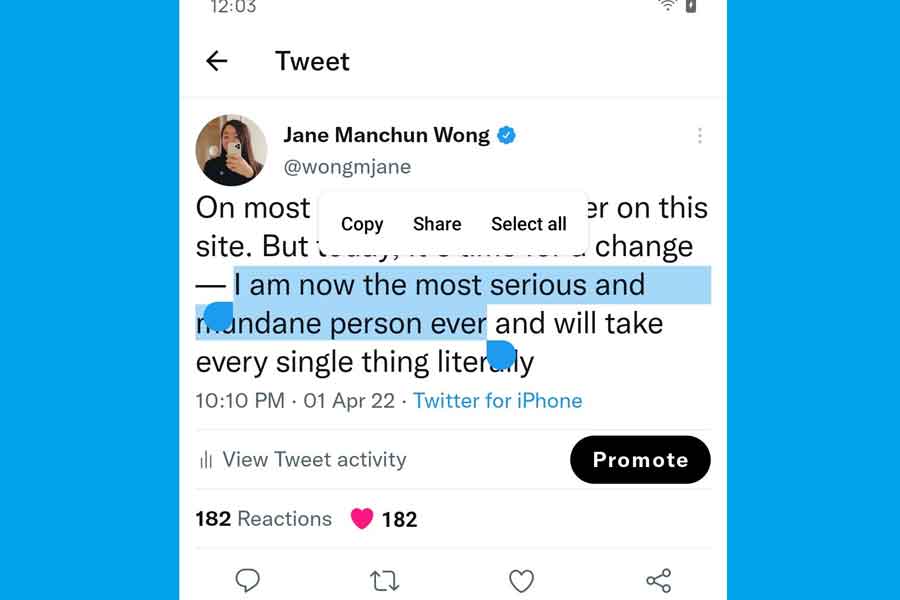 A tweet by Jane Manchun Wong, a reputable tipster, also indicated that Twitter for Android is finally receiving this functionality. Although there is no information about when we will see the feature on the app. However, it is coming very soon.
Twitter for Android is finally working on the ability to select text on Tweet pic.twitter.com/xoqYwc7aeL

— Jane Manchun Wong (@wongmjane) April 2, 2022
Recently, Twitter has brought many new features for users. For example, you can easily find a particular text in your chatbox, There's no disputing that Twitter is working on adding some pretty useful features to the app, and the greatest thing is that it's still not as bloated as some of the other services in terms of features. The software itself isn't overburdened with features that aren't required, and everything is simple to understand and use.
Also Read: Motorola Moto G22 launched, to go on sale on April 13