Live community gaming platform Tamasha Live, which serves as a lucrative avenue for micro and nano influencers from Tier 2 and 3 cities to host live social games, is now available on the Google Play store. The innovative online gaming platform helps influencers instantly monetize their engagement.
"We are excited to announce that we are now available on Google Play store. Ever since we launched the platform in 2020, the growth has been significant. We already have an extensive user base and we owe all the success to our hard-working team as well as our loyal user base who have supported us in our journey," said Saurabh Gupta, Co-founder and CEO, Tamasha Live.
Tamasha Live has grown fast since its launch two years ago. It hosts five different games in the English language, both in live audio and video formats. Over seven prominent developers are claimed to be currently associated with Tamasha Live, generating income by publishing games and giving access to the robust community base.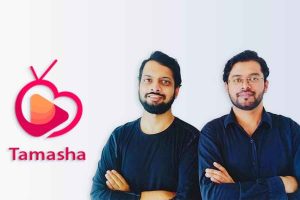 "Not only do we plan to bring some innovative monetization tools for the creators but we also aim to add 25mn+ monthly active users by end of this year. Our team is building various games that are aligned with Indian audience needs and likings to attract more communities along with introducing various new-age community games," said Gupta in a statement.
Also Read: Realme launches entry level C31 smartphone in India, details inside
Siddharth Swarnkar, Co-founder and Chief Product Officer, Tamasha Live, said, "With the world moving towards the metaverse, we at Tamasha are aiming to build a one-of-a-kind platform for gaming community engagement through Tambola (Housie), Ludo, Chidiya Udd, and many more fun games over live audio rooms. We are focusing on giving users access to exceptional gaming experiences, allowing them to socialise with their fellow players, monetize and bring a new dimension to engagement, albeit digitally."
According to Tamasha Live, the users have created various clubs on the platform that are similar to online hangout zones. This enables users to socialize and interact with one another, connect over common interests, and engage in meaningful conversations. The platform today hosts over 4,000 such clubs along with 3,000-plus creators who have successfully built their communities on the platform.
Also Read: Samsung Galaxy M53 5G: Might look like the Galaxy M62 model