Digital Platforms are becoming increasingly popular in India these days as more and more people are turning to watch quality content from the comfort of their homes as per their convenience.
The biggest of performers like Anil Kapoor, Aditya Roy Kapoor, Ajay Devgn, Manoj Bajpayee, and Shahid Kapoor have been taking the OTT route so as to reach a wider audience worldwide and create quality content.
Recently Reliance Jio Studios recently announced a slate of 100 movies and web series across Hindi, Bengali, Marathi, Gujarati, and Bhojpuri languages that will stream on the Jio Cinema app in 2023-24. One of the first releases announced by the studio was Bollywood heartthrob Shahid Kapoor's starrer 'Bloody Daddy'.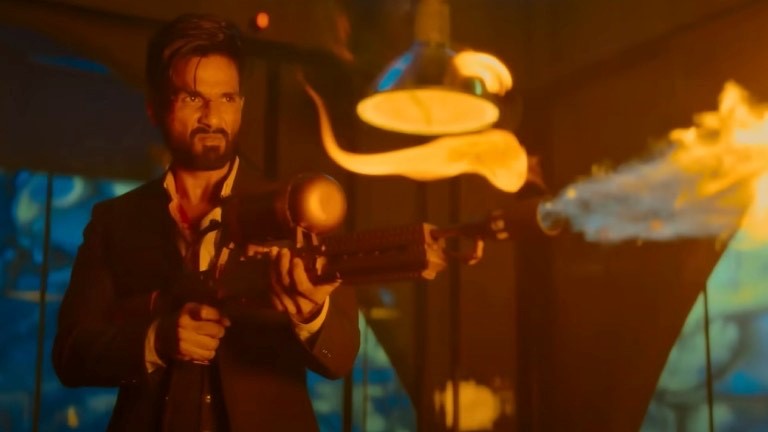 The movie will have a direct-to-digital release and the trailer of the movie has finally been launched today which sees Shahid Kapoor in a never seen before avatar. The movie is expected to be the official adaption of the 2011 French movie Nuit Blanche and Shahid gives a glimpse of being desi John Wick.
Things are about to get bloody, with Shahid Kapoor getting into action mode for the Ali Abbas Zafar film 'Bloody Daddy'.
"Shahid Kapoor also mentioned that 'Bloody Daddy' was designed for an OTT release and that a big theatrical release was never on the cards. "It's something we planned 3 years ago," he said and added, "We worked very hard to make it. We had many challenges to face but we managed to make the film in one go. It was my first actioner and we designed it for OTT. Many people asked me why are we not releasing it in theatres but we had designed it for OTT."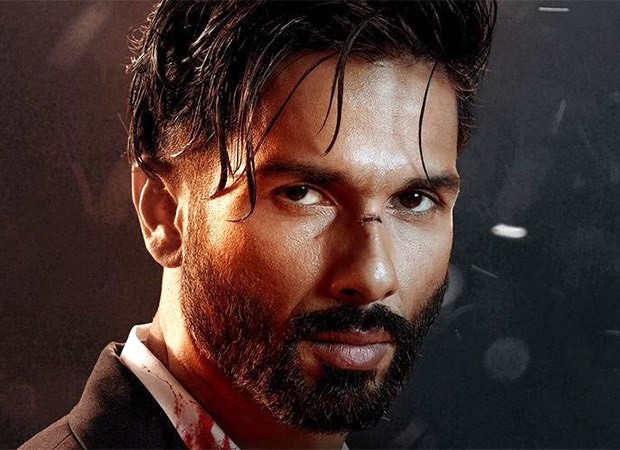 He further went on to reveal that exhibitors had called them and asked them to release their movie in theatres. Sharing his thoughts about the changing medium of watching films today, he said, "A few years back, the people who were open to change realised that this is the reality and it's going to happen. Watching content at home is more like a comfortable experience and going to theatres is like an event experience where you go to a theatre, and spend a day out with family. So, they both can co-exist. They are not eating up on each other. Even though a lot of people wanted this film to be out in theatres. Exhibitors called and told us to release this film in theatres, but we stuck to what we had thought – which is a big screen experience on OTT."
'Bloody Daddy' also stars Sanjay Kapoor, Diana Penty and Ronit Roy in the lead roles and is slated to release on June 9.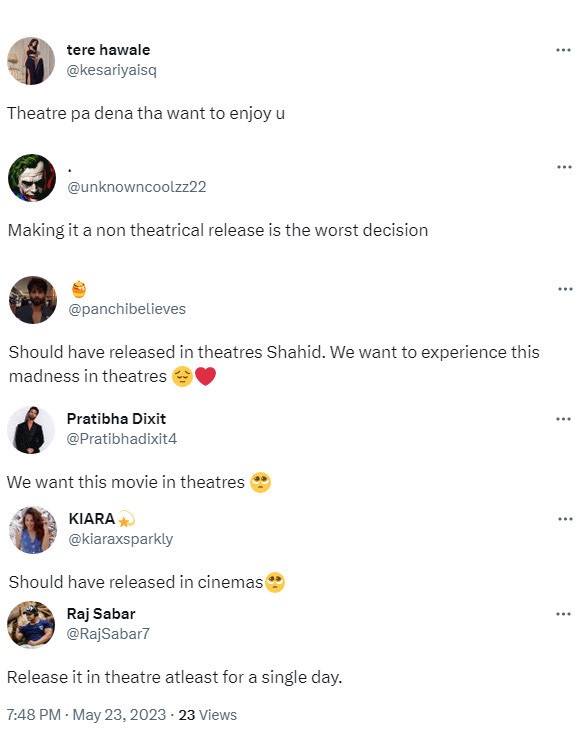 After gaining massive viewership thanks to IPL, Jio Cinema is now launching its first set of original content. After the film Kacchey Limbu and Randeep Hooda-starrer web show Inspector Avinash, Shahid Kapoor's actioner Bloody Daddy will also drop on the platform. Helmed by Ali Abbas Zafar, it is a remake of French movie Sleepless Night (2011).
At the trailer launch of the film, Shahid and Ali spoke about their film and pressed on the fact that it was best suited for OTT.
The filmmaker, who has earlier made films like Tiger Zinda Hai and Sultan shared that every film has its own cinematic language, and Bloody Daddy's needed a digital platform to tell the story honestly.
"Content is evolving and in the past three years, we have all seen how audiences' preferences have changed. Also, when you make content for OTT, it's a bigger responsibility to mount it at a larger scale, at international level, as people across would be watching it. The budgets today are big and one can create a similar movie experience, to be consumed on one's own devices. As for Bloody Daddy, the film deals with drugs, blood, and gore, and it was important that we kept it on the same ground. We didn't want to tamper it to suit it for theatres, and thus decided to have a direct-to-digital release," Ali said.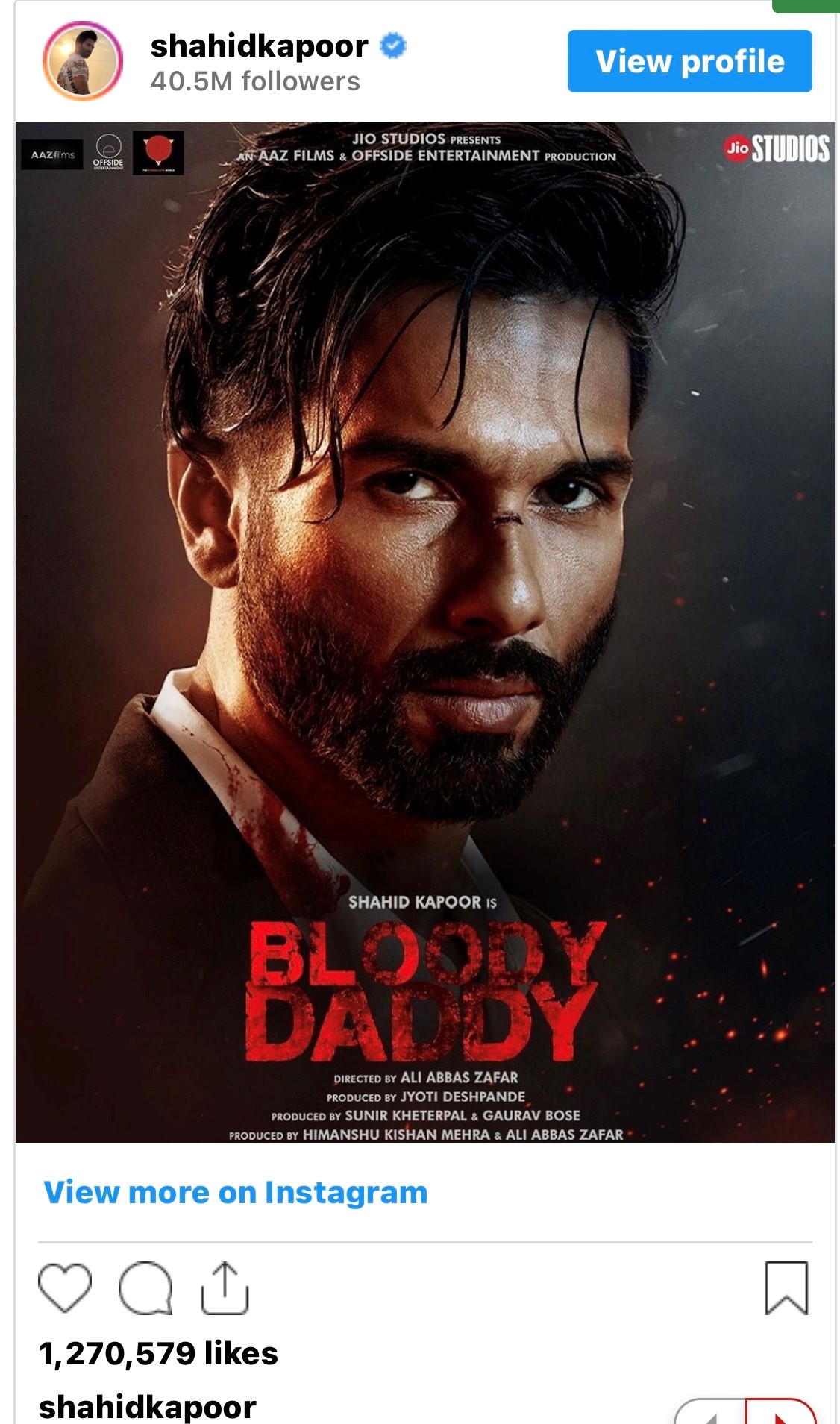 As the host discussed how some of the recent IPL matches had more than 2.5 crore tuning in, Shahid Kapoor said that the numbers in actuality is many fold more. He said, "That is the number of devices logged in. Every TV in India on average has 3-4 people watching, and hence the total number would be close to 10 crore. It's a great achievement if we can actually reach that many audiences for our film."
The actor also added that both OTT and theatres will continue to be part of the same ecosystem and not clash with one another. As artists and creators, he also added that the energies can be divided.
While watching content at home is a more personal experience, theatre will continue to be an event for families. Both will have their own phase. For content creators, there are more avenues to choose from, and they just need to know which platform they should take their content to, and then work towards it. Everyone has been telling us how our film could have been in theatres, it's slick and cool. Even exhibitors called us, wanting it but we had truly envisioned Bloody Daddy on a digital platform. It was created for OTT," the actor said.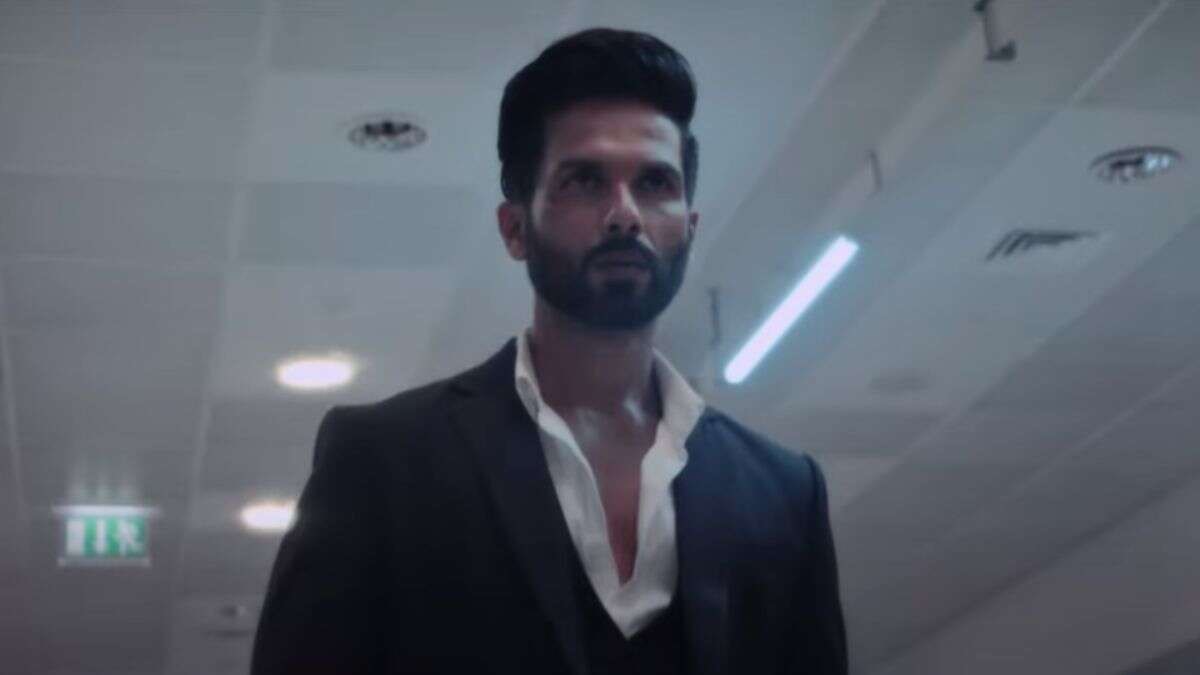 Shot amid the pandemic, Shahid Kapoor revealed that the film was shot in a record 36 days. He added that given they had to work in a restricted environment leading to higher production cost and efforts, Ali brought down the number of working days. He also shared that he has known Ali even before he became a director, and was looking forward to collaborating with him.
Also starring Rajeev Khandelwal, Ronit Bose Roy and Sanjay Kapoor, Bloody Daddy will stream free on Jio Cinema starting June 9.
Bloody Daddy Release Date: When and where to watch the Shahid Kapoor actioner on OTT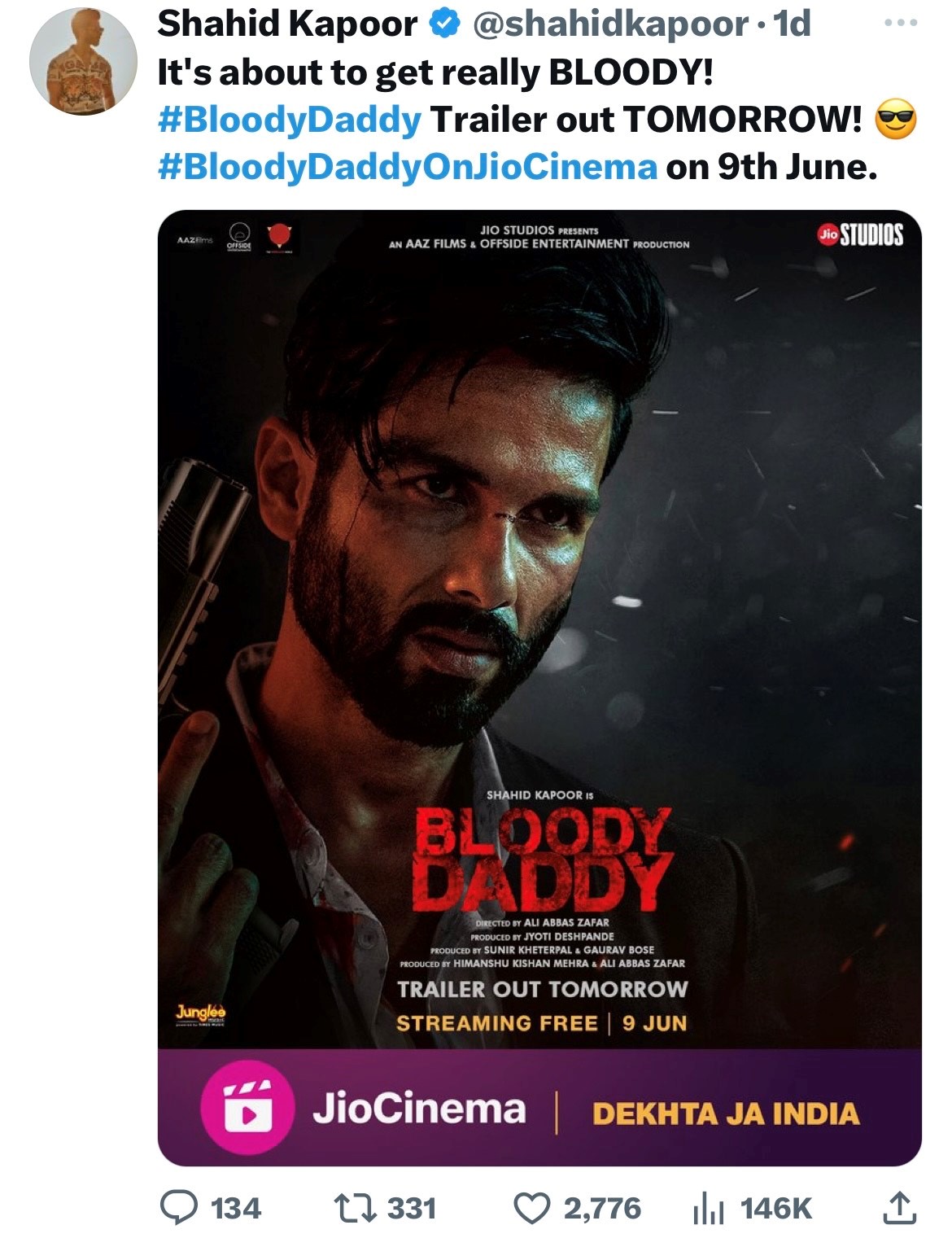 After winning hearts with his OTT debut web series, Farzi, Shahid Kapoor is all set to make his comeback on OTT, but this time on Jio Cinema. The trailer for Shahid Kapoor's much anticipated film Bloody Daddy was unveiled today, and soon after, social media erupted with excitement. The action movie, directed by Tiger Zinda Hai fame director Ali Abbas Zafar, stars Shahid as an action hero who takes out several drug traffickers. The trailer, which is packed with incredible action scenes, also gets a glimpse of Ronit Roy, Sanjay Kapoor, and Diana Penty.
Here's everything you should know about this Shahid Kapoor Starrer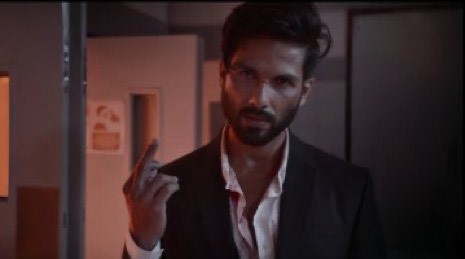 The 2011 French film Nuit Blanche (Sleepless Night) is being remade as Bloody Daddy. Aditya Basu and Siddharth-Garima collaborated on the writing for the Indian adaptation, which is bankrolled by Jio Studios.
The Bloody version of Shahid will be joined by an equally skilled ensemble that includes Diana Penty, Sanjay Kapoor, Ronit Roy, and Rajeev Khandelwal in crucial roles. The film is produced by Jyoti Deshpande, Sunir Kheterpal, Gaurav Bose, Himanshu Kishan Mehra, and Ali Abbas Zafar.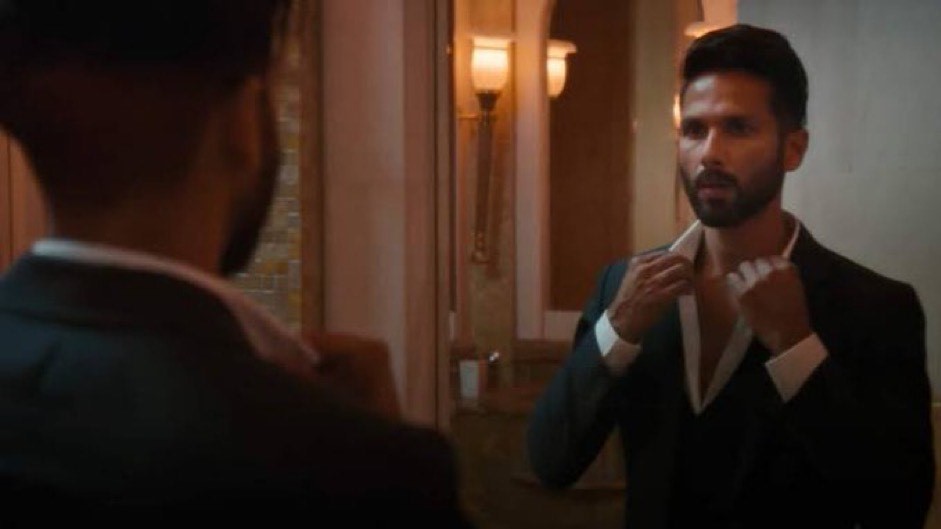 In Bloody Daddy, Kapoor's character Sumair battles drug lords and deceitful friends in a post-Covid party apocalypse. Talking about his character and how he got the project, Shahid said, "When Ali came to me with this project, I knew this was it! It's high octane, its action packed, it's thrilling, it's intense, created especially for a digital-first audience. Ali is a true master when it comes to this style of films, and it's been very enriching for me to partner with him on this."
The movie did not have a theatre distribution, which is the preferred method for star-driven action films. Instead, starting on June 9, JioCinema will stream it without charge.
Bloody Daddy: Premise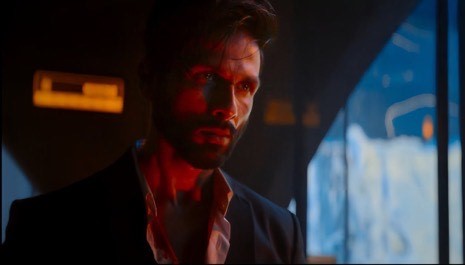 Bloody Daddy is the official adaptation of the 2011 French Film 'Nuit Blanche'. The movie was earlier adapted in 2005, in the Tamil language named Thoonga Vanam starring Kamal Haasan.
The trailer shows Shahid Kapoor in his suited look as he walks into the de of villains to swag, everything will leave fans asking for more. Other than Shahid, Ronit Roy, and Sanjay Kapoor are the badmen who are after Shahid for their drug parcel.
Bloody Daddy: Cast & Crew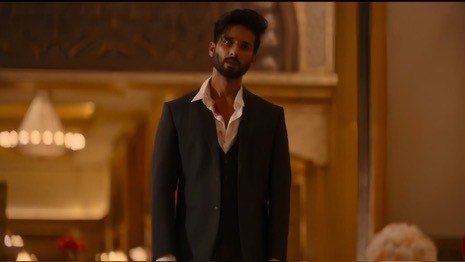 Bloody Daddy is directed by Ali Abbas Zafar who has directed movies like Bharat, Tiger Zinda Hai, and Sultan earlier. The star cast includes Shahid Kapoor, Ronit Roy, Sanjay Kapoor, Diana Penty, Rajeev Khandelwal, Vivan Bhatena & more.
Bloody Daddy has been produced by Jio Studios, Sunir Kheterpal, Gaurav Bose, Himanshu Kishan Mehra, and AAZ Studios.
Bloody Daddy: Teaser Reception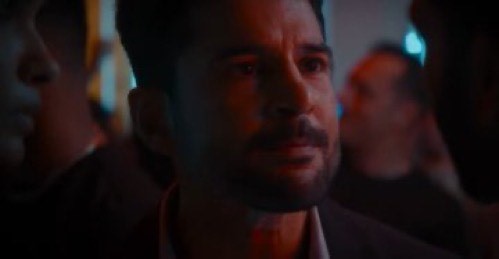 Within a day of its release on Instagram, the teaser has crossed 46 million views and 6.6 million likes. The teaser was shared on YouTube 8 hours ago and has already crossed 5.6 lakh views and 31k likes.
Shahid Kapoor was last seen in the web series 'Farzi' directed by Raj and DK that streamed on Amazon Prime Video in March 2023. His last theatrical release was Jersey in 2022.
Bloody Daddy: Release Date & OTT Platform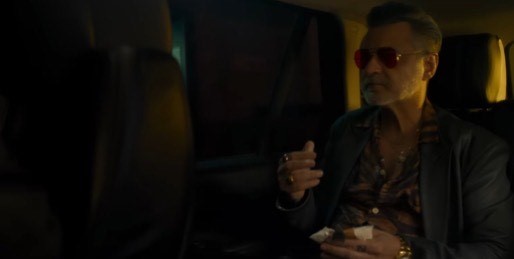 Bloody Daddy will stream directly on the OTT platform Jio Cinema from 9 June 2023. The Jio Cinema OTT Platform is currently free to use for all viewers so if there are no changes made, then the movie will be free to watch for everyone when it premieres on 9th June.
Bloody Daddy: Trailer Out Now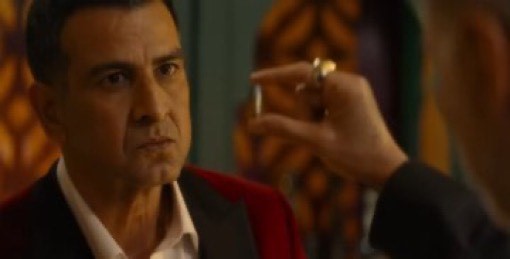 The 2-minute-long trailer of Bloody Daddy has been unveiled by Jio Studios today. Watch the trailer here.
Faqs on Bloody Daddy
1) Shahid Kapoor On Bloody Daddy's OTT release: Exhibitors Wanted Theatrical Release.Details?
Ans) A few weeks ago, when Jio Studios announced its slate, they released a teaser of Shahid Kapoor starrer Bloody Daddy. The teaser received a fantastic response, and Shahid was seen in a never-seen-before role in it.
The Action packed trailer of Shahid Kapoor's Bloody Daddy was released on May 24 and the Ali Abbas Zafar directorial will stream exclusively on Jio Cinema. Soon after the first teaser of the film was dropped a few weeks ago, a section of fans and moviegoers requested the makers to give Bloody Daddy a big screen release. Speaking of the same, during the trailer launch event, Shahid Kapoor stated that it was "designed for OTT."
Shahid asserted, "I saw a lot of comments when the teaser came out and you know, why aren't you putting this out in the theatres? And trust me, we were all tempted. But this is designed for OTT, and it was meant to be for that kind of platform. So we're very very fortunate that this film will be coming out right after the IPL when all the eyeballs are on the Jio Cinema and can't wait to share the film with you guys."
He concluded by adding, "This is the first time we showed the trailer. I'm so glad it was not on phone and it was a nice big screen because that's where it's fun to see an action film and I hope people would be watching it on the biggest possible TV back home."
Speaking of the film, filmmaker Ali Abbas Zafar said, "We see a lot of dark crime thrillers in the West, but hardly any in India that are made at that level and intensity. Bloody Daddy breaks all stereotypes right from Shahid's transformation into a 'killing machine' to being one of the first direct-to-OTT films to be created at this grand scale! Bloody Daddy is a hard-hitting out-and-out dark action thriller that promises raw and real action," in a statement.
A few weeks ago, when Jio Studios announced its slate, they released a teaser of Shahid Kapoor starrer Bloody Daddy. The teaser received a fantastic response, and Shahid was seen in a never-seen-before role in it.
2) Bloody Daddy: Shahid Kapoor charged Rs 40 crore for the OTT film? Here's what he has to say
Ans) Shahid Kapoor has turned into Bloody Daddy for his OTT film, and boy, the trailer is spellbinding. The fans are bowled over by his suave and sexy appearance, and it's reminding them of Al Pacino's gangster film Scarface. Now that's a biggie for Shahid. At the trailer launch of the film, Shahid spoke largely about the film and even addressed the rumours of him charging a whopping 40 crore for this film, Bloody Daddy. The fans are in love with Shahid Kapoor's action avatar and are calling it a smash hit already. Fans are apologising Shahid Kapoor for taking his chocolate boy image way too seriously.
Shahid Kapoor jokingly reacted that he wishes somebody paid him that much and looked at his filmmaker, Ali Abbas Zafar, who too took a funny dig at this statement of Shahid and said that this is the least amount that has been reported. Now we wonder if Ali was speaking the truth, but talking about Shahid's fees for this film, Bloody Daddy, is totally deserving; the actor has been making some remarkable choices and is showing his acting prowess, which proves why he is still so relevant and the ruling star in Bollywood.
Shahid had made his debut with the Farzi web series, and the fans went gaga over him, and now Bloody Daddy is going to be another game changer. Talking about why he is choosing such destructive films and web series, the actor jokingly said that his life is very much at peace and his wife is not creating any ruckus, so by choosing such films he is bringing chaos into his life. Shahid, damn sweet.