While most devices today are Bluetooth-enabled, there are a few that still lack the capability. Non-smart TVs, game consoles and even airplanes entertainment do not feature Bluetooth connectivity, and hence using wired headphones is your only choice. Why not give your older gadgets a second chance with Scosche's BTTWT-SP FlyTunes BT Audio Transmitter?
BTTWT-SP FlyTunes Bluetooth Audio Transmitter is a simple, yet powerful device that allows you to transmit audio from almost any device with a 3.5mm audio jack over Bluetooth. Scosche Industries is an accessories brand and debuts in India through TekkiTake.
The Scosche BTTWT-SP FlyTunes is a highly portable Bluetooth transmitter that accepts analog audio inputs, converts them into digital data and transmits it over Bluetooth to a connected device. It has a very simple one-button (MFB) operation and can be plugged in and set up in a matter of seconds.
Housed within a rugged ?polycarbonate body are some powerful electronics that make your life easier when you need it. It features dual input mono and stereo folding prongs (connectors) that allows you to use it with almost any audio device out there. All you need to do is lift the required connector, plugin and switch on the device to instantly stream audio over to your BT headphones.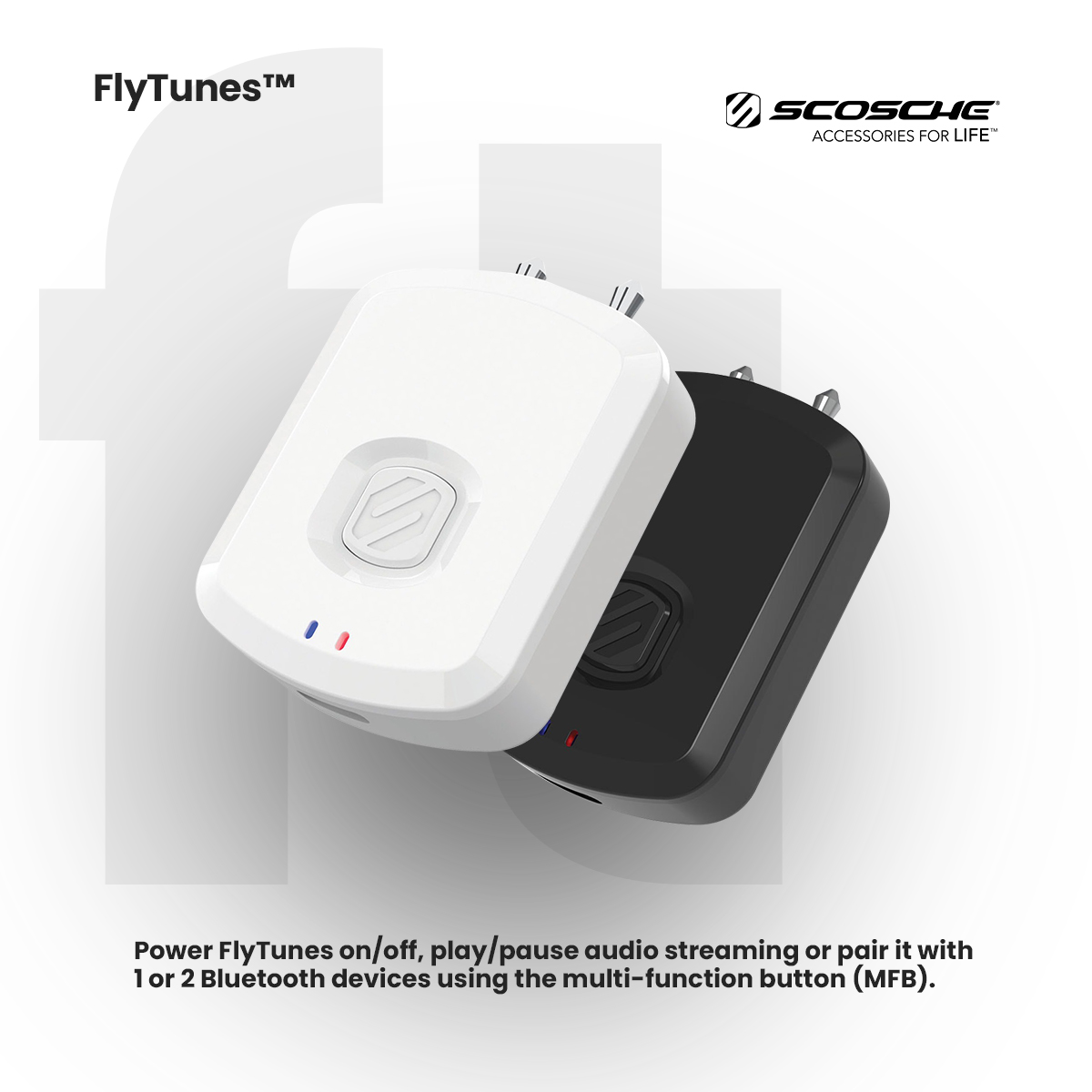 The greatest USP of the Scosche BTTWT-SP FlyTunes is its dual pairing option — simultaneously pair two Bluetooth headphones. Now imagine a scenario where you are travelling on an airplane or camping with your loved one and want to watch a movie together on your laptop with a 3.5mm jack. A wired headphone is your only option where you can share an earbud each. With the Scosche BTTWT-SP FlyTunes, you can now pair two BT headphones and both can enjoy the complete stereo audio experience of the movie together. Speaking of a flight, the Scosche BTTWT-SP FlyTunes's dual prongs can work together to connect to your airplane's seat too. Now enjoy in-flight entertainment with your own precious Bluetooth headphones or Airpods /TWS earbuds, instead of the cheap quality earphones provided by the flights.
The Scosche BTTWT-SP FlyTunes is powered by a fairly large rechargeable battery that can last you a good 8 hours on a full charge. Now you can enjoy non-stop gaming, or pull through that entire boring flight without a break, charging the Scosche once.
The Scosche BTTWT-SP FlyTunes will be available in India for an MRP of Rs 3,999 and can be purchased from Amazon, FlipKart, and Tekkitake, with a 1-year warranty period.
Also Read: Western Digital associates with Red Chillies Entertainment for 'Bob Biswas'