With the launch of M8, there has been a comparison between Samsung's smart monitor and iMac which offers similar features.
First launched in November 2020, Samsung has opened pre-booking for its newly launched Smart Monitor series, the M8. Featuring a SlimFit Cam, the new 32-inches Smart Monitor M8 is available in four modern colors — Warm White, Sunset Pink, Daylight Blue and Spring Green. UHD resolution and a SlimFit Cam are other features of the Samsung M8. While iMac is available in seven vibrant colors —Green, Yellow, Orange, Pink, Purple, Blue, and Silver. Thanks to a sophisticated flat-back design, the M8's range of colors developing on stylish warm white complements any environment based on the user's personal preferences.
The Samsung Smart Monitor can be pre-ordered at https://displaysolutions.samsung.com/monitor/why-smart-monitor.
Designed with an aim to offer both functionality and entertainment at home, Samsung M8 serves as a traditional monitor and TV also. It allows users to enjoy a variety of OTT platforms, including Netflix, Amazon Prime Video, Disney+ and Apple TV via Wi-Fi without having to connect to a PC or TV.
About three-quarters slimmer than the previous models, the 11.4mm thin Smart Monitor M8, offers both space and work efficiency in an ultra-stylish design. Thanks to M1, the first system on a chip for Mac which makes iMac 11.5 mm thin and compact that it fits in more places than ever.
Productivity
To enjoy a perfect home office environment, the Smart Monitor M8 can be connected to various IT devices through the upgraded Smart Hub.
The Workspace User Interface offers all services needed to work on one screen. It helps users wirelessly connect to a Windows or Mac PC and efficiently use an extensive range of useful features, including Samsung DeX, Apple AirPlay 2 and Microsoft 3652 cloud service. It also allows mirroring content from smartphone to the M8.
Equipped with a magnetic and removable SlimFit Cam that can attach to the monitor while keeping desk space neat without any unsightly wires.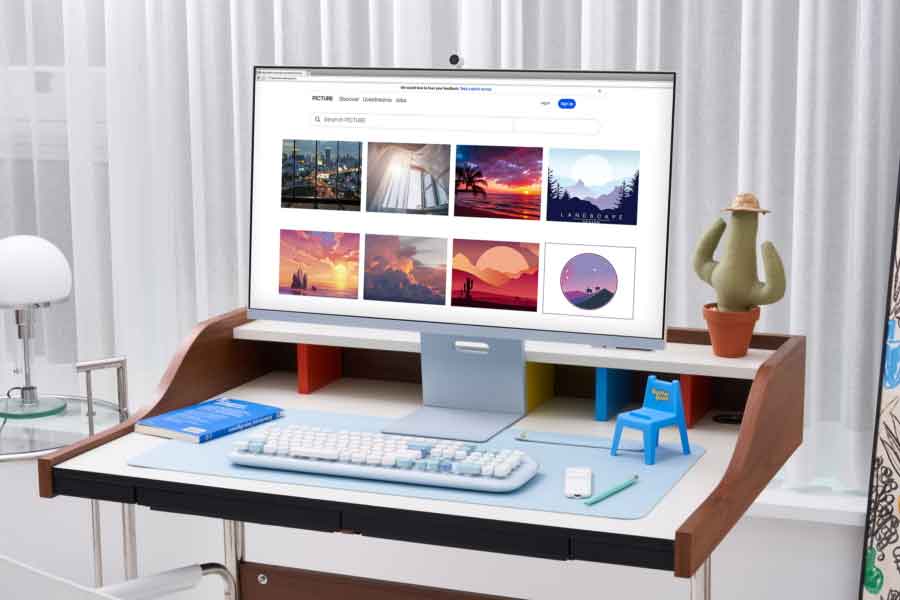 Face tracking and auto zoom
Featuring Face Tracking and Auto Zoom functions, the SlimFit Cam allows to swiftly identif a person's face when on screen and automatically focusing on the subject. This feature makes M8 a perfect option for active presentation or livestreaming.
Video chat apps such as Google Duo is also supported by the M8, allowing users to work remotely or engage in video conferencing at home or in the workplace using the SlimFit Cam.
While iMac is equipped with 1080p FaceTime HD camera and offers double the resolution for higher-quality video calls. Collaborating with co-workers to catching up with friends and family, you'll always look your best as the advanced image signal processor (ISP) of M1 greatly improves image quality.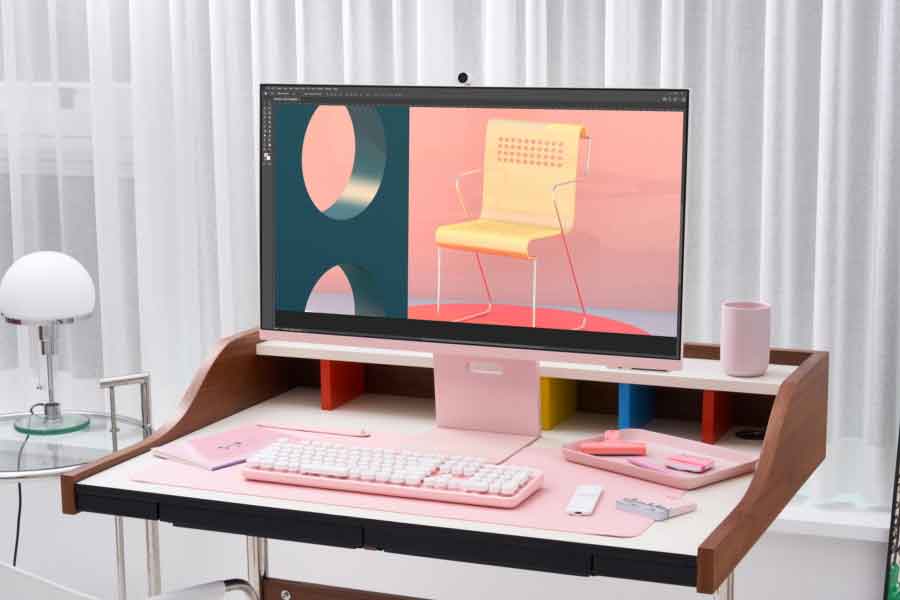 SmartThings Hub
Equipped with an IoT hub called SmartThings Hub, it allows users to connect all their IoT devices wirelessly and track IoT devices throughout the house easily with the app's intuitive control panel highlighting all information provided by other devices connected to the M8, including light switch and plug power.
With its high-sensitivity Far Field Voice microphone, the assistant controls devices such as Bixby and Amazon Alexa4 using voice commands. Always On Voice function, displaying conversation information on screen when Bixby is activated, even if the monitor screen is turned off is additional feature of M8.
With its height adjustable stand (HAS) and tilt functionality, users will be able to find the perfect position for every project, movie night or study session.
To enhance viewer's comfort by automatically adjusting display brightness and color temperature, M8's display offers adaptive picture technology.
According to Kyounghoon Kim, Executive Vice President and Head of Design Team, Visual Display Business, Samsung Electronics, inspired by the theme 'Shades of Nature', the M8's color palette composed of four different colors.
Kim also said that the Samsung aims to create a product capable of matching the lifestyles of all kinds of people and preferences.
Comparison between M8 and iMac
Initially launched in in January 2022, Samsung M8 is now available to pre-order starting at $699.99 (around Rs 54,000) for white colour. The other three colors add an extra $30 to the price. In India, iMac carries an initial price tag of Rs Rs 119900.00.
With the price difference and similar features, M8 might become a popular but it would be interesting to see it can beat iMac or pose a greater challenge to Apple.
Also, Read Here: Samsung inks MoU with Western Digital to create an ecosystem for zoned storage solutions