Samsung recently announced a brand new foldable phone in India – Galaxy Z Fold 3 5G – at its Unpacked event. The Z Fold 3 is the first foldable device to feature an under display camera, S Pen stylus support, and it also has an IPX8 water resistance rating, which is kind of a big deal for a foldable phone. I got to check out the Galaxy Z Fold 3 5G and here are the first impressions.
I received the Phantom Black color variant of Galaxy Z Fold 3, which is Samsung's latest and greatest at the top of the line smartphone and here I'll be giving you my initial thoughts about this device. Without any doubt, this is Samsung's most premium mainstream smartphone and yes there's no denying that this is a costly smartphone, which is not everyone's cup of tea. However, despite its price tag, this one is going to sell like hot cakes because out there is an audience who don't mind spending a big amount for the best of the best and this one is shaping out to be the best of the best.
Design
Regardless of the fact that it is a foldable device, a phone is supposed to feel like a phone. To ensure better usability and easier handling in day-to-day use, good ergonomics are a must. And, this is the biggest challenge with the Galaxy Z Fold 3. The unique form factor hiding a 7.6-inch tablet has some compromises that affect the handling. Also, when folded, it becomes a tall, thick and heavy device, which actually feels like two phoned glued together. There's no way your fingers reaches all corners of the screen.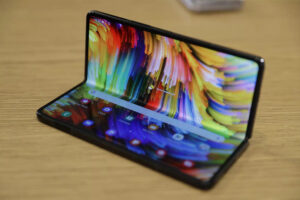 The hinge and back of the phone are made of metal where the back of the phone has a matte finish. I personally prefer the matte finish as the phone is far less slippery when held. With a phone that cost almost 1.5 lakh, I should feel reassured that it will not slip out of my hand that easily. I'm happy to report that the Galaxy Z Fold 3 does not feel flimsy or fragile or let me rephrase – this phone is not fragile at all, this is premium device, it feels solid to hold in the hand. Coming to the button placements, the power button that embeds the fingerprint scanner is present on the right side along with the volume rockers. The dual SIM slot is present on the left side. It houses a USB Type-C port at the bottom along with a microphone and a speaker unit. The top has the second speaker unit and three microphones.
Display
Samsung is the king when it comes to making displays and everyone knows that. The main display of the Galaxy Z Fold 3 is a large 6.2-inch cover display and a larger 7.6-inch inner folding display, both being AMOLED units with 120Hz refresh rate and HDR+ support up to 1200 nits brightness. The foldable display also gets a new protective film made of stretchable PET5, which is claimed to offer 80% more durability than the one offered on the predecessors. The crease is still there and you can feel it when using the display for typing or navigation, but after a point you get used to it and anyway it is fine. The Galaxy Z Fold 3 is so much more than the crease.
Now truth to be told! For the majority of my time spent with the smartphone, I have mostly been watching videos because the inner display has a pure joy to use and of course it is the screen that you'll be paying for if you get this smartphone. Samsung has used the latest Corning Gorilla Glass Victus to offer protection against scratches and accidental drops.
Also Read: Oppo Reno 6 5G Review: A premium mid-ranger that punches above its weight
Performance
Based on a few hours of usage, the performance is what I would describe as high-tier given the immense power of the Qualcomm's Snapdragon 888 chipset that has been paired with 12GB LPDDR5 RAM. It doesn't have a microSD expansion slot. On paper, the phone should be at par with flagship phones with similar configurations. However, since it has only been a couple of hours, I haven't been able to test games like Battlegrounds Mobile India as of now. The phone also has IPX8 water resistance rating, which makes it the first water resistant foldable smartphone.
Samsung Galaxy Z Fold 3 runs One UI 3.1 on top. Now One UI is of course the sole of this device and the Z Fold 3 gets its own special treatment when it comes to the software. The Galaxy Z Fold 3 also has support for the S Pen, however for now, I don't have the stylus handy as the phone didn't come with one so I can't talk much about its performance part. It is also worth mentioning that the S-Pen cannot be used on the cover display and the handset has no enclosure to hold the S-Pen.
Camera
In terms of optics, the Samsung Galaxy Z Fold 3 5G is the first handset in the country to flaunt an under display camera system. On the cover screen, there's a 10-megapixel snapper for self-portraits. When turned the phone around, you get three 12-megapixel Sony IMX555 sensor comprising of a wide and ultra-wide and a telephoto lens. Finally, on the inside, there's also a 4-megapixel under display camera or 4-megapixel UDC as they say. Now its quality is not the best but seeing this tech in a phone that anyone can buy makes me feel optimistic of the future. As for the other lenses, they are good. The phone also has up to 4K 60fps video recording both on front and rear cameras.
Battery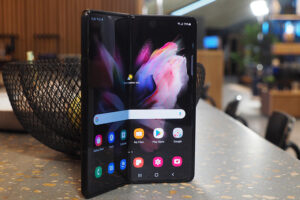 The Samsung Galaxy Z Fold 3 packs a 4,400mAh battery with support for 25W wired and 10W wireless charging, and also supports 4.5W reverse wireless charging. Sadly, the South Korea tech giant hasn't improved the charging speeds even for its premium flagships. The device barely lasted for a day with my usage. The big and gorgeous foldable display doesn't go with a modest 4,400mAh battery cell that well.
Price
The Samsung Galaxy Z Fold 3 starts at Rs 1,49,999 for a version with 12GB RAM and 256GB storage. A version with 512GB storage will set you back by Rs 1,57,999, and it is not the kind of price you find around the bargain bin. Yes, buying the phone in monthly installments can spread out the cost a little bit but the fact remains, this is one expensive smartphone.
Verdict
After two iterations, we now have the third generation Galaxy Fold and it's much more refined and an established foldable handset. And to be true, the phone is not very pocketable. The extremely tall and narrow design makes you feel its presence. But, it has better displays, refined software to make more out of those better displays and the design is now water-resistant. The only disadvantage seems to be its battery life and under screen camera. If Samsung could have offered faster charging and better cameras, things could have been far better.