Measuring oxygen saturation level in your blood, or say SpO2, was a rare exercise for a common healthy person prior to the COVID-19 outbreak in India. People would take it casually unless it's a severe case. But now, everybody is talking about Pulse Oximeter, an instrument used for measuring the proportion of oxygenated haemoglobin in the blood. Thanks to the deadly pandemic, smartwatch makers are now including this feature in the list of health-tracking facilities that they offer in their devices. Homegrown brand Fire-Boltt perhaps knew about this next big thing, and hence came up with a smartwatch (model- BSW001) that can read SpO2 at a price as low as Rs 2,999, besides being packed with a plethora of other health tracking features that are a must for today's lifestyle. But how useful are these advanced features for you and where does this wearable stand? Let's try to know in this review.
Design and Build
First impression is the last impression. The Fire-Boltt BSW001 will give you a very premium feel as soon as you take it out from the box. Although it comes in different colour variants, the one that I had for review is Gold (dial) with a pink silicone strap that looks really nice on your wrist. It comes with a lightweight, square-shaped dial face with curved corners. There's a button on the right side that will give you a traditional watch-like look. The button is used to power on and off, and will take you to the home screen from wherever you are. The silicone strap is made of good-quality material and will not irritate you when there's sweating in your hand.
The device comes with a 1.4-inch HD display with a resolution of 240×240 pixels, protected by a 2.5D glass coating. It's a full touch-screen smartwatch and is very smooth and clear. You'll find no lagging or slow response while swiping across screens. You can customise the brightness of the screen, as per your need and preference. While the button has its own function (as mentioned above), you can do the rest by swiping the screen left-right or up-down.
Moreover, the smartwatch is IPX7 water resistant and dustproof. You don't need to remove it in a case of sweating or rains or water contact. However, its prolonged use in water is definitely not advisable, as IPX7 has its own limitations. It's not resistant to erosive liquids such as seawater, acidic and alkaline solutions and chemical reagents. Like any other smartwatch, this wearable too offers you a proprietary dock charger to refuel it.
UI and Features
In terms of user interface, the main screen shows you the time, steps, heart rate and weather, however, none of them are clickable. One needs to scroll left or right to check the steps s/he's taken or go to the heart rate screen to measure or check the heart rate. A double-tap on the heart rate screen starts the heart rate measurement. There's also an option in the Settings for continuous monitoring of the heart rate. As soon as you swipe up, it takes you to the other parts of the menu like Messages, Sleep, and Health, which includes SpO2, heart rate, and blood pressure monitors. The next screen, Training, has 7 workout modes- Walking, Running, Cycling, Skipping, Badminton, Basketball and Football. You can also click pictures through the camera app, however it's only through the back camera.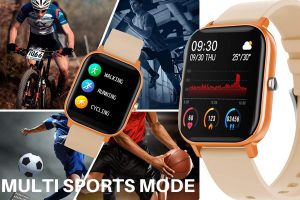 Although there are only three default watch-faces, the Da Fit app which you need to install on the phone has hundreds of beautiful watch-faces. However, only a few of them will show you battery information. You have to either go to the battery info on the watch to see the battery level or use the mobile application to check its status. In such a situation, the chance of running out of battery cannot be ignored.
Functionalities and Software
The Fire-Boltt BSW001 smartwatch seamlessly gets connected to an Android or iOS handset via Bluetooth 4.0. But first, you need to have Da Fit app on your mobile through which you'll get all the information related to your smartwatch and activities, such as Steps, Sleep, Heart Rate, BP, Blood Oxygen, and Outdoor Running – laid out gracefully on a page. Besides monitoring SpO2, the wearable can monitor heart rate, blood pressure, and sleep. The steps measurement is fairly accurate and so are the heart rate and SpO2 readings.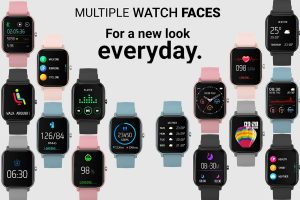 The watch also shows notifications from the phone like calls and messages. The phone call notification, alerts you of the incoming call, however one can't use it to answer calls. The watch also offers you music controls, camera controls, flashlight feature and weather forecast notifications.
Battery Life
Battery happens to be another USP of this device, as it works for over a week at a stretch following one complete charge. However, it depends on one's use case. The smartwatch takes around 3 hours to charge fully from 0%.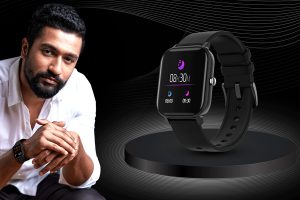 Conclusion
The smartwatch looks quite decent and has several latest features related to fitness and activities, in order to keep a tab on your health, which is of utmost concern nowadays especially in the wake of COVID-19. It gives accurate readings and will not disappoint you in measuring different parameters of your health, including the heart rate and SpO2 monitoring. Last but not least, the Fire-Boltt BSW001 will gratify your passion to have a graceful smartwatch at an affordable price.