HIGHLIGHTS
* Snapdragon 7+ Gen 2 SoC will target premium but not flagship phones.
* The chip claims 50 percent better CPU, 2x better GPU, and 13 percent less power consumption.
* Devices based on the new chipset may launch by March-end, and cost upward of $400 (Rs 33,000).
* Snapdragon 7+ Gen 2 will first be used on Realme and Redmi phones.
* Qualcomm says AI-related performance has seen a two-fold improvement.
* The Snapdragon 7+ Gen 2 will also offer support for aptX Lossless codec.
Qualcomm has taken the wraps off its latest sub-flagship premium chip for smartphones, the Snapdragon 7+ Gen 2.
The latter comes after Qualcomm revised its chip naming scheme in 2021, and launched the Snapdragon 7 Gen 1 chip in May last year for phones that are premium, but not a flagship.
Now, in its second generation, the Snapdragon 7+ Gen 2 claims a host of improvements over its predecessor and brings the 7 series of non-flagship chips closer to its Snapdragon 8 series of flagship chips.
Qualcomm on Friday unveiled the Snapdragon 7+ Gen 2 as the company's latest mobile platform for mid-range smartphones. This is the first addition to the Snapdragon 7-series since the debut of the Snapdragon 7 Gen 1 last year.
The newly announced chipset is claimed to offer over 50 percent improved performance compared to its predecessor, while offering a 13 percent improvement in power efficiency.
The Snapdragon 7+ Gen 2 also features auto variable rate shading (VRS) for gaming, support for 200-megapixel cameras, and Qualcomm's aptX Lossless codec.
AI performance per Watt over the previous generation is claimed to be improved by 40 percent, and the Snapdragon 7+ Gen 2 also lets users upscale game scenes or photos with a new AI Super Resolution feature.
Qualcomm Snapdragon 7+ Gen 2 Specifications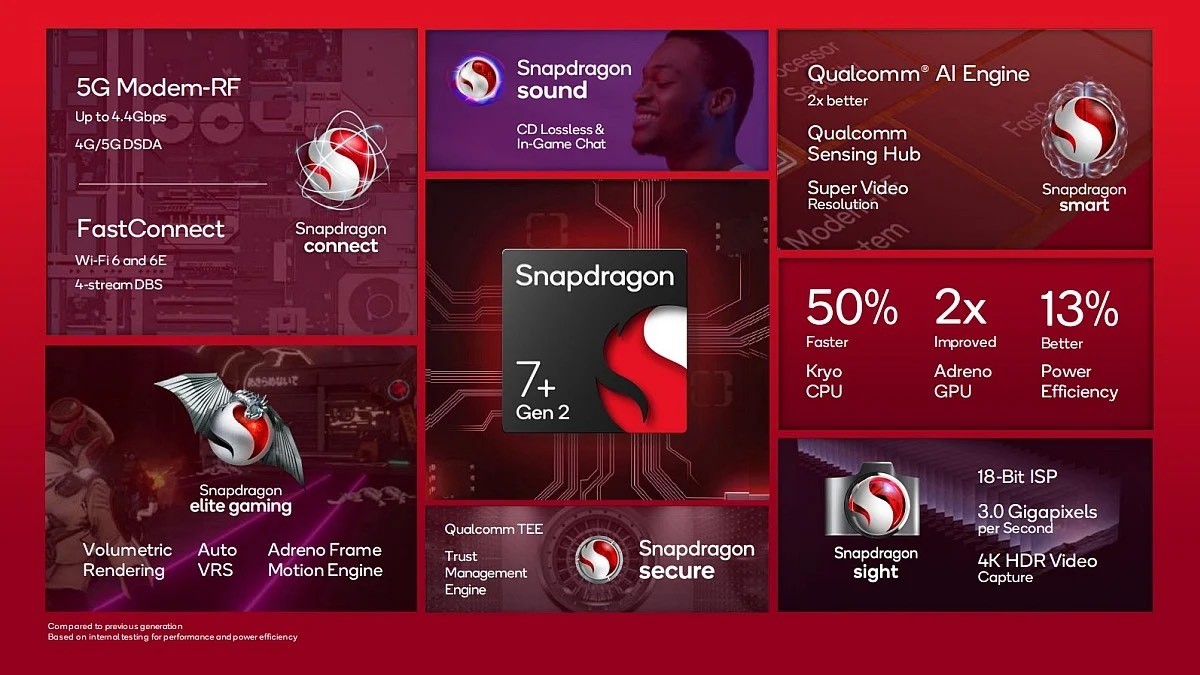 To begin with, the core configuration of Snapdragon 7+ Gen 2 is in line with what the Snapdragon 8+ Gen 1 SoC offered — it gets one Cortex-X2 performance core clocked at 2.91GHz, three Cortex-A710 bulk cores clocked at 2.49GHz, and four Cortex-A510 efficiency cores clocked at 1.8GHz.
The clock speeds differ from what the Snapdragon 8+ Gen 1 offered, but the overall configuration is considerably closer to the latter.
As a result, Qualcomm claims a bunch of improvements in almost all possible metrics. These include an overall improvement of 50 percent over the Snapdragon 7 Gen 1, and 15 percent greater single-core performance on the Geekbench benchmark over a competing chipset that Qualcomm did not specify.
In terms of graphics abilities, Qualcomm claimed that the Snapdragon 7+ Gen 2 SoC features a 2x more powerful GPU that will offer a significant jump in the graphics abilities of sub-flagship-grade Android smartphones.
This translates into 25 percent higher benchmark scores for graphics tests and 65 percent higher scores in Geekbench's 1080p stress tests.
GPU capabilities are further augmented by features such as auto variable-rate shading, volumetric rendering, AI super rendering, and Adreno Frame Motion Engine, among others.
Finally, you get better AI capabilities too, with a 2x more powerful AI engine that delivers 40 percent more AI performance per watt.
All of this comes in a 13 percent more power-efficient package, with the chip being based on TSMC's 4nm process instead of Samsung's.
Snapdragon 7+ Gen 2 Phones Launch Timeline and Prices
According to Qualcomm during a press briefing session, the Snapdragon 7+ Gen 2 SoC will feature in phones launching this month itself.
Xiaomi group's Redmi, and BBK's Realme, are two China-based brands that are confirmed to be using the chip soon. According to Android Authority, smartphones based on this chip could be priced between $400-600, or around Rs 30,000 to Rs 50,000.
FAQ's on Qualcomm Snapdragon 7+ Gen 2Soc
1) What are the devices which have Qualcomm Snapdragon 8 Gen 2 Chip ?
Ans) iQ00 11 for gaming enthusiasts
If you are looking for a Snapdragon 8 Gen 2-based phone primarily for gaming, we suggest the iQ00 11 over its contemporaries. The primary reason for recommending the iQ00 11 is its faster 144Hz 2K AMOLED display. The phone also has the fastest charging solution amongst all the Snapdragon 8 Gen 2 powered smartphones in India. Even on benchmarks and stress tests, we have noted that the iQ00 11 can sustain peak performance for a bit longer than the rest.
OnePlus 11 for price-conscious buyers
If you want the most affordable Snapdragon 8 Gen 2 SoC-based phone in India, then you can consider the OnePlus 11 (review), which even undercuts the 1Q00 11 with a starting price of Rs 56,999.
Despite being the most affordable model, the device packs a 2K curved display, a triple camera with Hasselblad tuning, a premium metal build with stainless steel frame, and it even supports 100W fast charging. The fast charger is included in the box.
Samsung Galaxy S23 for compact phone seekers
If you are looking for the most compact and premium flagship with the Snapdragon 8 Gen 2 at the helm, the Galaxy S23 should be the device to consider. This phone, with its 6.1-inch screen, is currently the most compact phone with Qualcomm's flagship chip.
The device also has a capable triple camera setup, a 120Hz flat display, supports wireless charging, and it is also IP68 rated for water and dust resistance.
However, with a starting price of Rs 79,999, the Galaxy S23 is a bit expensive compared to its competitors.
Xiaomi 13 Pro for pro-camera users
If you want a Snapdragon 8 Gen 2 SoC-based phone with an emphasis on the camera, the Xiaomi 13 Pro is the phone to pick. With the Leica partnership, the Xiaomi 13 Pro is currently one of the best smartphones for still photography. While the camera setup on the Xiaomi 13 Pro might not be as versatile as the one on the Galaxy S23 Ultra, it does come with a massive 1-inch type sensor with Leica tuning to deliver pro-grade camera performance.
Samsung Galaxy S23 Ultra for the rest
A Snapdragon 8 Gen 2 listicle would be incomplete without the Samsung Galaxy
S23 Ultra in it. The S23 Ultra is not only the most expensive Snapdragon 8 Gen 2-powered phone, but it is also the most feature-packed device that one can get in India right now. From 100x hybrid zooming capability to an integrated S-Pen, there is no other phone that's as versatile as the Galaxy S23 Ultra in India right now.
2) What are Snapdragon 7+ Gen 2 specifications?
Ans) According to Qualcomm, the Snapdragon 7+ Gen 2 is aimed at bringing some of the company's popular features found in its flagship Snapdragon 8-series mobile platforms. The new chipset offers a peak clock speed of up to 2.91GHz. The firm says that it offers over 50 percent better performance over its predecessor in CPU performance, while the GPU performance sees a two-fold improvement. Meanwhile, it is claimed to offer 13 percent better power efficiency for improved battery life.
The new mobile platform offers a few Snapdragon Elite Gaming features like VRS for optimising content resolution and volumetric rendering for particle graphics like fog and smoke, and Snapdragon Sound with the Qualcomm aptX Lossless codec for high quality music streaming.
For images and videos, the Snapdragon 7+ Gen 2 supports up to 200-megapixel image capture along with staggered HDR video capture for improved recording. It is equipped with an 18-bit triple ISP that can capture 30 images in low light mode and merge them to get a brighter, clearer photo.
Qualcomm also says that the chipset allows users to capture over 4,000 times more camera information for better dynamic range.
The Snapdragon 7+ Gen 2 is equipped with the company's Snapdragon X62 5G Modem-RF system, with Dual-Sim Dual Active (DSDA) support for 5G and 4G networks. It is capable of download speeds of up to 4.4Gbps while conserving more power. Meanwhile, the Qualcomm FastConnect 6900 mobile connectivity system is claimed to offer speeds of up to 3.6 Gbps over Wi-Fi 6 connections.
During Al-related tasks, smartphone users will see a two-fold improvement in performance, along with 40 percent better performance per Watt compared to last year's chipset. The newly unveiled Snapdragon 7+ Gen 2 SoC features
Qualcomm's Sensing Hub and support for intelligently upscaling games and photos from low resolution images with Al Super Resolution.
Also Read: Nothing Phone (2) to be powered by Snapdragon 8+ Gen 1 chipset, Qualcomm executive reveals accidentally ahead of Nothing Ear (2)launch
Also Read: Samsung Galaxy S23 FE tipped to ship with Older Qualcomm Snapdragon 8+ Gen1 SoC In an Effort to Provide Competitive Pricing