The truly wireless stereo (TWS) earbuds market has shown tremendous growth in India of late. According to a report by research firm Canalys, the Indian smart personal audio market grew 62% in the third quarter of 2021.
With a massive 220.5% jump in shipments from 0.9 million in Q3 2020 to 2.8 million in Q3 2021, homegrown brand Boat registered the highest growth in the country. Globally, Apple continued to dominate the market.
Despite a 33.7% decline from 26.8 million units shipped in Q3 2020 to 17.6 million units in Q3 2021, Apple emerged as the top brand followed by Samsung and others.
In view of the increasing demands for wireless, portable, and compact earbuds, Amazon has recently unveiled its Echo Buds (2nd Generation) in India.  With the launch of Echo Buds (2nd Generation) in India, Amazon has also intensified competition in the premium segment of TWS in India.
Earbuds have become a must-have accessory to get an engaging sound experience. With easy Bluetooth connectivity, TWS allows working anytime, anywhere without caring for tangling chords. If you have made up your mind to buy a pair of earbuds in the premium segment, you are in the right place. We have compared the earbuds offered by premium brands including Apple, Samsung, and Amazon on all major parameters such as specifications, price, and color availability to help you decide the better choice for you.
In the premium segment, Apple, Samsung, and Amazon offer Echo Buds, Galaxy Buds, and Airpods, respectively. Starting with the design, the article will focus on key specifications to know the products better and choose the best suitable for you.
Design
The AirPods Pro and Galaxy Buds Pro are designed differently. The AirPods Pro has an angled stem for easy placement and removal as well as a stable fit. The Galaxy Buds Pro is more compact while Echo Buds are small, light, and sweat-resistant and come with different sizes of ear tips. Design-wise Echo Buds look like Samsung Galaxy Buds Pro.
Thanks to a slight protrusion from the side of the earbud that serves as a mini wingtip, the Galaxy Buds Pro offers a stable and comfortable fit. It is good to use the silicone ear tip size to avoid issues while using the AirPods Pro and Galaxy Buds Pro. Users can take the ear-tip fit test in the Alexa app to get an optimal fit for Echo Buds (2nd Generation).
AirPods Pro is smaller, feels lighter in your ear while Galaxy Buds Pro having a round design with tap panels on the side, feels a bit heavier in your ear as compared to the AirPods Pro.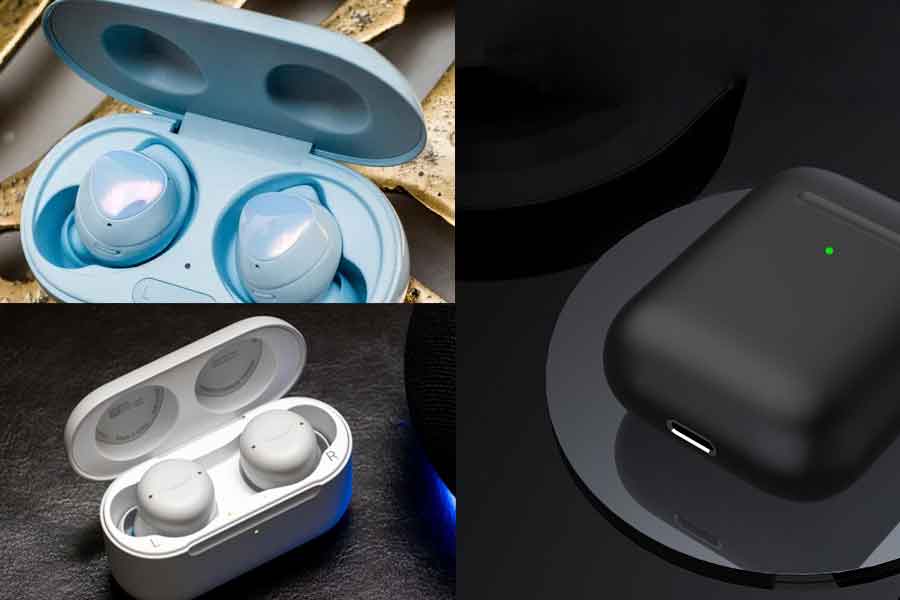 Active Noise cancellation
To allow you to focus on your music or work, Echo Buds, Samsung Galaxy Buds Pro, and AirPods Pro offer active noise cancellation (ANC).
Battery life
Echo Buds offers up to 5 hours of battery life with ANC and Alexa Wake word turned on. This can be extended up to 6.5 hours with ANC and Alexa wake word off. For AirPods Pro, claimed by the Apple as wireless, effortless, and Magical, the battery performance is optimal when paired with an iPhone.
In addition to the battery capacity, the AirPods Pro's case provides a total of 24 hours of listening time.
The Galaxy Buds Pro lasted 4 hours, 48 minutes on a single charge with ANC turned on, and its case holds approximately 13 additional hours of battery juice. The Samsung Buds charges via USB-C which is definitely a more universal method of charging than what the AirPods Pro offers.
Similar to Samsung Buds, Android and iOS compatible Amazon Echo Buds 2nd Generation can also be charged via USB-C (comes with the box).  A wireless charging option is also available for Amazon Echo Buds. These earbuds can be charged with compatible Qi-certified wireless charging pads which need to be purchased separately.
To check battery status while wearing, you can say, "Alexa, what's my battery status?" You can also check the battery status in the Alexa app, or open the case while your Echo Buds are inside and the LED lights in front of each earbud will show the battery status.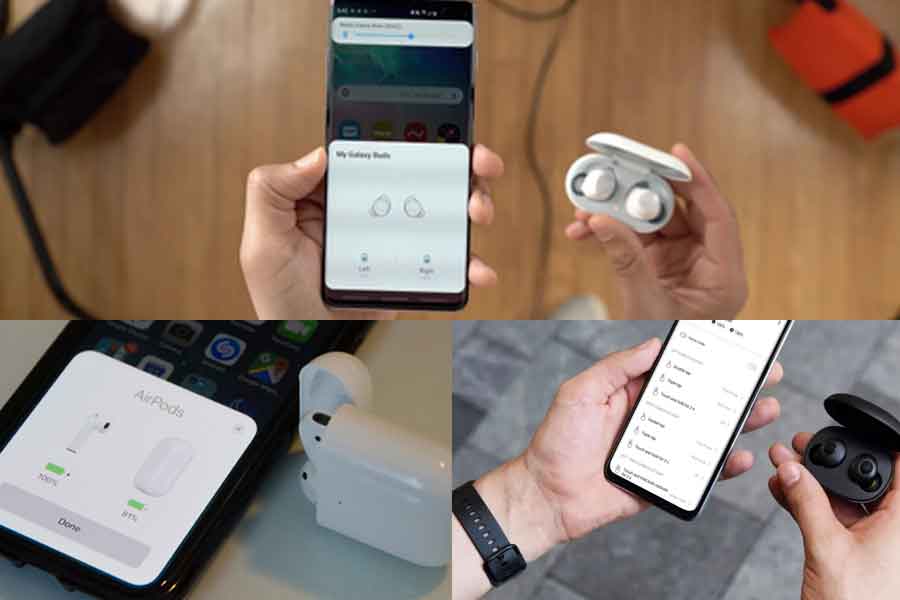 Hands-free voice assistant         
Echo Buds offers you hands-free access to Alexa while Samsung Galaxy Buds Pro and Apple Aipods allow hands-free access to Bixby and Siri, respectively.
IPX rating
Galaxy Buds come with IPX2 rating and are not water-resistant and are not suitable for use in water. You also need to take care of your Galaxy Buds from dust as these are not dust-proof as well. The earbuds will malfunction if comes in contact with dust or foreign materials. Apple Airpods do not come with any IPX rating while Amazon Echo Buds 2nd Generation has IPX4 rating, which means it is resistant to water splashes from any direction.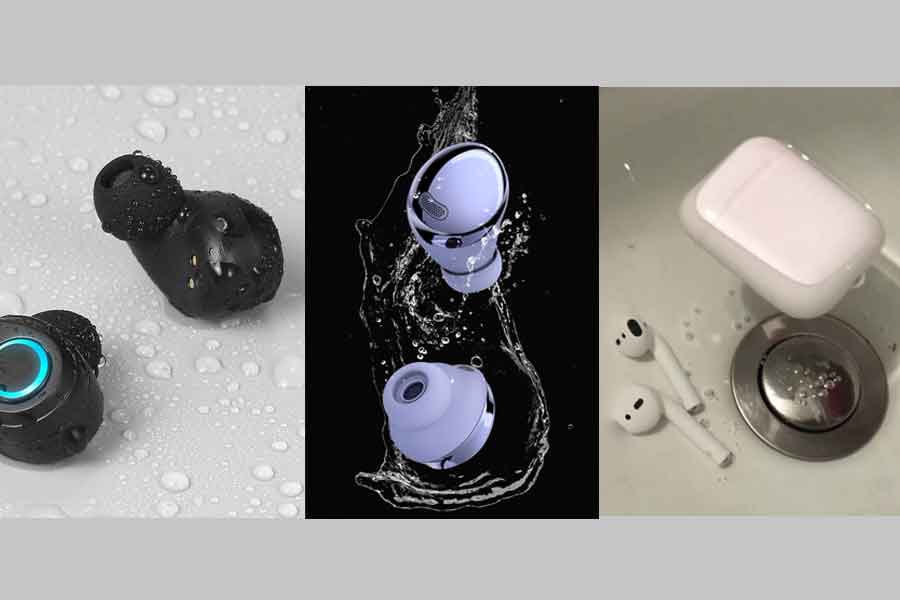 Colour options
When it comes to color options, Amazon and Apple offer limited choices. Currently Echo Buds 2 and Aipods is available in Black and white colours, respectively. The Galaxy Buds Pro comes in three colors–silver, black and purple.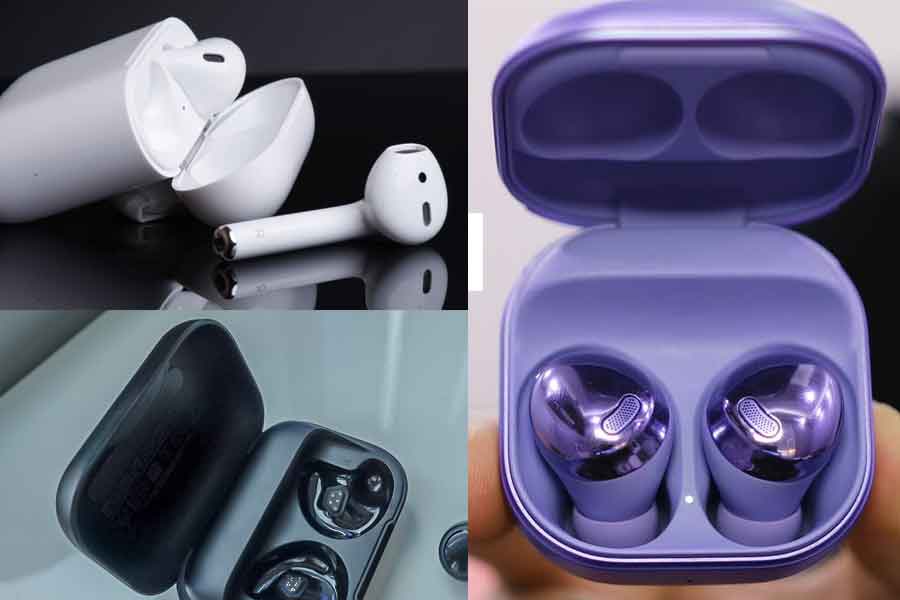 Price detail
AirPods costs Rs12,900 and Galaxy Buds Pro can be bought at Rs 10990 from the official website and other online and offline stores.
The newly launched Echo Buds 2nd Generation is available at starting price of Rs11,999 for the USB-C wired charging option. Currently, Amazon is offering a limited-period discount of Rs1000. For wireless charging case option, you need to pay Rs 13999.
Customizable fit              
Echo Buds and Samsung Galaxy Buds Pro both offer a customizable fit as Echo Buds comes with 4 sizes of ear tips and 2 sizes of wingtips and Galaxy Buds Pro comes with 3 sizes of ear tips. While AirPods does not offer a customizable fit option.
Also, Read Here: Infinix Zero 5G: A performance heavy mid-ranger with stunning looks