In Brief
POCO is a leading player in the consumer technology brand that has made it a mission to deliver the highest quality products to its fans and consumers. It has recently rolled out some exciting offers for the customers to experience technological revolution of POCO Smartphones at unbeatable prices.
The offers that are available for the Flipkart Big Diwali Sale when it comes to topnotch quality of Poco smartphones are as follows:
POCO M4 Pro AMOLED
It comes with a 90Hz Super AMOLED Display, which makes it the first ever Super AMOLED Display in M series. It also boasts of a strong triple camera setup, including a 64MP Primary Camera, 8MP Ultrawide Camera and 2MP Macro Camera and for the selfie mode.
It is powered by MediaTek Helio G96 paired with the 8GB of RAM and 128GB of internal storage and has a battery power of 5,000mAh battery that comes with a 33W MMT fast charging that charges 100% in just 60 minutes.
POCO M5
It is powered by the latest MediaTek Helio G99 6nm processor and is classified as the most power-efficient smartphone in its segment, which also comes with a massive 5000 mAh battery that easily lasts for 2 days.
It comes with a 6.58-inch 90Hz FHD+ smart display with 240Hz refresh rate, along with a touch sampling offering an efficient scrolling and a vivid content viewing experience. Equipped with a 50MP triple camera set-up lets users capture detailed and sharp images.
POCO C31
It is powered by a high quality chipset Mediatek Helio G35, featuring a triple camera setup with 13MP main camera, a 5,000 mAh massive battery, which makes it a valuable disruption seldom seen in its segment.
It carries POCO's characteristic design and loaded features. POCO C31 is an amazing choice in its segment of smartphones that caters to the needs of its users, and comes in two colour options- Royal Blue and Shadow Grey.
Also Read: Poco India records sales worth 3 million for its C Series on Flipkart
POCO X4 Pro 5G
This smartphone is powered by Snapdragon® 695, which is a cutting-edge 6nm framework and is also the first in X-Series to include a 120Hz Super AMOLED screen with a 360Hz touch sampling rate ideal for gaming and videos.
It also features a 67W MMT Sonic charging with 5000 mAh battery power, while the photography experience is quite immaculate, courtesy of the 64MP camera, 8MP Ultrawide sensor and 2MP Macro sensor for detailed captures in all lighting conditions.
POCO F4 5G
It comes with a Snapdragon® 870 flagship chipset built on a 7nm processor and is able to handle strenuous tasks and multitasking with much ease. Also you can avail a 6.67 inch E4 AMOLED screen, along with an ultra-tiny 2.76mm Dot Display, which is one of the smallest in the price segment, and finally, a 120Hz refresh rate and 360Hz touch sampling rate.
The device comes with Dolby Vision and Dolby Atmos and even being the thinnest model in the POCO lineup to date with 7.7mm thickness, POCO F4 5G is equipped with a 4,500mAh battery with 67W Sonic charging for users always on the go.
POCO M4 5G
It is powered by a MediaTek Dimensity 700 processor that promises to deliver a lag-free experience, while its 90Hz FHD+ Smart display holds the fort for smooth scrolling, multitasking and also gives an excellent gaming session.
Users can also get a phenomenal camera performance with its 50MP AI Dual camera solid performance, along with a 5000mAh battery that easily takes you through a demanding day. It takes forward the legacy of M-series by flaunting a mesmerizing swirl design rear panel, making it look regal.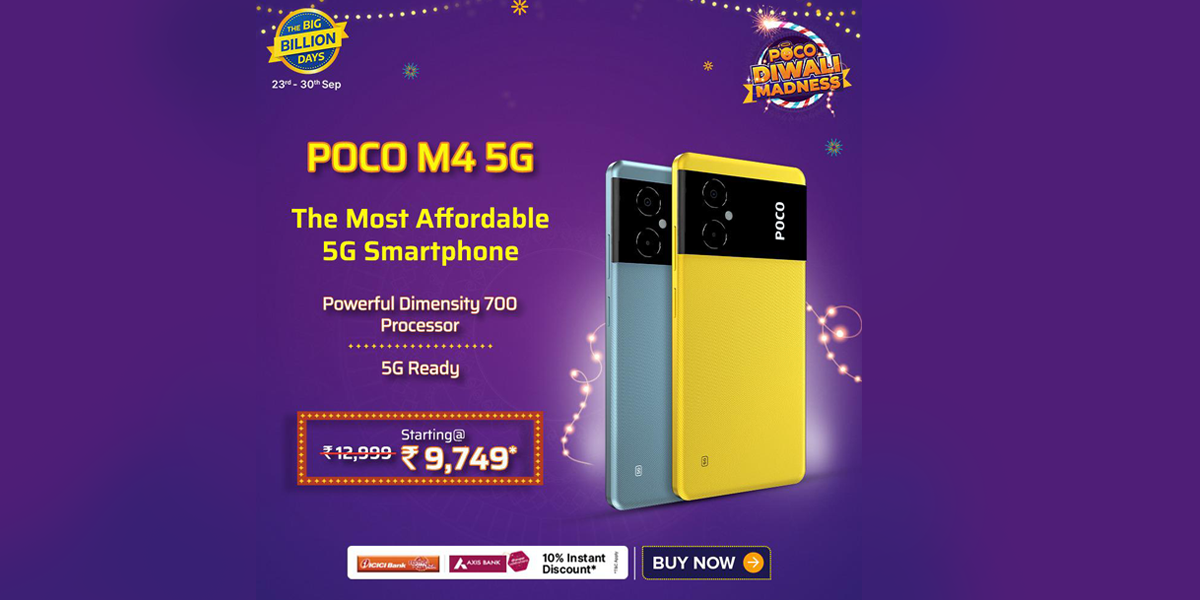 POCO M4 Pro 5G
This handset is equipped with an exceptional 5G-ready MediaTek Dimensity 810 processor and sports an immersive 90Hz 6.6" FHD+ display coupled with 240Hz touch sampling rate for an ultimate viewing and gaming experience.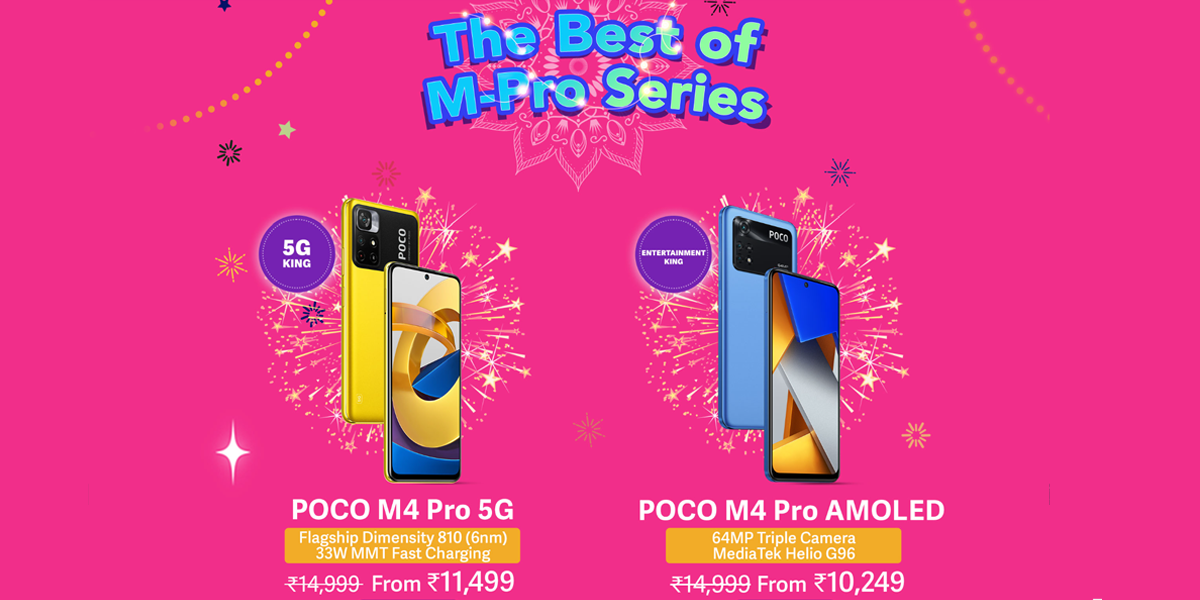 It also gives a massive 5000 mAh battery with a 33W fast in-box charger and boasts a dual setup camera with 50MP primary sensor and an 8MP ultrawide sensor. POCO M4 Pro 5G is available in three exciting colors- Power Black, Cool Blue, and POCO Yellow.
POCO Smartphones
Storage Variant
Launch Price
Big Diwali Sale Discount
Big Diwali Sale Price
POCO M4 Pro AMOLED
6GB+64GB
₹ 14,999
₹ 4,750
₹ 10,249
6GB+128GB
₹ 16,499
₹ 5,250
₹ 11,249
8GB+128GB
₹ 17,999
₹ 4,750
₹ 13,249
POCO M5
4GB+64GB
₹ 12,499
₹ 2,150
₹ 10,349
6GB+128GB
₹ 14,499
₹ 1,250
₹ 13,249
POCO C31
3GB+32GB
₹ 8,499
₹ 1,750
₹ 6,749
4GB+64GB
₹ 9,499
₹ 1,750
₹ 7,749
POCO X4 Pro 5G
6GB+64GB
₹ 17,999
₹ 4,000
₹ 13,999
6GB+128GB
₹ 18,999
₹ 3,500
₹ 15,499
8GB+128GB
₹ 20,999
₹ 4,000
₹ 16,999
POCO F4 5G
6GB+128GB
₹ 27,999
₹ 6,000
₹ 21,999
8GB+128GB
₹ 29,999
₹ 6,000
₹ 23,999
12GB+256GB
₹ 33,999
₹ 6,500
₹ 27,499
POCO M4 5G
4GB+64GB
₹ 12,999
₹ 3,250
₹ 9,749
6GB+128GB
₹ 14,999
₹ 3,250
₹ 11,749
POCO M4 Pro 5G
4GB+64GB
₹ 14,999
₹ 3,500
₹ 11,499
6GB+128GB
₹ 16,999
₹ 3,500
₹ 13,499
8GB+128GB
₹ 18,999
₹ 4,500
₹ 14,499
Also Read: Poco F5 5G Specifics Leaked to the Public; Details Inside