Inspired by the use of technology in our everyday life, Rajat Tyagi, student of a private university in Noida has recently come up with an ICT enabled tool to detect overflowing sewers.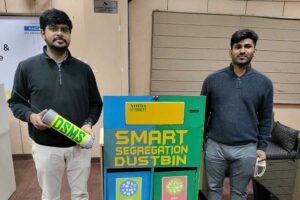 Rajat, a final year BTech Aeronautical Engineering student at Amity University received an award in the recently held Noida Authority's Swachh Innovative Technology Challenge for developing a gadget by combining information and communication technologies (ICT). He won under the liquid waste management category. A total of 154 entries were received in five categories — social inclusion, zero dump, plastic waste management, transparency, and liquid waste management.
On what inspired Rajat, a native of Uttarakhand, to develop such tool, he says that overflowing sewers are a major nuisance in rural areas. "To address the problem I thought of making an ICT-based sewer overflow monitoring tool," says Rajat while talking to MyMobile India. The project has been implemented by the Noida authority at a Sewage Pumping Station (SPS) in the city.
According to him, the newly developed tool sends alert on time, date, location, etc whenever it detects overflow in sewers or drains to the monitoring agency. The tool is equipped with a unique location tag, which will help the monitoring units to locate the device and thus drain the overflowing sewer. The device can also control the flow pumps at sewage pumping stations.
Smart segregation dustbin
Another student Nikhil Kumar from BTech (Automobile Engineering) stream of the University has been awarded for developing a smart segregation dustbin (SSD). The SSD equipped with ultrasonic sensors allows it to detect human presence. "Once the waste is dumped in the dustbin, a loop inside the bin moves via an object-detection sensor and identifies if the waste is wet or dry. A moisture sensor then determines the direction of waste while a servo motor initiates the segregation flap," says Nikhil.