Memmo.me is one of the leading Swedish-based entertainment platforms that has a robust global presence and is now spreading its footprints in India. The firm is an online platform that offers personalized video messages from thousands of well-known celebrities to their fans and followers. These videos can be customized and personalized for its clients as per their requirements.
The company not only offers these videos for personal purposes but also curates and customizes celeb videos aligned with various objectives of businesses such as marketing campaigns, virtual events, team celebrations, and sales outreach. Memmo.me is considered to be the biggest marketplace for personalized videos from various celebrities including athletes, actors/actresses, comedians, theatre artists, and YouTubers, etc. just to name a few.
Incepted in late 2019, the company strives to transform people's special events into memorable experiences by offering tailormade videos from prominent personalities. The brand's CEO & Co-founders Tobias Bengt Dahl & Gustav Lundberg Toresson, conceptualized the venture with the mission to help connect celebrities one-to-one with their fans and businesses. The company is based in Stockholm, Sweden, and has regional offices in every country. However, it is now keen to mark its presence in the Indian market as well.
Abhishek Sarkar, General Manager at Memmo.me who is bringing the brand into India started his journey with the brand in 2021 with the intention of solving real-world problems that the startup ecosystem often has to face.
Abhishek Sarkar, General Manager, Memmo.me said, "We are a one-of-a-kind platform and are known for our innovative approach. We are grateful that we have had a successful journey so far. We owe it to our team who has worked hard as well as our clients who have trusted us throughout. We are now keen to expand our presence and we at Memmo.me believe that India possesses a huge potential for growth. We are well aware that the domain is highly competitive. However, we are optimistic that the growth opportunities are tremendous. We are also hopeful that with our unique offerings as well as our customized and personalized approach, we will be able to establish a robust presence in the times to come."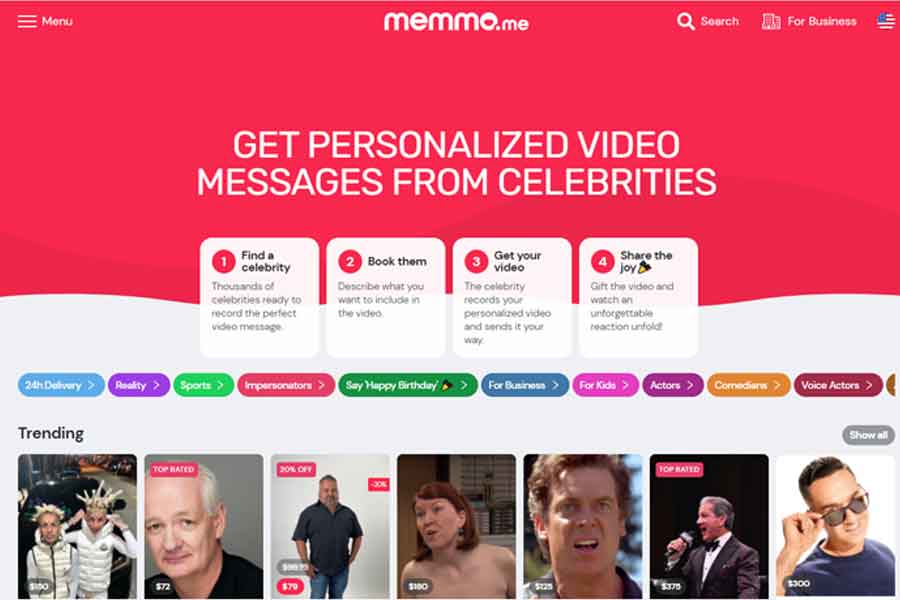 He further adds, "We will be focusing on enhancing our product categories as well as celebrity portfolio and will also be increasing our team so as to seamlessly cater to the needs of the Indian customer base. Simultaneously, we are tapping Mexico and Brazil markets as well. On the whole, our focus is to provide exceptional user experiences. We want to be recognized as the one-stop destination for personalized celebrity wishes both in the Indian and global markets in the future."
The brand has emerged to be one of the most renowned and leading companies in the industry and is known for its innovative approach along with agile capabilities by personalizing videos. These videos are affordable and available in a quick turnaround time of a minimum of 24 hours. The clients can book the celebrity and the required videos via the app version of the platform. The celebs can also manage the bookings via Memmo's app, also called a 'white glove service'.
Memmo.me not only offers celebrity videos but memories and experiences that can be cherished for a lifetime. It has been playing a vital role in helping people improve their relationships and reignite love and emotions with its services.
It works with a customer-first approach. The brand first understands and researches each domain thoroughly. It then adds local or add-on flavor to enhance the quality of the videos and personalize them as per the needs of its clients. This ideology is what differentiates the brand from the other players in the market. Memmo.me envisions growing as a platform for fans to engage with the preferred prominent personalities on a personal level and wants to be the one-stop destination for people looking forward to personalized and customized experiences. In addition, the firm wants to provide a wide range of products and services to both fans and corporations in the times ahead.
Also Read: Doja Cat is the new Global Brand Ambassador for JBL