MAXHUB, a premier provider of collaborative communication and interactive class delivery solutions, today launched its V5 Series interactive flat panel displays.
The V5 Series comprises of 3 different Series – Classic Series (C Series), Vogue Series (V Series) and Transcend Series (T Series). All panels are powered by Intel CoreTM i5/i7 Processor and come in 55-inch, 65-inch, 75-inch, and 86-inch sizes.
Since the first launch in 2017, MAXHUB has tremendously changed the landscape of modern meetings with its conference IFP products. With the launch of V5 Series its new goal is to offer simplicity to a broad range of workspaces that used to have time-costly and labor-intensive sessions.
MAXHUB ventures to be different with these 3 new series –
Classic Series inherits concept of minimalist design while delivering intuitive interactions
Vogue Series values both professionalism and innovation with varying color options
Transcend Series represents MAXHUB's unyielding fervor for technology and intense curiosity towards the future
These panels are enhancements over the last range of MAXHUB panels. They offer stunning features like –
4K Ultra HD resolution for crisp image quality
Built-in seam speakers to deliver exceptional audio
12MP to 48MP HDR Camera (depending on the series) with Speaker Tracking makes meetings clearer
Multiple easy-to-use annotation tools
Extensive connectivity features for enhanced learning, sharing, and collaboration in professional environments like conference rooms, meeting rooms or huddle rooms
VC ready features and Whiteboard Application facilitate more productive and efficient decisions. Price Range of V5 Series Panels starts from Rs 2.5 Lac and goes up to Rs 12 Lac. These interactive panels will be available at leading AV Solution Partners.
Also Read | Maxhub set to launch new products in India by January 2022
These are compatible with all the major platforms, software and peripheral hardware.
Classic Series is available in 55-inch, 65-inch, 75-inch and 86-inch sizes
Vogue Series is available in 65-inch and 75-inch sizes. It features white, turquoise and gold versions to fit different styles of interior décor
Transcend Series is available in 65-inch and 86-inch size. The 48MP Flip-Over Camera steals the show
Avinash Johri, Executive Director, MAXHUB said, "We are extremely excited to come up with our interactive flat panel displays designed to cater to the growing needs of the modern corporate environment. These Intel powered devices will serve as the perfect embodiment of innovative technologies that will assist in the ever-changing work environments and enhance the quality of conferences and meetings. Combining VC ready features with productive-discussion facilitators, it is aimed at significantly accelerating the hybrid-working mode through efficient and effective engagement."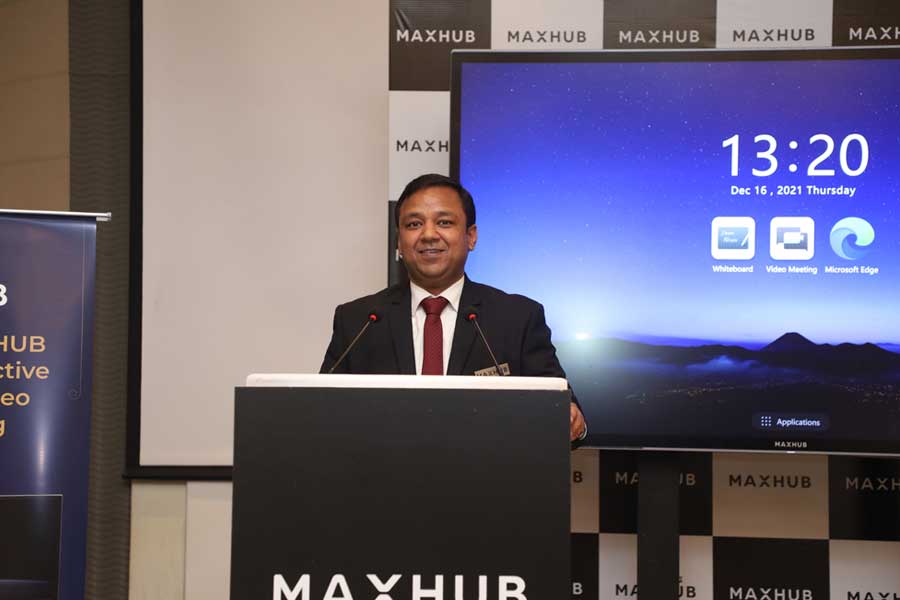 Matthew Ward, GM, Global IOT Industry Sales, Internet of Things Group, Intel, said,  "At Intel, we engineer products with a focus to deliver the best experiences for our customers. Our collaboration with MAXHUB will extend these class-leading experiences and innovations to workspaces and end-customers, enhancing the modern-day corporate environment. We are excited about the launch of MAXHUB's V5 series of displays and cannot wait to see how our customers unleash the potential of these products." 
Apart from V5 Panels, MAXHUB also launched their range of Video Conferencing Products which includes Webcams, PTZ Cameras, Conference Bar, Speakerphone and 360-degree webcam. These unified communication devices assist in clear and effective communication.
MAXHUB V5 is set to empower your meetings, drive your business and connect your resources, ever more closely.
Also Read: PUBG: New State reveals first major update as it celebrates 45 million downloads