Introducing a new way for people to log into their VR headsets, Meta CEO Mark Zuckerberg has announced that users will no longer be needed to have a Facebook account to log into their VR headsets.
Those who are new to Meta VR devices or have previously merged their Oculus account with their Facebook account will be needed to create a Meta account and Meta Horizon profile from August this year.
Users who logged into their VR device with their Oculus account can continue to do so until January 1, 2023. After that users will be needed to create a Meta account and Meta Horizon profile to continue using your Meta VR device.
Meta account lets users to login into your VR devices and view and manage their purchased apps in one place. According to the Meta, the Company will also extend Meta account functionality so users can use it to log into other Meta devices.
Meta account can be added to the same Accounts Center as users' Facebook or Instagram account to unlock connected experiences across Meta technologies. Users can find Facebook friends to play games with in VR or chatting with friends on Messenger through their account.
Meta Horizon Profile
Once users finish creating a Meta account, they will be prompted to create a Meta Horizon profile which is the social profile in VR and other surfaces, like from a web browser.
Users can customize how they appear to others on Meta Horizon profile. Users can choose their unique Meta Horizon profile username. One Meta Horizon profile can be created per Meta account.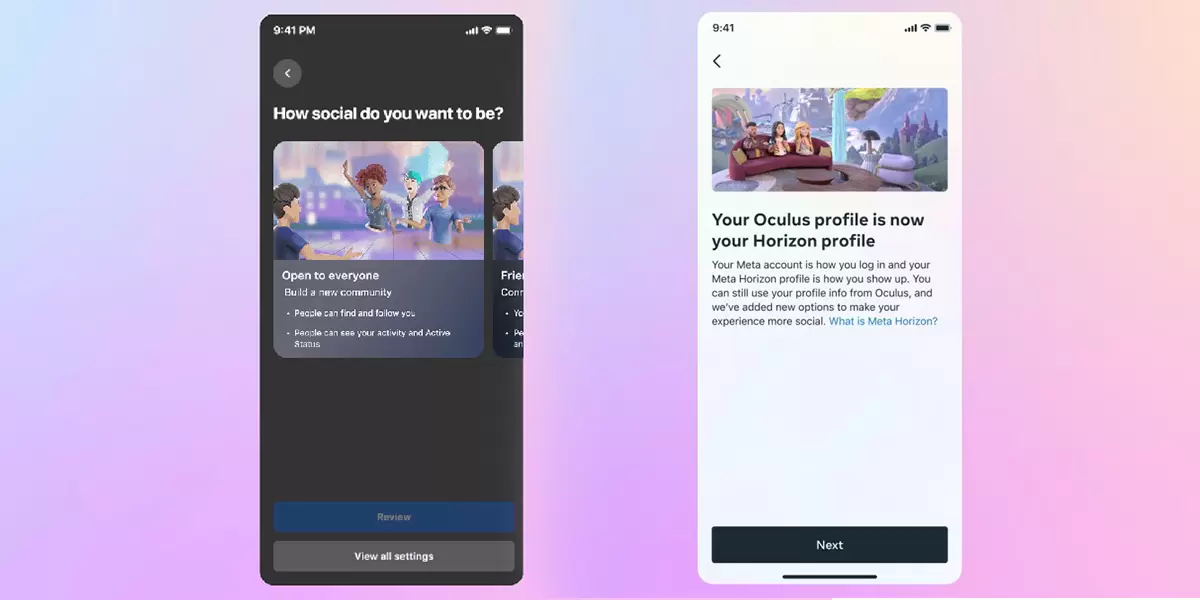 Privacy Controls
As part of privacy control, users will now find a menu with three privacy options to help guide users through which privacy settings are the best fit for you: Open to Everyone, Friends and Family, and Solo.
Also, Read Here: Metaverse- Alternate Reality in a Virtual World
After making selection, users will have the opportunity to review and confirm their individual privacy settings the way they want them. Settings can be changed at any time.
As part of these privacy settings, you have the option to set your Meta Horizon profile to private, which means you'll be asked to review and approve follower requests. If you choose this option, only your followers can see who you follow and who follows you. Keep in mind that people who don't follow you will still be able to view your profile picture, avatar, username, display name, follower count and the number of people you follow. People can also still search for your name or username and send you follow requests.
People between the ages of 13 and 17 will have their Meta Horizon profiles set to private by default.