We are going to take a look at the brand new Jabra Evolve2 75. Now these are fantastic headphones for those who are looking to have great call quality because you work from home or just spend a lot of time on phone and would like to have the best audio quality because hey, your business is on the phone. The Evolve2 75 not only are good for indoor but if you are going to be walking outside and you want to have something you can listen to music and also take great calls – well this is the headphone for you.
You can expect 11 levels of ANC and the Jabra Evolve2 75 has about eight mics and four of them are going to be used when you have that ANC, so it's giving you the best audio experience. So let's go and check them out and see how good they are.
What's inside the box?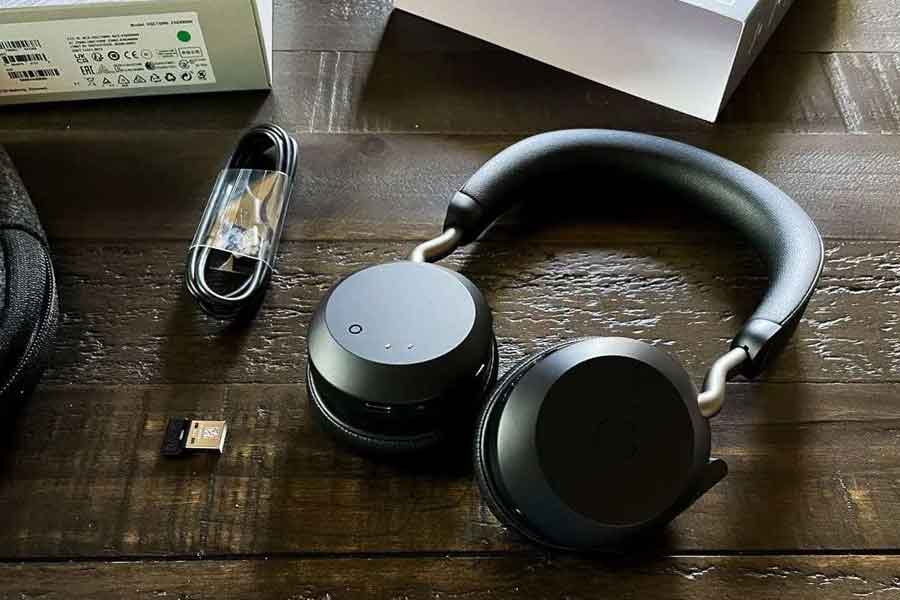 The Jabra Evolve2 75 comes with a nice carrying pouch that gives it a full protection and nice touch versus the competition as they only give carrying small bags. Inside that it does have a USB dongle that's going to allow you to do a direct connection to your PC, to your tablet to whatever device it is and we wanted to highlight that even though it's USB-A, you can't have a USB converter and it does work. Then, it have your headset, Jabra Link 380 Bluetooth adapter, USB cable 1.2m, user documents, and desk stand. So this is the complete kit of what you can expect.
Design
Now focusing on the headphone itself! One of the things we think is the coolest is the fact that it has the mic that pops out. Now you have a lot of different mics that are going to give you a superior call experience.
You have got a lot of flexibility in the headband and have a nice memory foam leather type material – it's an on-ear model. The earcup is ergonomically constructed with dual-foam technology and a redesigned pattern for increased airflow, making it extremely comfortable for an on-ear headset. Even after a long period of use, the headphones remain really comfortable, which is remarkable for on-ear headphones; the dual foam earcups must have done the trick.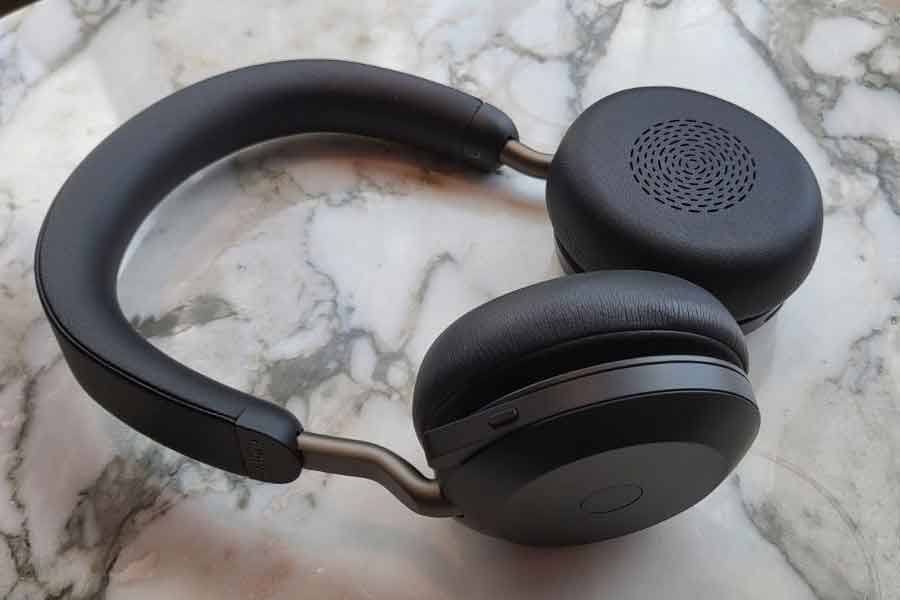 The Evolve2 75 doesn't overheat – it stays cool which is very important to me. And then what you have again on the bottom – you have some controls. The power switch on the left earcup of the Jabra Evolve2 75 initiates the Bluetooth connection search when pushed all the way down for a few seconds. You also have the HearThrough/ANC button, which switches between HearThrough and ANC settings.
Three buttons on the right earcup regulate volume, up and down, and the middle button controls play/pause. Answer or end calls or open a Microsoft Teams notifications with the button on the exterior front of the earcup. The microphone boom is also located on the right earcup, and when extended or retracted, it mutes or unmutes the microphone.
Sound Quality
When streaming music via Bluetooth and making phone calls, the sound quality is outstanding. Background noise was nearly completely removed, which is ideal for a hybrid working environment. These headphones not only look wonderful, but they also feel great. They're also very well-made, which comes as no surprise given Jabra's reputation.
The 40mm speakers give excellent sound quality when listening to music. The mids, lows, and highs are all in perfect harmony. With this headset, I've spent many hours listening to music and viewing YouTube videos. That's how good it is.
The Evolve2 75 is the first Evolve headset with fully adjustable Jabra Advanced Active Noise Cancellation, so you can choose how much (or how little) of your surroundings you hear. It's called HearThrough, and you can turn it on by pressing the button on the left headset's bottom.
Now from a Bluetooth perspective – Bluetooth 5.2 – you do have multi-connect which means it's going to allow you to connect to two devices at the same time and you can also pair up to eight devices at the same time. Now these do have on-head detection so when you put them on they know.
Microphone Quality
The 8 built-in microphones are ideal for video conferencing. Any extraneous noise is effectively isolated by the microphone. So, no matter where you are, you may speak normally without raising your voice.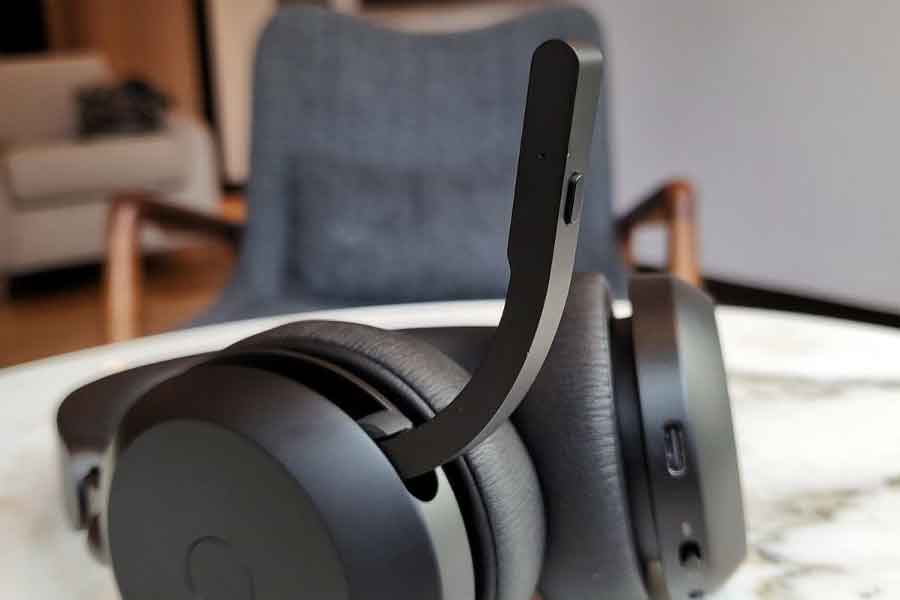 There are two ways to use the microphone in this situation. The first is the performance mode, in which the boom-arm microphone is lowered. This is perfect for use in noisy environments. The second mode is the discreet mode, in which the microphone is tucked away. This one is for when you're on the go and don't want to look out of place. There is also a red busy light that is visible when you are on call.
Battery
Bluetooth headphones require a lot of battery life, especially if you use them all day on your commute and at work. With ANC turned off, the Jabra Evolve2 75 may last up to 25 hours of call time or 36 hours of music on a single charge.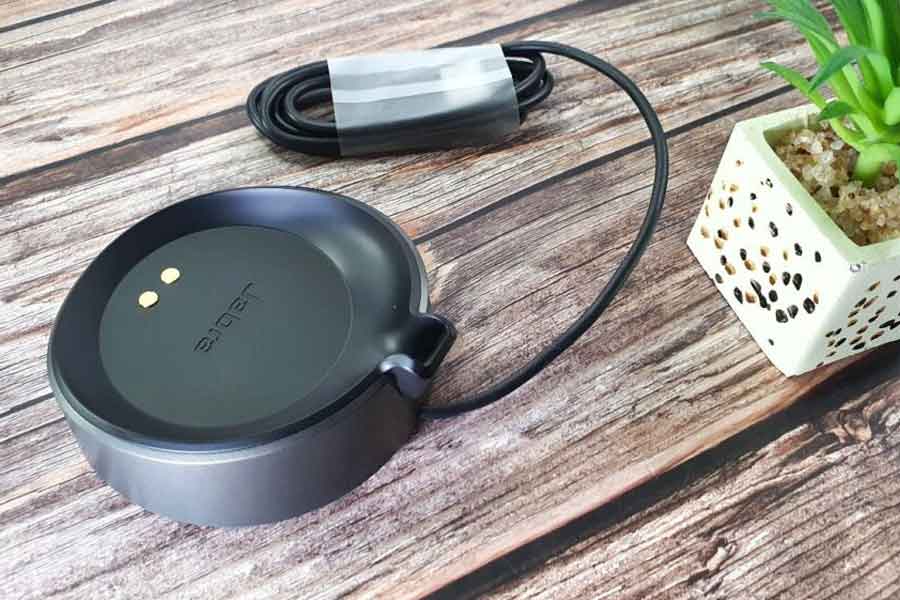 The Jabra Evolve2 75 headphones work harder to filter out noise with ANC turned on, giving you around 18 hours of call time and 33 hours of music streaming. But fret not, because Jabra's fast charge technology provides 4 hours of battery life in just 15 minutes of charging.
The lithium-ion battery lasts up to 33 hours (with ANC turned on) for music listening and 25 hours (with ANC turned off) for video playback. I've only had to fully charge it once in the last two weeks, when I first took it out of the box.
Conclusion
The Evove2 75 is exceptionally comfortable, offers outstanding audio quality, excellent microphone isolation, good Active Noise Cancellation, and can play music for 36 hours with ANC turned off and 33 hours with ANC turned on. The optional wireless charging station gives you 4 hours of battery life in just 15 minutes and is a great place to set the headphones while they charge.
Overall, the Jabra Evove2 75 has some good features that help it overcome its shortcomings. Despite this, I'll continue to use the Evolve2 75 as my daily headset, and will give it a thumbs up for the same reason!
Also Read: Here is how you can grab everyone's attention in Messenger group chat