As we gradually move towards a digitally enabled healthcare system, tools like Electronic Medical Records (EMR) are bound to become inevitable. EMR is the central component of the health IT infrastructure maintaining digital health records and is shared among multiple healthcare providers and agencies. When used effectively, it can immensely improve patient care across different parts of the country. In the age of artificial intelligence, patient information can be used to bring predictability and actionable insights to a variety of sectors using data analytics, including healthcare – which is one of the industries where critical decision making and certainty in action is of paramount importance.
While most of the health-tech platforms present in India today are centred around patients, HealthPlix is the only healthcare start-up that is designed to empower doctors. It is currently the largest EMR player in the Indian market with the widest coverage across geographies and specialties. Over 16 million patients across India have been treated through the HealthPlix EMR platform by doctors practicing across 15+ specialties with a doctor's base and network spanned across 370+ cities in India.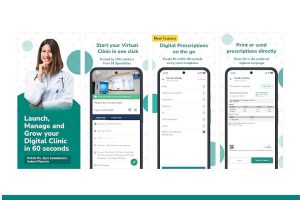 User Interface and Functionalities
With over 50k downloads so far, it is available on both iOS and Android devices (desktop as well as mobile). The minimum requirement for the app to run is Android 5 or iOS 11 and later, which makes available to run on a wide range of smartphones. The app has a very simple and intuitive UI, doctor-facing easy-to-use features, most of the tasks can be done with a single or few clicks. Its advanced AI algorithm makes it smarter for user experience. Simple low latency interface for video consulting and direct in-app printing function makes it much easier and quicker for small tasks. Interestingly, the app uses military-grade 256-bit encryption for data security.
Also Read: Riyaz: An app for aspiring singers to practice their music lessons anywhere, anytime
Unique Features
The app comes with a host of EMR features developed to make doctor's practice mobile-friendly and doctor's life easier. It creates a virtual clinic in one-click – in just 30 seconds, and helps create a 'Digital Visiting Card' for doctors – with information about their clinics, timings, professional history and accomplishments. It also has the option to share their 'Digital Visiting Card' with their patients to get more appointments, as per the available time slots. The app allows doctors to keep a track of their daily schedules – upcoming appointments and availability. It maintains easy to access patient list and helps engage with them by sharing updates via SMS. This application improves patient retention with automated reminders for follow-ups, awareness, and greetings via SMS. It sends digital prescriptions to patients via SMS or cloud print to share them physically.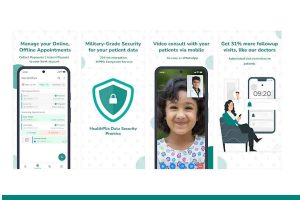 Conclusion
Doctors have immense knowledge, but they have very little time. HealthPlix is driven by the goal of helping doctors make effective decisions at point of care to ensure better patient health outcomes, within a few minutes of meeting the patient. These few minutes matter most as it is during this time when all the importance decisions are made, such as treatment plan, diagnostic tests, drugs and dosage, surgical procedures, and hospital referrals.
Also Read: Practically Review: Learn things in a fun and simple way with this app