There's no need to boast about what fresh air means to us. After all, a breath of fresh air is all that we need to handle all the stress and tackle a bad day. Now the question is how would we know if the air we are breathing in is fresh or not? The answer is now coming to you with Google Maps' new feature. Google Maps is all set to add a new layer of data to let the users know the air quality they're currently breathing in. Here's all that we know about it!
Google Maps to bring AQI checking: What's inside?
Just like you, your Google Maps also wants you to breathe in fresh air only, hence, its is bringing AQI on both your iOS and Android smartphones. The feature will be available for users in the US on both iOS and Android.
As per the Google maps, "Entering the Air Quality layer will zoom out your current Google Maps view. Pins will appear over the largest locations, and you can tap any colour-coded dot to see a specific site. More details appear on the bottom sheet with an easy-to-understand text description".
Google Maps for Android and iOS now lets you see air quality (AQI)#Google pic.twitter.com/NRj7ueFZft

— MacSol Tech (@MacSolTech) June 8, 2022
The new feature is expected to tell the user what they can expect from the air today. For instance, whether it's going to be smoggy and smoky, so he/she should stay home. It is also going to help you to decide on your morning walk or picnic when the air quality is supremely good. So, it's now time you can have some expectations, air-wise!
Google Maps air quality feature: Uses and significance
With this capability coming to your fingertips, it will become much easier for you to make well-informed decisions. You would be able to decide whether you should go out or not. Also, if you're going out, how long should you stay there. Interestingly, the feature also comes with a guide to show you outdoor activities in a more detailed preview. It also has some advice that is going to show you what outdoor activities you can avoid as well. The upcoming AQI will also show you when the data was last updated on the app.
The app says, "You'll see Air Quality Index (AQI), a measure of how healthy (or unhealthy) the air is, along with guidance for outdoor activities, when the information was last updated and links to learn more".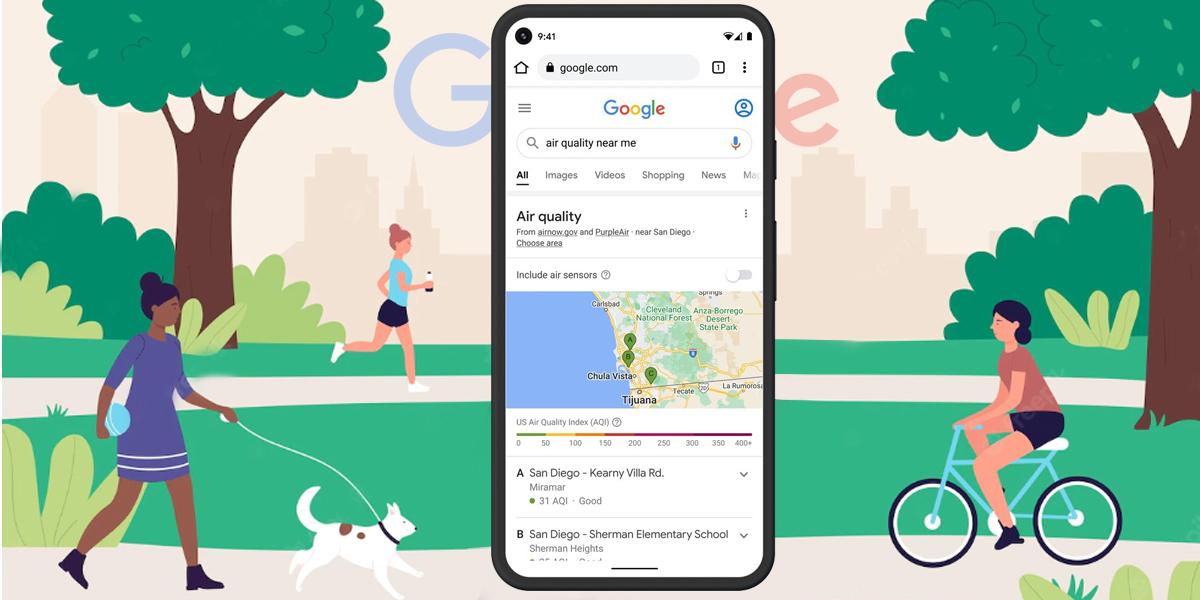 Currently, the feature is available only in the United States and certain parts of Canada. Now, one more important aspect of this latest feature is about the reliability of the data. So, this data comes straight from government agencies, primarily the EPA or the Environmental Protection Agency.
Maps also show air quality information from PurpleAir, a low-cost sensor network which can give you a hyperlocal view of conditions. However, the users would have to add this layer manually. To do so, users can simply follow these easy steps:
Tap on the button in the top right corner of their phone's screen.
Then they have to select Air Quality under Map details.
The information from PurpleAir is also available on Nest displays and speakers.
Especially made for us, it also features a wildfire layer, as the wildfire season is also approaching there. This will allow the users to see details about active fires in the area, thanks to Google partnering up with the National Interagency Fire Center (NIFC). Furthermore, it also comes with an advanced search feature where the user can simply search "wildfires near me" and the associated details will be surfaced. This will also show the air quality information. "In the coming months", Google search will also be adding smoke data across the US from the National Oceanic and Atmospheric Administration (NOAA).
Also Read: Realme Narzo 50 Pro 5G to go on its first sale starting June 10: Check details