After the successful release of Horizon Zero Dawn: Forbidden West, Sony is giving hints for another big release. When the whole web is waiting for its blockbuster game God of War: Ragnarok, guess what happened today?
Although, there's no official statement posted by the brand as on when are they coming up with the latest season. However, the gaming community gained spark after what happened on Reddit today! Do you remember Jason Schreier, Bloomberg's journalist and your favorite Sony insider? Yes him!
God of War: Ragnarok is coming in 2022
Jason confirmed via Reddit that the game is still on track and expected to release sometime in 2022. It all happened in a community post where the gaming community group called GamingLeaks AndRumours subreddit asked the members if they also felt that the game would be in 2023. Jason appeared unexpectedly and responded to the statement with a simple "nope". He also marked the statement as a rumour.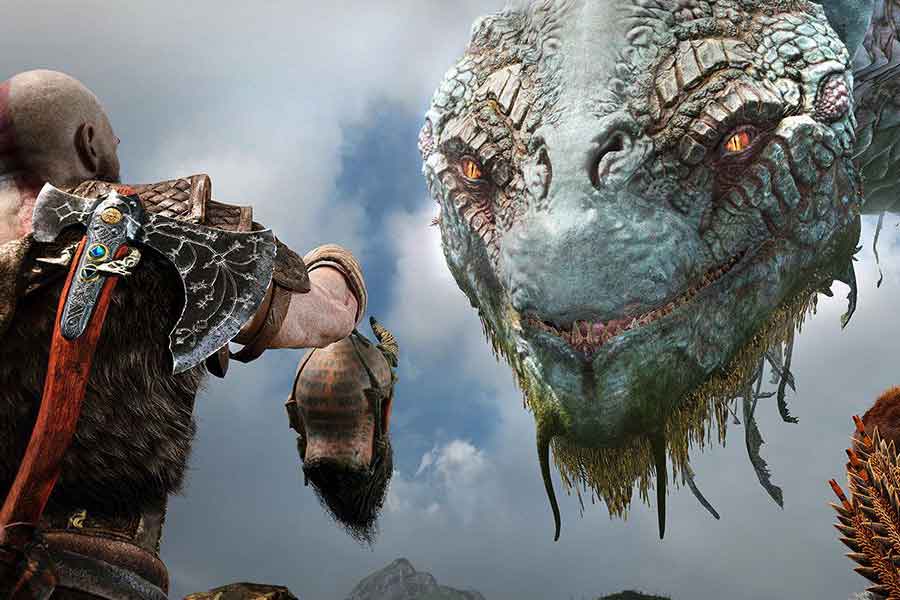 If this is true and the game is seriously coming in this year, then it's a blessing in disguise for all the gaming lovers (including myself) who already believed that it's destined to be postponed. If launched this year, the game is definitely going to make it to the PS5's 2022 major release, at least in my opinion.
Well, delays can still be expected, but this confidence of expecting Kratos and Atreus at the year's end is just what we needed!
Read Here: PS5 has some really amazing and visually impressive Free Games – You Must Try This Year !!
A journey back to God of War: Story recap
The God of War is a PlayStation exclusive game packed with action and adventure. It was released back in 2005 by Sony Corporation and stole the heart of the fans with its stunning visuals and strong plotline.
The story follows the main protagonist Kratos, a Sparton warrior sent by the Greek Gods to kill the God of War, Ares. As the story proceeds, Kratos finds out some shocking truth about his past with Ares. He gets to know that he was a former Ares servant who was tricked by him to kill his own family.
#GodOfWar#PC pic.twitter.com/4HALj2hVMU

— Much (@Much118x) January 14, 2022
Kratos is one of the most glorious and powerful characters of the game. He's the son of Zeus, armed with the Blades of Chaos, two daggers attached with a chain. He's on a murderous quest to kill the rogue god and seek his revenge. The story will take you to visit some interesting Greek mythologies, so players will encounter a myriad of Minotaurs and Hydras.
What to expect from God of War: Ragnarok
The makers have kept their lips sealed to reveal the story of this upcoming sequel. However, we do have some hints dropped on their official account. Santa Monica has disclosed two main enemies that Kratos and Atreus will be up against.
Freya is about to make an entry in the Ragnarok sequel as the first primary rival. It seems only fair for her to appear as Kratos killed her son in the last part. The fight is going to be glorious and full of wrath!
I've seen it a million times, and I STILL get chills every time I watch the trailer. pic.twitter.com/chac7hD4vS

— Jon Burke ? (@IridiumGameDev) September 9, 2021
The second and the most awaited entry is Thor, the God of Thunder and Son of Odin (Ruler of Asgard). Makers also showed a cosplay of how Thor will look in the upcoming part on Twitter. Exciting, isn't it?
God of War: Thor #cosplay finally finished and ready for @Katsucon . @SonySantaMonica #GodofWar #thor #katsucon pic.twitter.com/IhrqMXThJ2

— himbohusbando (@himbohusbando) February 17, 2022
God of War is an exceptionally phenomenal game that broke all records. It also won 'The Game of the Year Award' at the Game Awards. If the new sequel God of War: Ragnarok achieves the same heights, it is going to be one of the best games in 2022!
Read Here: PlayStation 5 Digital Edition is Available Now – How to get it online?
FAQs
What is the release date for God of War Ragnarok?
Reportedly, the latest season is expected to come around late September 2022.
Is God of War Ragnarok coming?
The season was officially teased in 2020, and the fans were expecting it to come by 2021. However, the PlayStation team announced that the  game has been delayed till 2022 later that year.
Is Odin there in God of War Ragnarok?
Back in 2018, when the game was released, everyone surely missed Odin's appearance, though they still felt the reach of his power and reach. However, Santa Monica station has already hinted that the season is coming live in 2022, and Odin will be there!
Will God of War Ragnarok be the last?
As per a statement by Cory Barlog, the Ragnarok part will be the last part of the series to avoid the long stretch of the plot. Furthermore, he also added that some of the enemies are coming back in the latest sequel, reviving in different new ways.
Will God of War: Ragnarok be on PS4?
Yes. As it is releasing on both PS5 and PS4, players will be able to play it on PS4 as well.