Seniorworld, which is known for making feature phones dedicated to senior citizens, has come up with another offering, called Easyfone Shield, for the golden agers. The phone comes with a discounted price of Rs 5,499 on Flipkart, and sports a dedicated SOS button, which is of a great help in times of emergency. Owing to its rugged design, the phone offers a perfect grip in your palm and is also said to be ideal for adventure lovers, hikers, outdoor sports enthusiasts, cyclists and more. Let's get into the detail of this phone to understand its utility in the age of smartphones, with this review.
Design
The Easyfone Shield comes in a combination of black and orange colours, and wears a plastic and rubber build, giving it a sturdy look. You get rubber coatings on the sides, which make this phone survive shocks even when it falls from a certain height.
The handset features a 2.8-inch IPS display on the front, with a functional keyboard and shortcuts. What makes Easyfone Shield stand out from other feature phones in the market is that the battery is replaceable and below it you get two SIM card slots and another slot for microSD card on the rear panel, which is hard enough to be broken easily.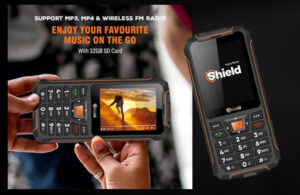 On the top, the phone houses a powerful flashlight and a 3.5mm headphone jack, whereas at the bottom, you get a USB charging port. While the left of the device is plain, there is a dedicated SoS button on the right, which is especially meant for elderly people in the case of emergency.
Interestingly, the battery compartment, charging dock and headphone jack among other aspects are coated and sealed to give it a solid protection. The phone, thankfully, carries IP68 certification that makes it waterproof, dustproof and shockproof.
The handset, overall, has got an outstanding design and is indeed a head-turner, thanks to its rugged and robust look. It's an apt device for senior citizens, adventurists, hikers, outdoor sports enthusiasts and cyclists who use it under extreme weather conditions.
Also Read: iQOO Z5 Review: Good at everything and superb in gaming
Features
The Easyfone Shield from the house of Seniorworld boasts a "whitelist feature" with which you can let only select contacts send messages and make calls to you with the maximum number of contacts being 20. When this feature is activated, one can limit the digital footprint at any specific time. The feature allows you to call or message to any contact, whereas you will be able to receive messages and calls only from the preset numbers.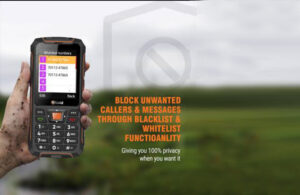 Besides, the phone offers a dedicated SOS button that lets senior citizens get help in times of an emergency. Needless to say, this feature is also worth use to those who love going out on trekking, biking, hiking and other adventurists.
The handset comes with a 2MP basic camera, which will definitely not satisfy you with its pixelated photos. It looks awkward in the age of smartphones where camera happens to be amongst the priorities for any consumer. Considering its price, the company should have worked more in this department to make it an attractive option for feature phone buyers.
Performance
The handset works well and delivered an amazing performance as a standard feature phone during its review. The dedicated SOS button and whitelist feature are really awe inspiring. One-click on the SOS button sends alerts to all the contacts which are registered on your SOS list. It can be used in extreme environments especially for the ones who live alone such as elderly people. On the flip side, the device doesn't offer WhatsApp and other applications that are becoming a part of feature phones nowadays. It's something the company must take into account before coming up with its next offering for senior citizens.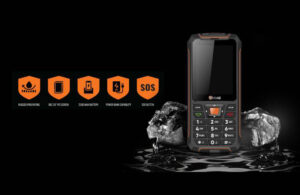 Battery
The Easyfone Shield is powered by a replaceable a 2,500mAh battery, which lasted for nearly a week on a single charge. The device stood tall to its claim, as we used it for calling purposes and also used its torch during the review. Interestingly, the handset also comes with reverse charging and can be used to power up smaller devices such as earphones and smartwatches. It's definitely a very useful feature, especially when wearables are becoming an integral part of our life.
Also Read: Vivo X70 Pro Review: The camera king that's worth recommending
Conclusion
The Easyfone Shield has got an impressive design with a rugged surface which is definitely meant for senior citizens and adventure lovers. The IP68 certification makes it waterproof, dustproof and shockproof. The powerful torch on the top is of a great use in a country like India. The whitelist feature in it makes this phone even more interesting as it lets you to limit all the unnecessary phone calls and text messages to reach you. Only a selected people will be able to call you, if you do not want any sort of disturbance especially when you are on a vacation with your family. It's a good device to gift your elderly parents and can be carried anywhere, but it's a bit overpriced. The absence of an app like WhatsApp or a browser makes it even more simple for a senior citizen to use a phone.