HIGHLIGHTS
* Disney+ Hotstar users complain of app not working on desktop, TV or mobile.
* India vs Australia 2nd Test is being streamed on Disney+ Hotstar.
* Downdetector has also shown the app to be down.
Disney+ Hotstar has suffered an outage during the ongoing India vs Australia second Test on Friday.
As of noon, there were about 300 complaints of the app not working on the Downdetector website.
Disney+ Hotstar is yet to confirm the reason behind the outage and users were still waiting for a fix at the time of filing this report.
Disney+ Hotstar is down for many users in India. Downdetector.in has reported over 500 instances of the outage.
Users on Twitter are also sharing screenshots of the error message they are receiving while trying to log in.
Disney+ Hotstar has responded to the outage claiming that the service is witnessing unforeseen technical issues across our apps and web.
The streaming service has assured that their team is working on this to ensure the issue gets resolved soon.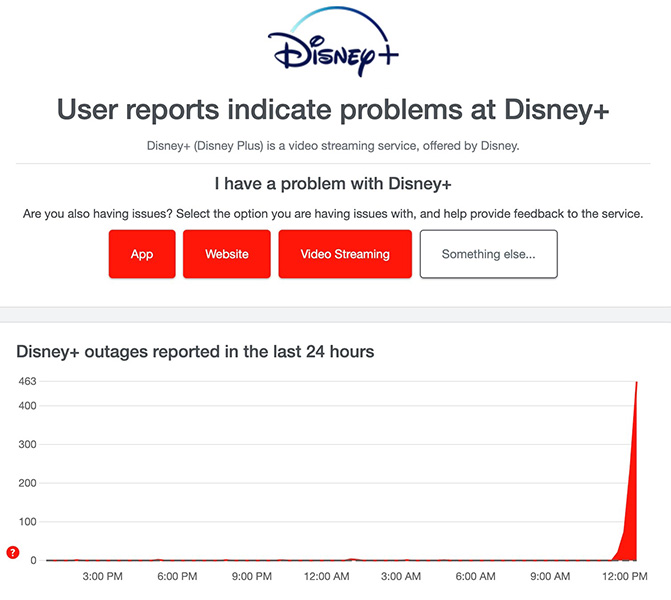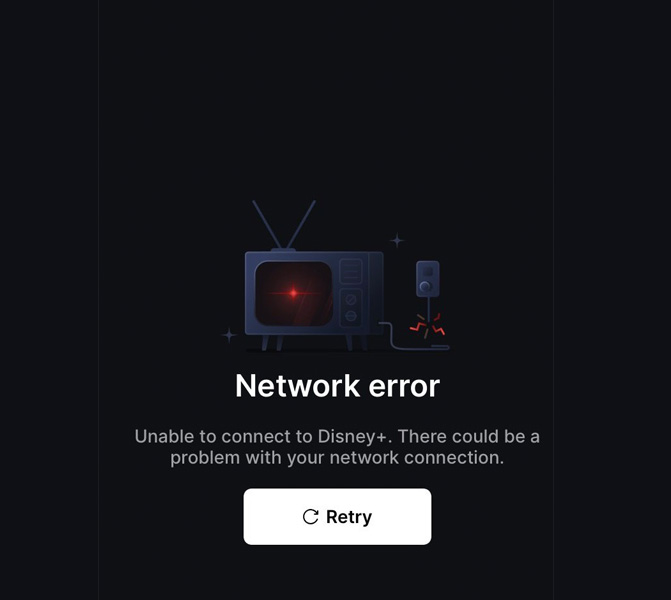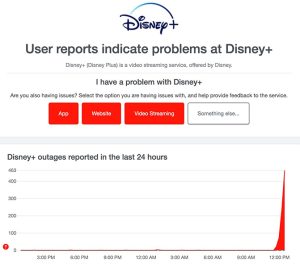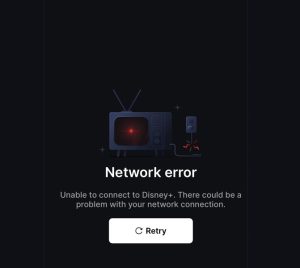 Both desktop and Disney+ Hotstar users have complained about similar issues. User have complained that the issue has persisted for around 45 minutes.
The India-Australia test match is being streamed LIVE on Disney+ Hotstar and the outage is expected to create issues in accessing the match. According to user reports, the LIVE stream stopped midway giving an error message.
Latest Twitter Updates & Memes of Disney Hotstar Down during India Vs Australia Match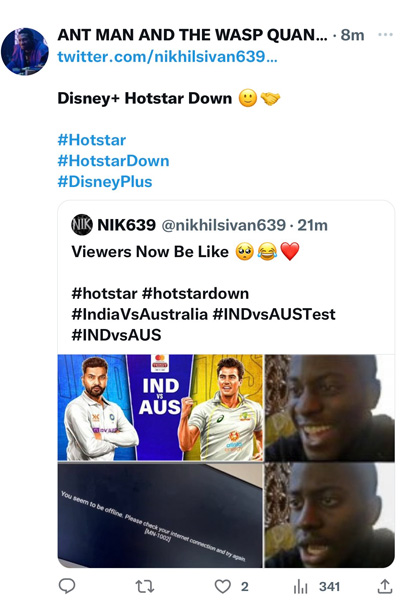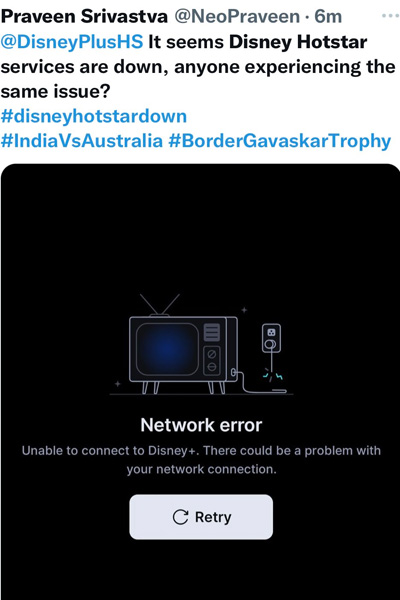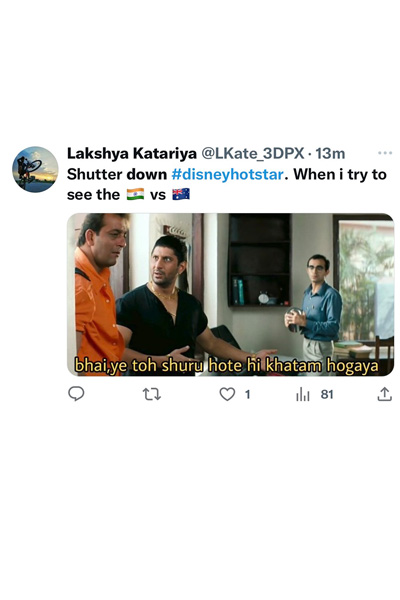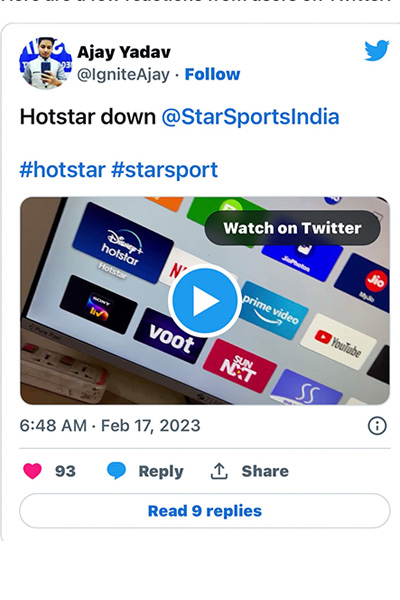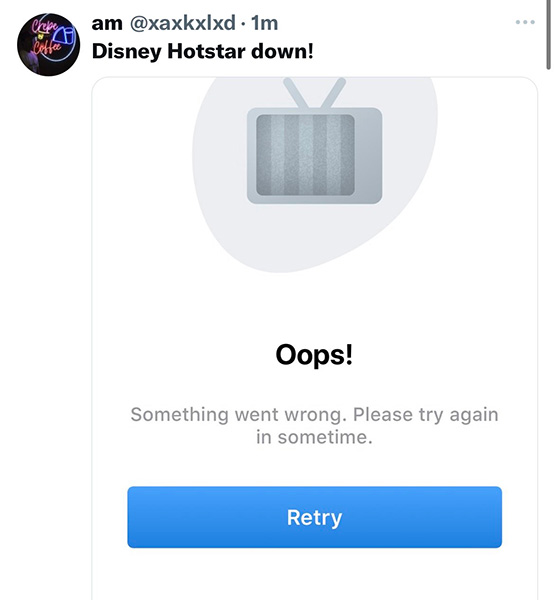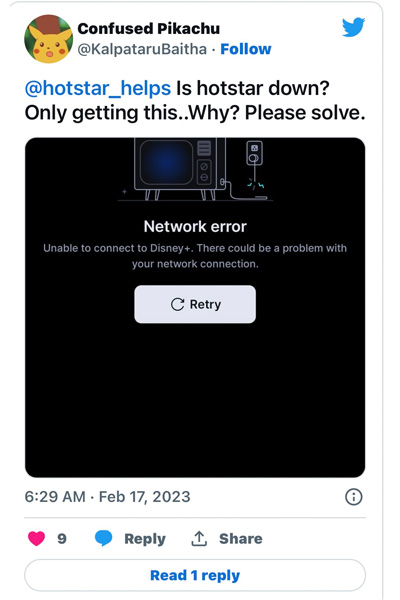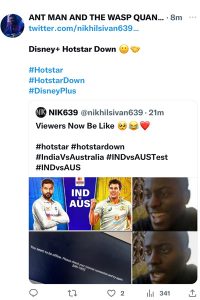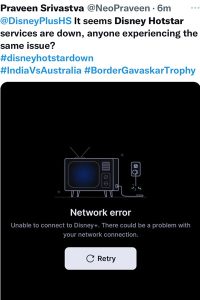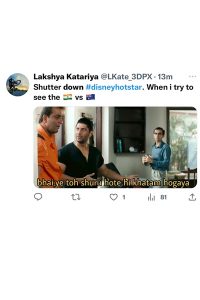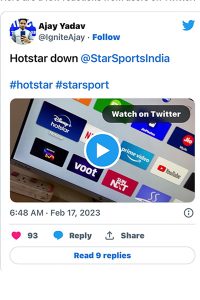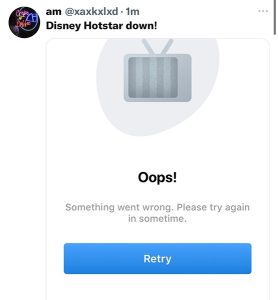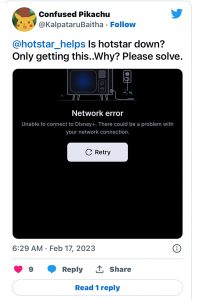 FAQ's on Disney Hotstar
1) How to solve Disney+ Hotstar login issue or account related issues?
Ans) If you have login or account related issue, please check the following steps.
1. The Disney+ Hotstar server may be down and that is causing the login/account issue. Please try logging in after few minutes.
2. Your wifi / mobile data connection not working properly. Please check your data connection.
3. You may be trying with wrong login credentials. Please confirm the details that you are entering is correct.
4. If you're using third-party social networks to login such as facebook, twitter, google etc, check whether that service is working properly by visiting their official website.
5. Your account may be banned or deactivated for activities. Please read error messages.
2) How to solve Disney+ Hotstar app installation issues?
Ans) 1. Check your wifi / internet connection for connectivity.
2. Please check your mobile storage space. If you don't have enough space in your disk, the app can't be installed.
3. Verify that the app you're trying to install supports your android version.
3) What to do Disney+ Hotstar app is not updating properly in my phone?
Ans) 1)Please check your wifi / mobile data connection and verify that it is working properly. It may be down and stopping you from updating the Disney+ Hotstar app.
2)Confirm that you have enough storage space in your phone to download updates. If you don't have enough storage space, it can be blocking the app updates.
4) What to do when Audio / video loading problem with Disney+ Hotstar?
Ans) 1)Check your phone volume if you have audio problems.Try to use headphones to find out whether it is an issue with your speakers or with the app.
2)If you've video loading problem, please check your internet speed and wifi connectivity.
5) What to do when Disney+ Hotstar app Notifications are not working properly?
Ans) 1)Go to your Apps->Disney+ Hotstar->Notifications and check whether notifications enabled or not. If it is not enabled, please enable it.
2)Also if you don't get notification alert sounds, re-verify that you don't accidentally muted the app notification sounds.
6) What to do when I deposited money into Disney+ Hotstar but I don't see it added to my balance?
Ans) 1)It may take some time for the app company / developer to process the payment and credit to your account.
2)Please be patient for 24-48 hours and see if the amount gets credited to your account. 3)If not, please contact the development company using the contact details given below.
Email Address: disneyplus.id@hotstar.com.
7) How to sort out black screen / white screen (blank screen) when I open Disney+ Hotstar?
Ans) It is one of the most common problem in android operating system. Usually when you open an app, you will see a black screen for few seconds and then app will crash with or without an error message. There are few ways to fix this problem.
1. Most of the times, it might be a temporary loading issue. You just need to press the recent applications menu (usually the first left button) in your phone. Then you close the app that has this issue. Now open the app again. It may work normally.
2. Try Hard reboot in your Android mobile. Press and hold down the "Home" and "Power" buttons at the same time for upto 10 seconds. Then, release the buttons and hold down "Power" button until the screen turns on.Now you can try opening the app, it may work fine.
3. If none of the above working, you can wait till your phone battery drains and it turns off automatically. After that put it to charge, and press the power button. It may work after this.
4. Finally, if you can't fix it with anything, you may need to uninstall the app and re-install it. Android usually restores all settings after you re-install and log into the app. You can see if that fixes it.
5. Even in some rare cases, the re-install step also don't work. If that is your case, try installing older versions of the app. Good luck!
8) What to do when Disney+ Hotstar app wont load or not working properly (loading error / server error / connection error / Screen Freeze / Ping Problem)?
Ans) There are few situations that may cause the load issue in mobile apps.
1. The Disney+ Hotstar app server may be down and that is causing the loading issue. Please try after few minutes.
2. Your wifi / mobile data connection not working properly. Please check your data connection.
3. Too many users using the app at same time. Please try after few minutes.
9) I won money in Disney+ Hotstar & How to withdraw money to my bank/paypal?
Ans) You can go to your account menu and then mostly you may see a withdraw option once you reach your withdrawal threshold. You can use that feature to initiate a withdrawal request.
10) I withdrew money from Disney+ Hotstar and I did not get in my account / paypal. How to verify?
Ans) You can login to your paypal and see if there is any money credited. If you don't see the transaction, you can open the app and check the withdrawal status. If you see the withdrawal is successfully processed and don't get it in your bank/paypal, contact the app developers / support.
Support Email: disneyplus.id@hotstar.com.
Also Read: Airtel Offers Cricket Plans to Amazon Prime; Earlier it was Disney Hotstar
Also Read: Disney Plus Hotstar to hike prices in US markets
Also Read: January 2023 Movie Calendar: Netflix, Disney Hotstar, Prime Video Must-Watch Movies