HIGHLIGHTS
* boAt is touting Nirvana 525ANC as the world's first Dolby-powered neckband.
* Nirvana 525ANC will offer up to 42dB ANC and IPX5 water resistance.
* Nirvana 525ANC will be available in Space Black, Celestial Blue, and Cosmic Gray color options.
Well-known audio device maker boAt has introduced the new Nirvana 525ANC neckband in India. It is the company's second neckband product released last week as it previously debuted Rockerz 255 Touch.
The latest offering is touting to be the world's first neckband with Dolby Audio for a surround sound experience. Let's have a deeper look at what else you will get.
After the recent launch of the boAt Rockerz 255 neckband earphones, the brand has introduced a new neckband in the market called boAt Nirvana 525ANC earbuds. As the name suggests, the key selling point of this neckband is its ANC capabilities, which are hardly seen in this segment.
In addition to that, the brand has also integrated Dolby Audio technology into these earbuds making the sound much more immersive. Let's take a detailed look at the earbuds.
boAt Nirvana 525ANC Neckband: Pricing and Availability

The boAt Nirvana 525ANC neckband is priced at Rs 2,499 on the official company website. It will also be sold via Amazon India but a specific timeline for the same has not been revealed yet. The neckband is listed in Space Black, Celestial Blue, and Cosmic Grey colours for purchase.
boAt Nirvana 525ANC Neckband: Specifications and Features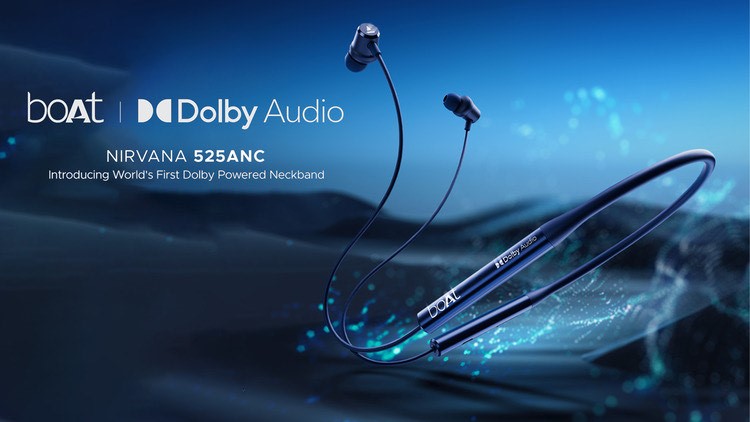 The main highlight of the boAt Nirvana 525ANC neckband is the Dolby Audio support. It is said to be the first neckband in the world powered by Dolby. Users will be able to switch between Dolby Movie and Dolby Natural modes using the boAt Hearables companion application. It will help users get a surround sound experience while watching media on their phones.
boAt Adaptive EQ powered by Mimi is another feature using which users can personalize their audio listening experience. It is also accessible via the Hearables app where on-screen instructions will help users with personalized audio tuning.
The second major feature is Hybrid ANC support of up to 42dB. The neckband has a dedicated ANC button for enabling and disabling active noise cancellation. It also has quad-microphones, two feed-forward and two feed-back mics, for reducing external noises and helping you focus on what's playing on the earphones.
The Nirvana 525ANC neckband features 11mm high-fidelity drivers. It has Bluetooth 5.2 with dual pairing. This will let users connect the neckband with two devices at the same time and easily switch between them. It is beneficial when you are listening to music on your laptop but receive a phone call on your smartphone.
There is Beast Mode for those who love casual gaming on their phones. It is claimed to reduce latency significantly to boost the gaming experience. It also has an IPX5 rating for sweat and water resistance.
The neckband is powered by a 180mAh battery. It is claimed to last for up to 30 hours on a single charge. boAt says it will take about 40 minutes to charge the Nirvana 525ANC completely. It has a USB-C port and supports fast charging. The latter can help users get 10 hours of playback with just 10 minutes of charge.
Quick specifications: boAt Nirvana 525ANC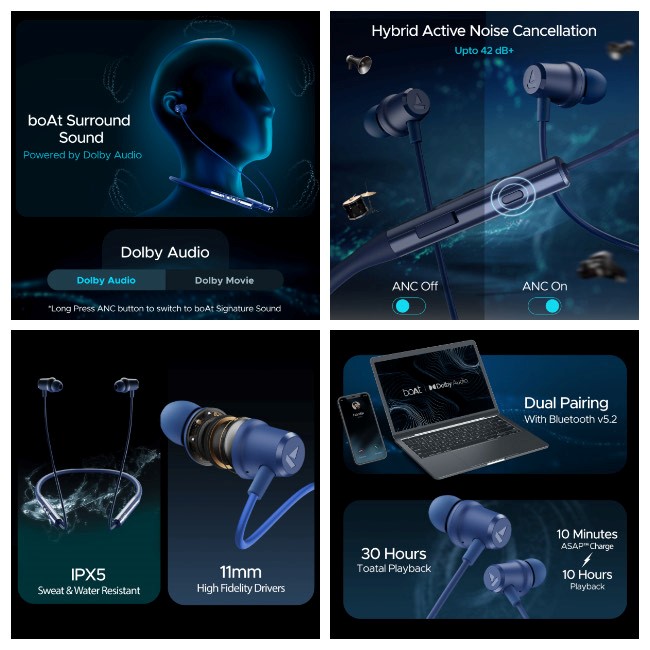 * Sleek design
* Connectivity: Bluetooth v5.2
* Drivers: 11mm drivers
* Spatial Sound powered by Dolby Audio
* boAt Signature Sound
* boAt Adaptive EQ
* Hybrid ANC Up to 42dB+
* Magnetic power on/off; Quick switch button
* ENx Technology for Calls
* Battery Life: 180mAh; Up to 30 hours of total playback time
* Fast Charging: ASAP fast charging support with Type-C connector, providing 10 hours of playback in just 10 minutes of charge
* Low latency of 40ms, with Beast mode
* IPX5 Water and Sweat Resistance
* 1-year warranty
boAt NIRVANA 525 ANC Wireless Neckband Full Specifications
Brand
boAt
Product Name
boAt NIRVANA 525 ANC
Launch Date
3rd June 2023
Headphone Type
In the Ear
Headphone Design
Behind the Neck
Mic
Yes
Noise Cancellation
Yes, ANC Technology, ENx Technology powered by AI
Connectivity
Bluetooth v5.2
Bluetooth Codec
AAC/SBC
Wireless Range
10 meter
Deep Bass
Yes
Water-Resistant
Yes
Device Supports
Android, iOS, Laptop, etc.
Driver Type
Dynamic (Hi-Fi)
Driver Unite
11mm
Battery Capacity
–
Charging Type and Time
Type-C Port, up to 30hrs total battery life,
Full charge in 60min
Fast Charging
Yes, 10hrs playtime in just 10min of charge
Special Features
ENx Technology, ANC Technology, Adaptive EQ Modes, Voice Assistance, Dual Pairing,
Color Options
Space Black, Celestial Blue, Cosmic Grey
Item Weight
–
Warranty
1 Year
Faqs on boAt Nirvana 525ANC Neckband
1) What are boAt Nirvana 525 ANC Neckband specs?
Ans) The design of the boAt Nirvana 525ANC Neckband is sleek and compact, making it easy to carry around. Its Bluetooth v5.2 connectivity ensures a stable and reliable wireless connection, providing convenience and freedom of movement. The 11mm drivers deliver impressive sound quality, allowing users to enjoy their favorite music with clarity and depth.
One of the notable features of the Nirvana 525ANC Neckband is the integration of Spatial Sound powered by Dolby Audio. This technology creates a multi-dimensional audio experience, enhancing the immersion and realism of the sound. Additionally, the boAt Adaptive EQ allows users to customize the sound profile through the boAt Hearables App, ensuring a personalized audio experience.
The neckband also incorporates Hybrid ANC technology, which can reduce ambient noise by up to 42 dB+. This feature is particularly useful in noisy environments or when users want to focus on their music without distractions. The quad microphones powered by Enx Technology ensure clear call quality.
With a battery life of up to 30 hours, the boAt Nirvana 525ANC Neckband offers long playback time. It also supports ASAP Charging, which provides 10 hours of playback in just 10 minutes of charging. The device includes a quick switch button, supports beast mode for gaming, and is IPX5 water-resistant, making it suitable for various activities and environments.
2) What is Price & availability of boAt Nirvana 525 ANC?
Ans) The boAt Nirvana 525ANC Neckband is now open for pre-orders on the official boAt website at a price of Rs. 2499. Customers can also purchase it from Amazon.in. It is offered in three attractive colors: Space Black, Celestial Blue, and Cosmic Grey. Additionally, the product comes with a 1-year warranty, ensuring peace of mind for buyers.
Also Read: boAt Rockerz 551 Premium Noise Cancelling Wireless ANC Headphones with noise cancellation, up to 100 hours playback time launched in India: Price, Features
Also Read: boAt launches their first premium smartwatches in India with 1.39″ AMOLED display, Bluetooth calling: Lunar Connect Pro at 70 percent off