Airtel introduces two new prepaid plans for heavy internet users & unlimited social media browsing
Airtel has launched two new prepaid plans with bulk data in India.
The new prepaid plans are priced at Rs 489 and Rs 509.
Airtel users can enjoy several other benefits with the prepaid plans.
Bharti Airtel, a telecom company, has launched two new prepaid plans in India with unlimited calling, heavy data benefits and more. The company has been providing bulk data with its postpaid plans, and although prepaid users have access to add-on options, very few base plans provide bulk data directly every month. Interestingly, this time the company has reduced the difference between its postpaid plans and prepaid plans with the launch of these two new plans which provide data up to 60GB for a month.
Here are details on the two new prepaid plans from Airtel:
Airtel Prepaid Plans Price, Benefits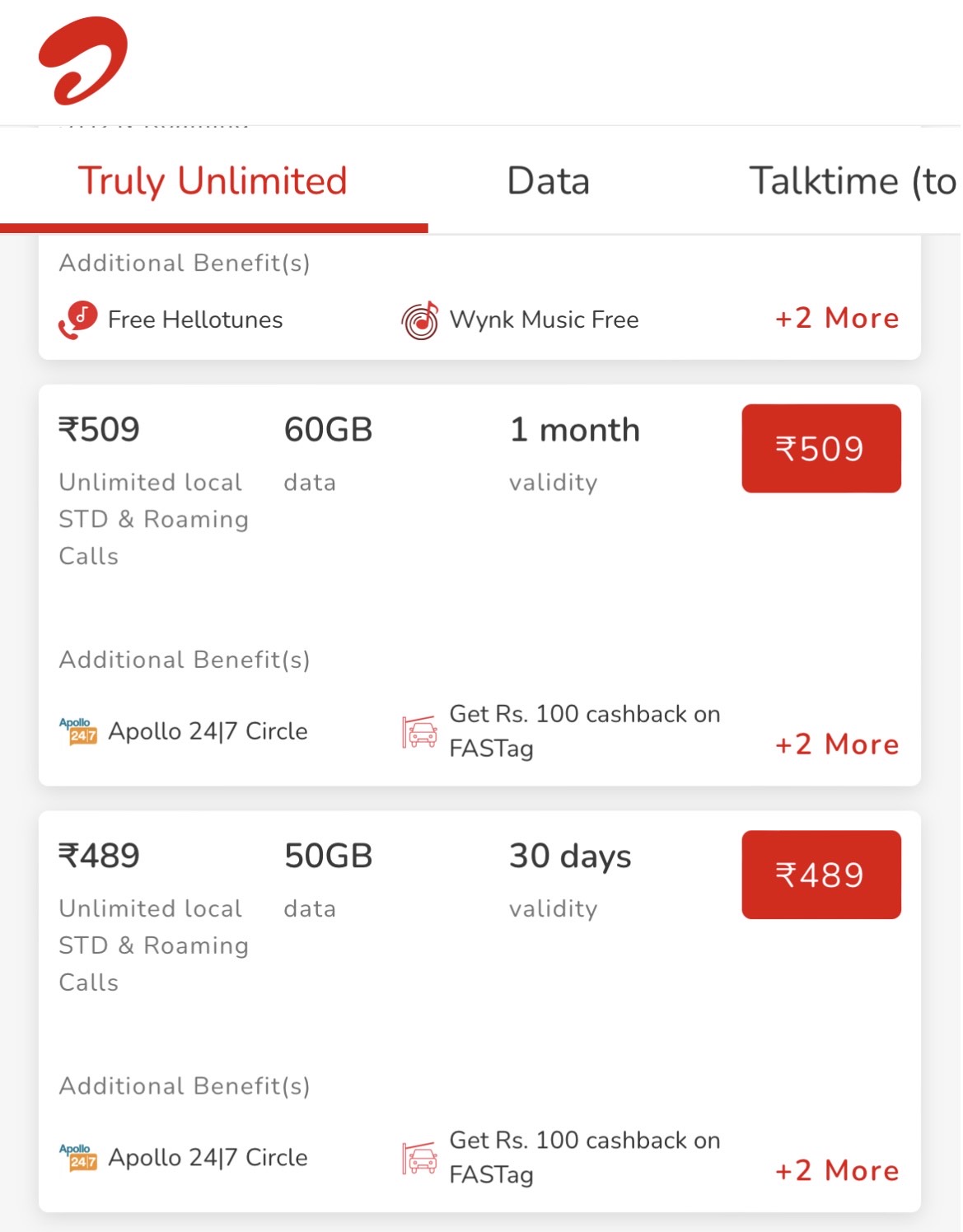 The company has launched two new prepaid plans, which are priced at Rs 489 and Rs 509.
Airtel Rs 489 Plan Details
The Rs 489 plan allows users to have unlimited local, STD and roaming calls, along with 300 SMS and 50 GB of bulk data that is valid for 30 days. With this recharge, Airtel users can also enjoy other benefits such as free hello tunes, Wynk Music, Cashback on FASTag, and Apollo 24 by 7 Circle.
Airtel Rs 509 Plan Details
The Rs 509 recharge plan allows Airtel users unlimited local, STD and roaming calls. It also lets users send 300 SMS and 60GB of bulk data that will be valid for a Month. The additional benefits include free hello tunes, Wynk Music, and Apollo 24 by 7 Circle, along with cashback on FASTag benefits.
The company recently revealed new prepaid plans. It appears that Airtel customers in 5G-enabled cities can also benefit from 5G speed with these new plans. Airtel currently offers 5G services in several cities of Assam, Bihar, Andhra Pradesh, Gujarat, Delhi ,UP ,Karnataka and Jharkhand, among several other states.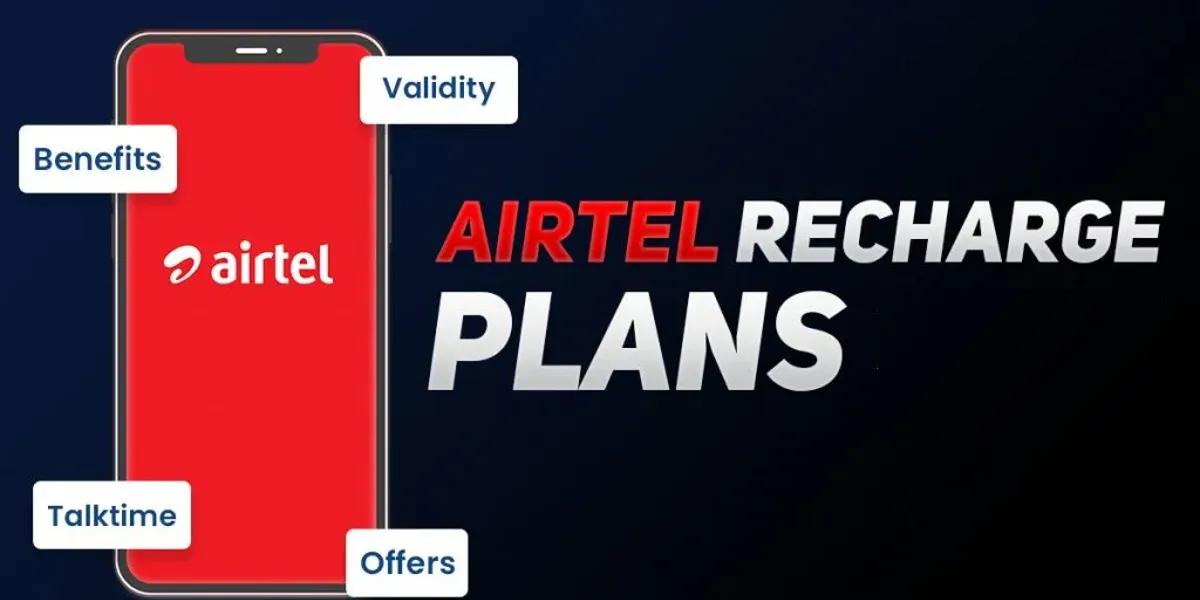 Meanwhile, Bharti Airtel has scrapped metered tariff and has introduced a new monthly minimum recharge plan for ₹155. The price of the minimum monthly recharge plan was increased in November last year in two circles- Haryana and Odisha. As part of the latest development, the ₹99 has been discontinued in 7 more circles. It has been replaced by a ₹155 plan.
Airtel ₹155 Plan Benefits
The plan has a validity of 28 days. It offers 1GB of mobile data along with unlimited voice calling. Airtel's ₹155 prepaid plan comes with 300 SMS benefits.
In line with our focus on providing better customer experience, we have discontinued the metered tariff and introduced an entry level plan of Rs. 155 with unlimited voice, 1 GB data and 300 SMS. Customers can now use this plan with no constraints. We believe this plan will prove greater flexibility, convenience and superior value," an Airtel spokesperson said.
Below are some of the best 10 prepaid recharge plans from Airtel, which can turn out to be useful while working from home or streaming social media:
Rs 319 Prepaid Recharge Plan
Rs 359 Prepaid Recharge Plan
Rs 399 Prepaid Recharge Plan
Rs 479 Prepaid Recharge Plan
Rs 499 Prepaid Recharge Plan
Rs 549 Prepaid Recharge Plan
Rs 599 Prepaid Recharge Plan
Rs 666 Prepaid Recharge Plan
Rs 699 Prepaid Recharge Plan
Rs 719 Prepaid Recharge Plan
Rs 839 Prepaid Recharge Plan
Rs 999 Prepaid Recharge Plan
FAQ's on Airtel Prepaid Plans
1) Airtel Data Plans: How to Recharge?
Ans 1) In case you are wondering how to quite possibly recharge with these data plans, it just takes a few easy steps:
Step 1: Head over to the official Airtel Prepaid Recharge Plans website or download and install the Airtel Thanks mobile app from the Google Play Store or App Store.
Step 2: In here, under the 'Data Plans' section, all the plans have been listed.
Step 3: Then, tap or click on the plan's price. You will be redirected to the next page. Here, enter your mobile number and press enter or click on next.
Step 4: Select your payment mode and finally, you have successfully recharged with your desired Airtel Data Recharge Plan!
Also Read: Airtel beats Vodafone Idea and Jio in network quality
Also Read: Learn Call Forwarding Codes