WhatsApp, the encrypted messaging service owned by Meta, has begun bringing out multi-device compatibility to all users. The update was available for users before as well but only through WhatsApp's opt-in beta testing programme.
Now, according to WABetainfo, the update will be available to iOS users this month, with Android users receiving it next month. With the new upgrade, you won't need to have your primary device connected to the internet to use the platform.
On linked devices, seeing live location is not available. The secondary devices are unable to create and browse broadcast lists or send messages with link previews via WhatsApp Web. Emoji reactions are now available in beta on WhatsApp for Android.
How to link your WhatsApp account to another device
To connect your devices, you must upgrade WhatsApp to the current version in order to enjoy the multi-device capability. After that, you may use WhatsApp on numerous devices by following these steps:
Step1: On your Android smartphone, open Whatsapp and select the three-dot menu. Select the Linked Devices option. By selecting the Settings button on the iOS app, users may choose Linked devices.
Step2: Select a device to link.
Step3: Enter the pin or use biometric authentication to unlock your phone.
Step4: On your PC or laptop, go to web.whatsapp.com or the WhatsApp Desktop app.
Step5: Use your smartphone to scan the QR code.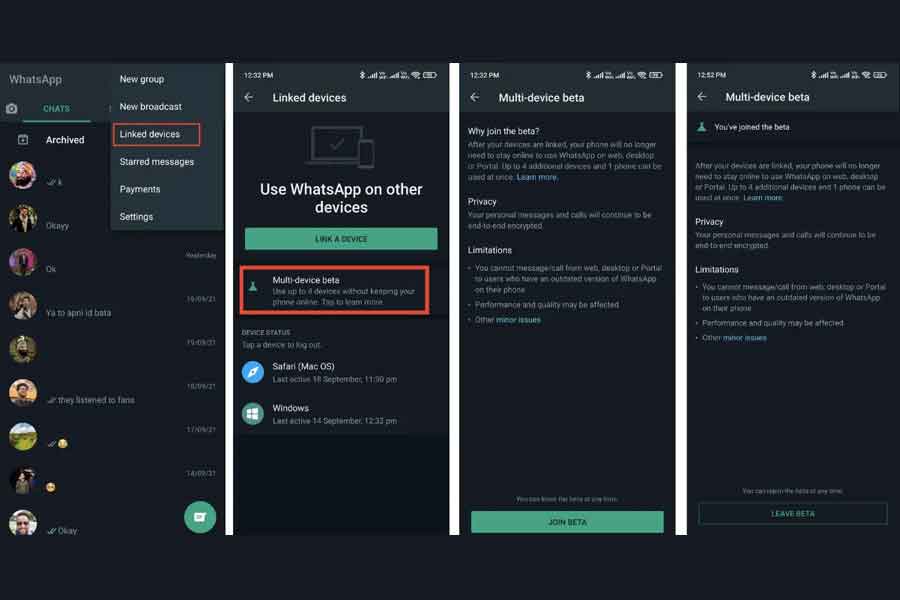 Once linked, WhatsApp may be used to send and receive messages on many devices at the same time.
Whatsapp other features
The emoji reactions have begun to emerge in the service's Android app's beta version 2.22.8.3, providing users with a quick and easy option to respond to incoming messages.
The functionality allows users to respond to a received message by long-pressing one of six emoji: thumbs up, heart, sobbing, laughter, astonished face, or folded hands (usually taken to mean "thank you").
Also Read: iQOO Z6 5G becomes the best selling 5G smartphone on Amazon