Nowadays, video sharing platforms are growing faster than ever. From redefining the conventional way of storytelling to sharing thoughts, these new-age video platforms are trending everywhere. The increased popularity of the short video content, made them the 'new normal' of entertainment. With this, there has been a hike in the number of short video platforms too, and one such platform is Bolo Live. It has over 1 lakh monthly live streamers on the platform spending close to 120 min daily on the platform, with 18 live streamers already making over lakh rupees monthly from the platform already. Shweta Srivastava talked to Bolo Live co-founder and CPO, Tanmai Paul about what kind of competition she sees in a similar segment and what are her plans to get more users as well as to grow the platform. Excerpts:
Since the launch of Bolo Live, what evolution have you observed in the startup and in the market?
The market has substantially become pro startups, the digitalization and penetration helped people to grow faster in terms of the adaptability rate of users.
Users have started to spend more time on mobile apps, as well as have started to trust digital apps for online payments which has made it relatively easier for platforms like us who are working to build towards creator economy and bringing fans and their favorite content creators closer.
Additionally, the government has also given a boost to the Indian startup ecosystem which has surely boosted the confidence of all the entrepreneurs building towards strengthening the economy of the country.
Last but not the least, a lot better and a larger talent pool is available today which is up for being a part of startups as compared to a few years ago. This has surely helped startups to be able to better strengthen their teams.
What kind of expectations first time users should have from the platform?
When a user comes to our platform for the first time, we want the user to explore and enjoy a wide spectrum of live streams happening across different content categories ranging from entertainment, to lifestyle to gaming to fashion etc. This allows our users to browse through any live content coming from their choice of category, and then there are tools which enable the users' interaction with the live streamers very easily and the user does not have to wander a lot to interact with the live streamer.
Once a user has spent some time on the platform, users go deep in their engagement with live streamers through active real time interactions with them as well as other users who are in the same stream. Thus, a first-time user over a period of time engages deeply with both the content creator as well as becomes the part of the community sharing common interests when it comes to content consumption.
What kind of competition do you see in your segment? How Bolo Live is managing the competition from similar apps in the market?
Our primary competition was from the Chinese applications which were operating into Live streaming space. However, with the ban on them, we are currently the leading dedicated social live streaming app. While the space looks cluttered with Indian short video apps, who are now on the path to get into shopping commerce focused Live streaming.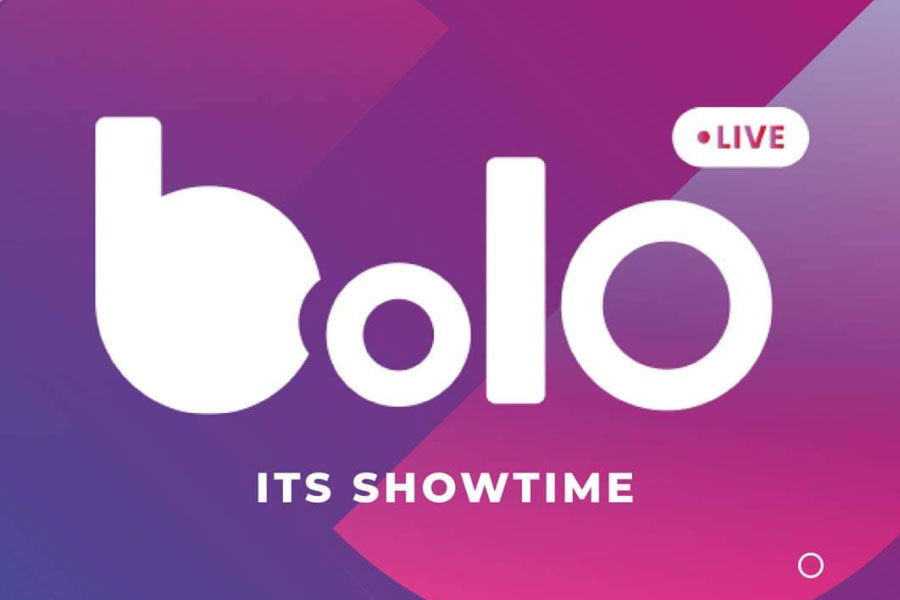 We are at a unique amalgamation of UGC live streaming, gamification and micro transactions and this is where Indian short video apps do not fall into. However, there is a small use case of social gaming where we have certain apps like Eloelo building around Live streaming. And since we all at the end of the day are vouching to get more share of time spent by users consuming UGC live streaming, we may say that Eloelo is one of the potential competitors.
But in terms of earnings of our content creators which are already over 1 million USD over the last 9 months, we are confident of continuing to strengthen our position with improved product and user experience in time to come.
What are you doing in terms of getting more users or customers to generate content on your platform?
Our platform stands unique when it comes to earning opportunities, in comparison to other content apps where most of their content creators are salaried to be onboarded. On the other hand, our monetization is enabled via peer-to-peer micro transactions; they can also earn without being dependent on the platform via brand partnerships and as their fan base grows. Creators on our platform can directly monetize from the fans through multiple avenues on the platform which makes us different giving it a greater potential to earn and more and more creators join our platform organically by spreading a strong word of mouth.
Also Read | User retention still a challenge for Indian video sharing apps: Bolo Live CEO
What is your learning experience in building the platform?
User engagement is the most important for any growing platform, especially when we talk about social content apps. It is not only important to increase the top of the funnel in terms of user acquisition but it is important to have a strong bottom of the funnel. Engagement and retention play a key role in your success and how the word of mouth could subsequently drive your success in the market. Based on our learnings, we can say with all certainty that install is just a vanity metric which does not matter in today's business.
The app allows content creators to earn money for their content. Many of our readers are still wondering how to earn money from the platform. Please explain.
Users purchase in-app currency of diamonds through actual micro transactions on the platform. These diamonds are used to give gifts to live streamers during their broadcasts. These gifts get stored in the streamer's wallet in form of beans (1:1 diamond to bean ratio) and these beans can be redeemed as actual cash to bank account through UPI or Paytm wallet by the live streamers. Platform takes a small fee at the time of redemption by the live streamer.
In addition, there are multiple gamified hooks for non-streamer audiences too for using the diamonds within the app to participate in multiple engagement activities, or to win beans by participating in in-app contests from time to time.
Let's just talk of your investments for a moment. Bolo Live has raised over 2 million USD in investment to date. How do you plan to use this investment?
Funds will be used primarily on strengthening the team, product and scaling up. We are currently focused at onboarding the talent which can contribute and build scalable architecture for the backend when it comes to technology and can help us enhance the user experience and execute efficient user acquisition when it comes to marketing.
The team's energy will be focused on managing data consumption and performance of the application in low internet bandwidth areas of the country.
What according to you is Bolo Live's accomplishments in a year?
Live Streaming is the real creator economy, with fans opening up with whole heart, trust and confidence for their favorite live streamers.
We are taking baby steps in this direction at Bolo Live and are seeing encouraging numbers for our streamers already, with a total of 18 streamers having earned more than INR 1 lakh from the platform this year. Moreover, we saw a huge number of female live streamers moving towards an aspirational lifestyle solely based on earning on Bolo Live. They used the money earned through the platform for paying loan EMIs required at home, school fees of their children, buying iPAD pro etc. In addition to this, we were also lucky to have multiple investors back us this year where we closed two different investment rounds from new investors this year.
Bolo Live also onboarded many international audiences to stream Live on the platform and we already have 7% of our paying users from outside India, taking the Indian talent globally.
In an earlier interaction with My Mobile, Bolo Live CEO Varun Saxena discussed about his plans to take the app outside India. Do you think you can get into the global space? What are the challenges?
With the kind of product which we have in place and the improvements which are lined up for the next couple of months, we are already getting a good response from international users. The only next step which is left is onboarding international creators which we will start in the next few weeks and then the challenge will primarily lie around scaling up for which we are already exploring the right set of partnerships especially in South Asian countries which are going to form our first market in India.
What new features are you planning to bring this year?
We are continuously experimenting and introducing technology solutions primarily for enhancing user experience of the app performance in the low internet bandwidth areas. In addition to that, we are in process of building a solution for users which could enable seamless social gaming within the app without any use of external tools. For instance, a live streamer does not have to bring their quiz questions written on paper during a live stream but the app provides them the ability to select and read out questions on the screen from the question bank present on the platform.
AI based personalization and recommendations plus AI based filters and effects are something we are also planning to bring in followed by the use of ML in content moderation. These are some of features we are focusing on for 2022 in addition to gamified product hooks.
What are your expansion plans for Bolo Live?
We are looking to grow our user base 5X over the next 6 months where we are primarily going to target the Gen Z and millennials. We already have close to 7% of our paying users coming from outside India. Countries like UAE, Oman, Malaysia, Singapore, Saudi Arabia, Italy, Germany and Switzerland are showing strong traction. We will soon be going to South Asia for live streamers and them to earn through the Made in India app, Bolo Live.
We aim to create the world's largest active engagement and behavioral science driven entertainment platform from India, with love from across the globe.