Are you looking for a way to hide your photos from others on your phone? If so, Google Photo's new feature is for you.
Google Photos has been given a new feature – Locked Folder. It allows a person to store sensitive images and videos in a password protected space. In this, the content stored doesn't appear in search on Google Photos, neither in any other folder on the device. The pictures stored in the locked folder can be taken out of it and deleted permanently. Also, it will not be transferred in USB to USB data transfer and will not be retained if the device undergoes a factory reset.
The feature was first announced this year in May at Google I/O event 2021 for Pixel phones. However, in late October, the search giant unveiled that the feature will be rolled out to all Android users. It will reach iOS users early next year.
How to set up a Locked Folder in Google Photos
If you wish to set up a Locked Folder and hide your images, it must be noted that this feature is currently only available on Google Pixels, from the Google Pixel 3 onwards. One must have the latest version of Google Photos installed on their device to set up a locked folder.
Step 1: Open Google Photos
Step 2: Go to Library > Utilities > Locked Folder

Step 3: Then, tap on Set up Locked Folder to proceed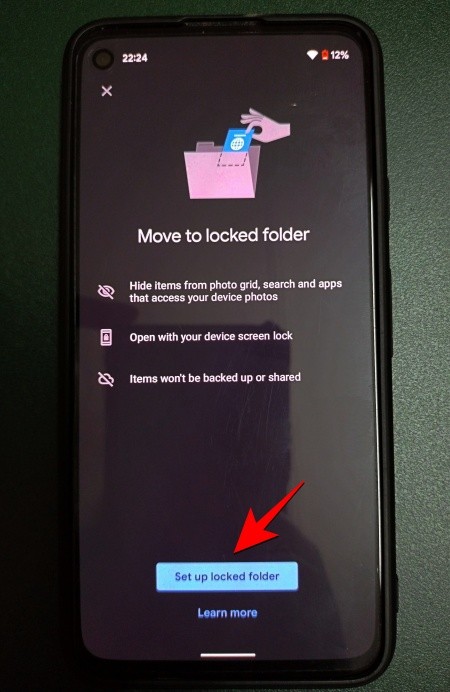 Step 4: Set a password on the Locked Folder. You can use your device's screen lock option, which can either be pattern, alphanumeric password, fingerprint unlock, or numeric PIN to set up the locked folder
Step 5: Now, select and add images to the Locked Folder which will not be visible in the gallery
Once the setup is done, you can move your existing photos and videos to the locked folder by tapping the Move items option. This will show you all the media content available on your device.
Also Read: OnePlus partners with Vikramaditya Motwane for feature film '2024' shot on OnePlus 9 Pro 5G