Highlights
Vi has announced new offers on recharges ahead of Valentine's day.
Vi is offering 2GB/5GB additional data on different recharge packs.
The company has also announced a 'Vi Love Tunes Contest'.
Vi users recharging with Rs 299 and above plans will get 5GB of additional data at no cost.
Additionally, the telco will provide 2GB additional data on recharge of select plans in between Rs 199 and Rs 299.
Vi users also can plan the 'Vi Love Tunes Contest' and win gift vouchers up to Rs 5,000.
Considering that Valentine's Day is approaching, leading telecom operator, Vi today has introduced two special offers. On Valentine's day special occasion, Vi users will be entitled to get additional data at no cost on recharge of several plans.
The newly launched offers will be available for the Vi customers recharging only on the Vi app until February 14th. The company has also announced a 'Vi Love Tunes Contest,' in which lucky users may win gift vouchers worth Rs 5,000.
Let us check out the new offers.
What are the new Vi recharge offers?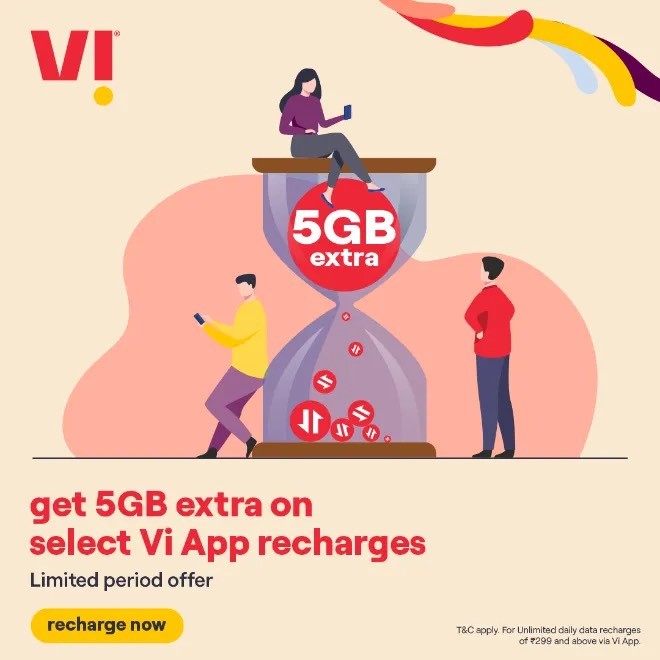 Vi Users Will Get 5GB Additional Data At No Cost On Recharge of Rs 299 And Above Plans.
Vi users who recharge with Rs 299 or more will be eligible to receive 5GB of additional data at no extra cost.
Be aware that your 5 GB of data will only be valid for a period of 28 days.
In addition, customers who make certain recharges, beginning with Rs 199 and going up to Rs 299, will be eligible to receive 2GB of data at no extra charge. It will also be valid for a period of twenty-eight days.
It has to be noted that in order to get additional data, users need to recharge with these mentioned plans only via the Vi app until February 14th.
What is Vi Love Tunes Contest?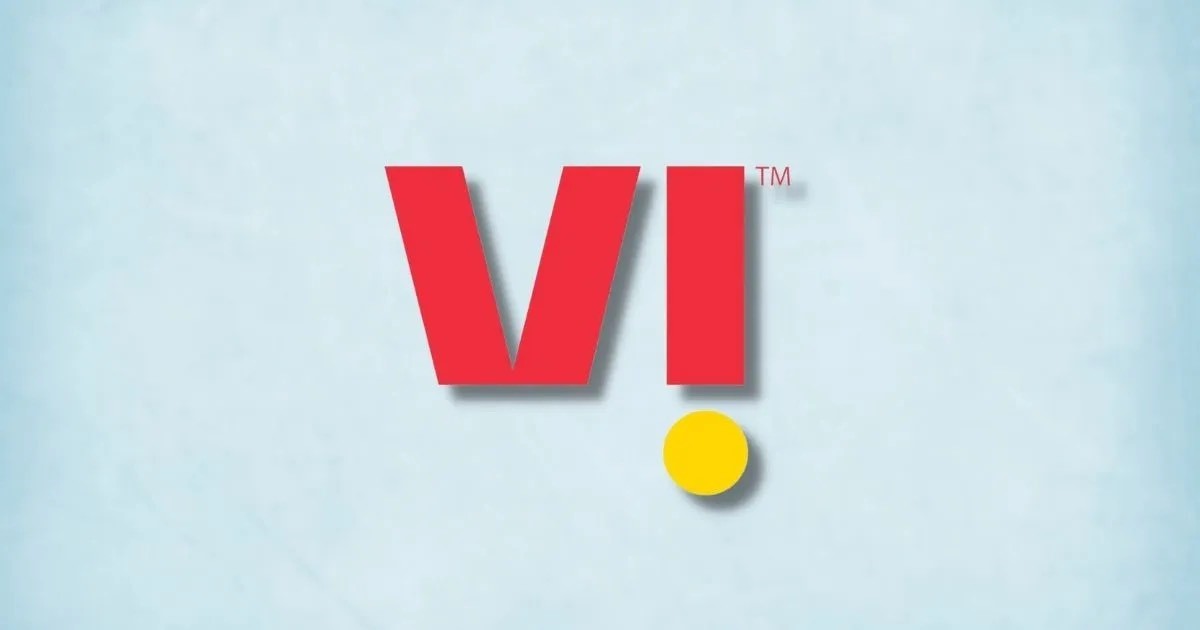 Vi Users Can Play the 'Vi Love Tunes Contest' And Win a Gift Voucher Worth Rs 5,000. In addition, users have the opportunity to participate in the "Vi Love Tunes Contest" and win a gift voucher of Rs. 5,000.
Only people who use Vi will be able to participate in the social media contest #ViLoveTunes. They will be asked to identify the correct song based on the garbled lyrics of a song taken from Valentine's playlist in Hungama Music on the Vi App as part of this competition. The contestants will be required to comment with the correct answer while using the hashtag #ViLoveTunes.
Every day, one lucky winner of each question will be chosen by the platform and will be eligible to win a gift card worth Rs 5,000.
The contest will commence starting from today, i.e February 10th. The contest will be live on Vi's verified social media handles like Instagram- @ViOfficialFanWorld, Twitter: @ViCustomerCare & Facebook- @ViOfficialFanWorld handles.
To participate in the 'Vi Love Tunes Contest' , Vi users should also follow Vi's official handles on Instagram & Twitter. The contest will end on 13th February 2023. In a piece of related news, Vi entered a partnership with Motorola to enable 5G for its users.
The telco tested the 5G service in the 3350 to 3400 MHz spectrum bands in New Delhi. The company meanwhile has enabled its 5G services in the capital city for its testing purpose. However, the availability of Vi's 5G service is yet to the public be confirmed.
Once, the company launches its 5G service for the public, Motorola smartphone users using devices such as Motorola Edge 30 Ultra, Motorola Edge 30 Fusion, Moto G62 5G, Motorola Edge 30, Moto G82 5G, Motorola Edge 30 Pro, Moto G71 5G,Moto G51 5G, Motorola Edge 20, Motorola Edge 20 Pro, and Motorola Edge 20 Fusion will be able to use Vi's 5G services on their unit.
FAQ's on Vodafone / Vi / Valentine day
1. How To Recharge Vi Prepaid Number Online?
Ans) Download the Freecharge app and go to payments, then choose the option mobile, enter the mobile number for which you want to recharge, choose your plan and make the payment.
2. How To Check The Last Vi Prepaid Recharge?
Ans) You can check your last vi prepaid recharge either by downloading the Vi app, then click on recharge and then history.
3. How To Get A Bill For Vi Prepaid Online Recharge?
Ans) For the Vi itemized e bill, prepaid users can call the customer care number – 199 or you can also get it by sending an SMS to 199 and type Ebill.
4. How To Recharge Vi Prepaid Online By Debit Card?
Ans) Open the Freecharge app or the website log in to your account and follow the simple steps mentioned above proceed to pay by selecting your payment mode. Choose a Debit card if you want to pay through it.
5. Which Wallet Is Best For Vi Recharge Plans?
Ans) You can recharge using any third party bank app or wallet but Freecharge has been leading the market for its attractive cashbacks and easy and simple recharge system, well secured as well as fast.
6. Where Can I Get The Best Vi Recharge Offers?
Ans) At Freecharge you can avail some of the most attractive Vi recharge plans.
7. Where Can I Get Vi Prepaid Online Ans)Recharge Plans For Full Talk Time?
Ans) While selecting your plans you will see specialised selection options above the table, like data add on, talk time etc. Choose talktime in that case.
8. How Can I Find Freecharge Promo Code For Vi Mobile Recharge?
Ans) Promo codes are eligible only to the first time users, you will be given the option to apply the given promo code before final payment.
9. Which Vi Plan Is The Best?
Ans) Nearly all plans are convenient, however you need to choose the best according to your own convenience.
10. How To Recharge Vi From The Main Balance?
Ans) You can dial 199# and select the relevant option order to activate a net pack or you can download the Vi app and choose the relevant pack by clicking on pay by balance.
Also Read: How to check Vodafone data balance
Also Read: Govt Can Convert Vodafone Idea's Dues Into Equity Only After Telco's Stock Price Stabilises Above Rs 10: Indus
Also Read: Nothing Valentine Day Offer: Grab Nothing Phone (1), Nothing Ear (Stick) at discounted price for your loved One
Also Read: Flipkart Valentine's Offer: Grab Two Free Movie Tickets Offer on Orders of Selected Products (Beauty care, Personal Care & Chocolates of Rs 800 or More)