Smartphone maker Vivo's brand new X70 Pro recently made its way to the India stores. The brand has been churning out stylish smartphones with the focus on cameras as its top priority, while features like display and performance have been given high weightage too. The premium grade phone comes with highlighted features like Zeiss optics, decent battery, powerful processor and lot more.
Ahead of the official launch, we have been shared the Vivo X70 Pro unit by the company to get an exclusive experience of the handset and provide you an unbiased review of the same. So today, I'm going to review the Vivo X70 Pro that I have been testing out for around 20 days. Now, this device is pretty interesting because it is positioned as one of the better camera smartphones out there. Here, I am going to be sharing all my experience of using the phone. Now what have Vivo done this year, what's so special about X70 Pro? Let's review the device:
What's in the box?
As soon as you take off the top box which says photography redefined, you will come across the handset itself. The smartphone is launched in Cosmic Black and Aurora Dawn color. I got the Aurora edition which is 12GB and 256GB of RAM. So yes, 12GB of RAM on a smartphone. Yes we live in that world, and you know what? This phone also comes with virtual RAM technology. We will be testing that how it works and how much additional RAM do we get in that.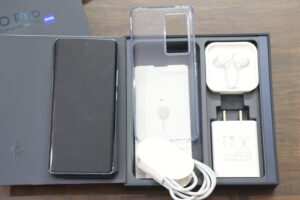 After taking off the box that you can't remove, you just put it on the side, and then you get a clear TPU case which is always a nice addition because you don't have to run and find a custom fitting case. You also get the usual documentation, SIM ejector tool, then the Type-C good quality thick cable for charging the smartphone. You also get the Vivo flash charger which is now 44W of flash charging. Then, you get the Type-C hands-free, which is good to see as most of the brands have stopped supplying the same. So with this one, you are sorted. You get a Type-C 3.5mm adapter which is really thoughtful of Vivo. If you want small, medium, large, you can change the tip so that you have that custom fitting of earphones. That's all you get in the box.
Now what we are going to do is check out the device and see how it is!
Design
The brand have continued the legacy of providing best looking devices. And by seeing Vivo X70 Pro – I have to give it to Vivo. The look and feel of the Vivo X70 Pro is seriously nice. It has the curved glass with glass-metal sandwiched design. The frame on the device is of metal, which is really very nice. It does look like matte texture but when you touch the phone, it's like satin and really nice to touch. The handset is around 186 gram, so this one is light. It feels very nice in hand and is a perfect fit. And the color I got – that multicolor design – is very beautiful. It shows different colors as light falls on it – Blueish, Greenish, etc. So that's nice.
The handset sports a hefty rectangular-shaped camera bump placed at the top-left corner of the rear panel which houses the Zeiss sensor along with the branding and Zeiss T* coating. A lot of lens is being added and it is almost the pro level now. It comes with the gimbal system, the Zeiss technology, and also there's an ultra-zoom sensor that Vivo is calling it the cloud valley design.
Now if you turn around the device, you can also see on the sides, it's really curvy, very nice to grip and also it is flat on the top and the bottom which makes it really nice to feel. The hand feel usage is also nice while using the phone for longer hours. It is not that heavy to use. On the top, 'Professional Photography' is mentioned and you bet, it is definitely a professional photography smartphone. Few additions on the top is – the secondary microphone and there's another dot and that dot is for the infrared sensor. Yes, this phone can control all your devices that uses infrared remote control via your TV, your AC or your home theatre or any set top box you use. The smartphone turns into a smart remote or a smart home controller which is really nice. That's a nice addition. In terms of dimension, this smartphone is only 7.99 mm thin and also comes at only 183 grams and you know why. If this phone feels so mice to hold that's because of the 3D curve display it has.
Now if you move on to the right side, you will see the volume rocker and the power key. The thin buttons really nicely done. You also will see a lot of lines across the phone that is the 5G antenna lines. The company made sure that they give you ample amount of bands for 5G connectivity whenever 5G launches in India. On the bottom, you get the speaker grill, the USB Type-C port, a microphone and the SIM tray slot. On the left, there are no buttons. It's a clean sweep. So that was all about the design of the Vivo X70 Pro.
Display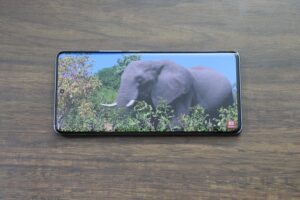 It's not the back, it's not the sides. You will be looking at the display throughout. So, Vivo X70 Pro supports a bright 6.56-inch full HD+ (2376×1080p) AMOLED HDR10+ display. It has a 120Hz of refresh rate which significantly enhances the user experience during watching videos, playing games, and browsing the net. The white balance and amazing contrast ratios on the AMOLED screen are quite apparent whether you are using it to watch HD+ videos or just browsing the web. In terms of display protection, it comes with squat sensation up display protection and also has a peak brightness of 1300 nits, which is really bright. So whether you are inside or outdoor, you should not bother.
Performance
Now let's talk about the performance of the Vivo X70 Pro. We have seen – it has got flagship camera and flagship design, but what about the performance? Well, you will be happy to know that performance is also flagship level. The processing power on this smartphone is MediaTek Dimensity 1200 processor, which is custom made for Vivo. It has 3.0GHz of over locking speed and comes with a 6 nanometer technology. In terms of RAM, you get 12GB of RAM with 4GB of extra virtual RAM, making it a 16GB of RAM. That's much more than you may have on your laptop, right? Apart from that, you get 256GB of UFS, 3.1 storage. It also comes with 240Hz of touch sampling rate.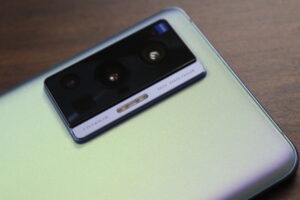 I played the Battlegrounds India on the device for around 45 minutes, and it was a fun experience. The device fitted perfectly in my hands and remained reasonably cool. So all the gamers out there, you would love the performance of this device. In terms of operating system, you get Funtouch OS 12 based on Android 11. With Funtouch OS 12, you get new dynamic widgets, a lot of enhancements, and also a lot of features for your game mode and music mode.
Cameras
Let's talk about what this phone is famous for – Photography Redefined. It comes with five cameras. One at the front, four at the back. The front camera selfie shooter is 32-megapixel, now that's a massive number. When you talk about the rear, on top is the 50-megapixel gimbal stabilization camera. Apart from that, you get a 12-megapixel ultra wide sensor that also double it as a macro mode. You also get a 12-megapixel 2x portrait sensor. Lastly, you get an 8-megapixel periscope camera lens that can do 60x hyper zoom and 5x optical zoom. It also has periscope OIS and what really differentiates it from other smartphone is the Zeiss. The partnership they have with Zeiss really makes a difference. The Zeiss coating helps the smartphone click pictures without any glare, which is a great feature. Whether you are in sunny day or late at night, this will click crisp photos. The Vivo Zeiss partnership is not limited to just the lens coating, it also gives you a lot of modes. These modes help you click better pictures and can give different aspects to the picture and that is because of the Zeiss lens modes. The Zeiss style portrait comes in four different modes including bioter, the sagton planner and sonar the primary sensor.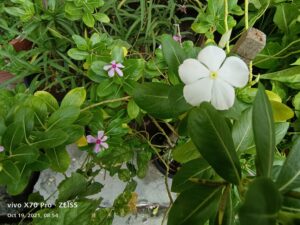 The Vivo X70 Pro comes with a customized Sony IMX 766 way sensor and has five axis gimbal stabilization by Vivo. The secondary 12-megapixel ultra wide angle lens, and a third 12-megapixel telephoto portrait lens is a Sony IMX 663 sensor with 2x optical zoom and 50mm focal length and finally you get an 8-megapixel periscope lens with 5x optical zoom and optical image stabilization included. In terms of other features on the Vivo X70 Pro camera, you get Pro Sports mode, Cinema Mode, video recording up to 4K at 60fps, Astro mode, Tripod mode, 9 stylish night filters, Beauty mode, standard and super stabilization, Supermoon mode and a 50-megapixel ultra HD mode.
The Vivo X70 Pro has the best camera in under 50k price segment right now in India and there is not any phone that can match the imaging capabilities at this price segment. With great daylight shots, macros ultra wide selfies and low light performance, it excels in almost all areas. There is hardly anything to complain about in this phone. In terms of camera department, Vivo has nailed it with best camera phone below 50k right now. The Zeiss partnership has made this even better. Now if you are on a look out for a good premium phone with exceptional camera abilities, the Vivo X70 Pro is the one to look for.
Also Read: Samsung Galaxy Z Fold 3 First Impressions: A premium foldable phone with a sky-high price
Battery
Well, Vivo X70 Pro has definitely a lot of power. In fact, I am talking about the battery right now. The battery of this smartphone comes with 4,450mAh. Now that's good amount of battery life, good enough for a slim phone to deliver a full day of battery life. With so much battery capacity, users can consume content excessively without hassle, and the device can stay active for more than a day. But how fast does it charge. Thankfully, we were supplied a 44W fast charging technology charger which is Vivo flash charge. For me, it took around 45 minutes to charge the battery from 7% to 100%, which according to our tests, it's decently fast. In terms of connectivity, you get 5G, 4G, VoLTE, Bluetooth, Wi-Fi, GPS, and NFC.
Price
The Vivo X70 Pro for the 8GB + 128GB version starts at a price of Rs 46,990, which seems slightly high considering the chipset being used. There is no doubt that an AMOLED 120Hz panel is a staple for quite a few budget flagships these days at much lower prices. However, the Vivo X70 Pro shines in the camera department and a design that, in this price, is best in the market for its price.
Verdict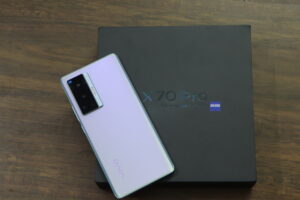 Without any doubt, the Vivo X70 Pro is worth recommending. With its stunning design and a full list of features, it will hit the right note. Whether you are an influencer or a hardcore gamer, this handset from the house of Vivo is all set to fulfil your ever-changing needs. Its AMOLED 120Hz display is a treat for most eyes. But the X70 Pro's camera took all the limelight. I am sure you won't be disappointed with the camera's quality. Besides, its battery life manages everything precisely. But at the same time, if you look at the performance department, there are few glitches compared to the competition in the market. For its price, it does feel short in the performance department. Also, the phone doesn't get stereo speakers, which is a disappointment as it puts a damper on the viewing experience. However, the device covers it up with its stellar optics. In short, if you prefer camera over performance, there's no better option than Vivo X70 Pro.