Smartwatches have become the fastest growing category in the wearable segment which constitutes watches, fitness bands, and wireless earbuds. Thanks to the home-grown brands that have made smartwatches an accessible device to those who have limited budgets. Many prominent domestic brands such as boAt, Noise, Fire Boult, and Inbase to name a few are known for offering affordable smartwatches with innovative features. The latest offering in the budget segment has come from domestic brand Inbase. The brand which has been in the smart mobile accessories segment since 2003, has recently expanded its portfolio of smartwatches by launching a new product called Urban FIT S.
The latest smartwatch Urban FIT S is the sixth smartwatch by the Inbase after Urban LYF Z, URBAN LYF, URBAN LYF M, URBAN GO, and URBAN SPORTS. Inbase known for offering high-end features at an affordable price has not upset the consumers with its new product also.
The company's recent launch, Urban FIT S, priced at Rs 12,999 is currently available at Rs4,999. Ideal for both men and women, the URBAN FIT S is equipped with a host of health-tracking feature, and Bluetooth Calling'. Let's get into the detail of this smartwatch to find out how worthy it is for you.
Design and Build
The Inbase Urban FIT S smartwatch comes in four colours- Black, Silver, Space Grey and, Green. The Urban FIT S offers 550 Nits Brightness which means you can have clear visibility even in bright sunlight. With this smartwatch on your wrist, you can keep your smartphone in your pocket or purse and get the work done with inbuilt activated voice assistance.
Health and fitness
At a time when 'maintaining your fitness' has become one of the important things especially in a post-Covid world, having a smartwatch like Urban FIT S can help you keep an eye on your daily activities. The latest smartwatch from Inbase will be like a coach for users sitting on their wrist. With more than 122 sports modes, users can easily track their fitness activities right from their wrist. The new smartwatch from the house of Inbase allows you to choose the vibrant menu styles as per your mood and explore the user experience to another level.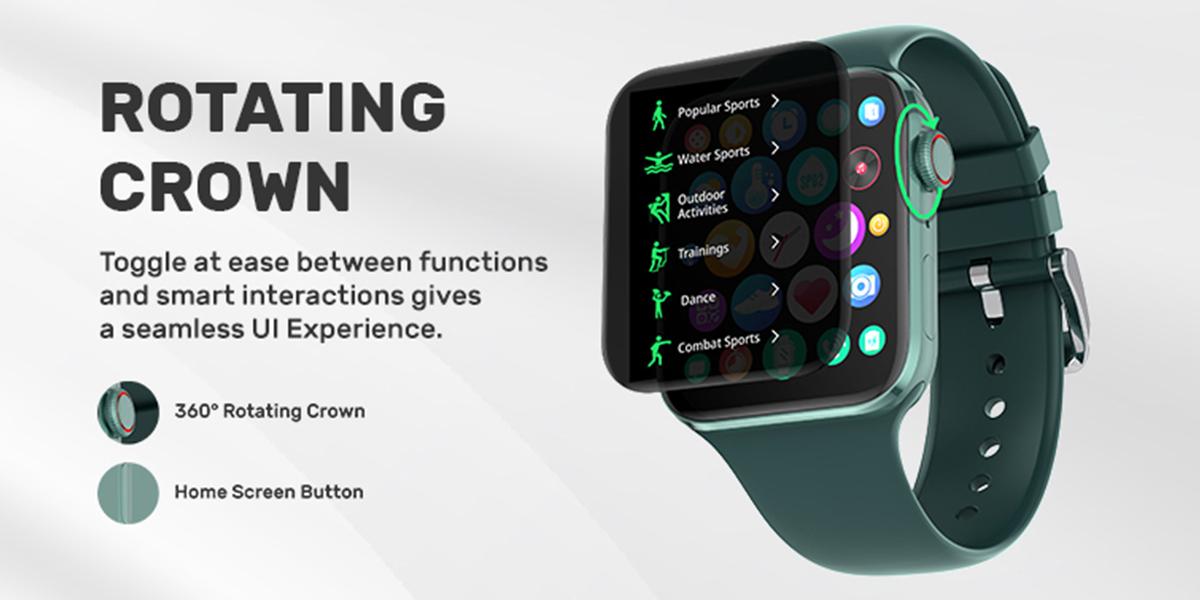 The smartwatch is equipped with Blood Oxygen, Blood pressure, Heart rate Monitor, Physiological Cycle Reminder, Breath Training, Drinking Water reminder, Music & Camera Control. Find my device, do not disturb mode and Sedentary reminder, etc are other prominent features of the Urban FIT S smartwatch.
Features
Built with features zinc alloy casing and silicone strap, the Urban FIT S smartwatch is loaded with voice assistance, in-built memory, and rotating crown functions. No matter which smartphone you are using, Urban FIT S is compatible with both Android and iOS which means you can buy the newly launched smartwatch without worrying about its compatibility.
Connectivity
For connectivity, the Urban FIT S comes with Bluetooth v5.0+v3.0 and the smartwatch offers multiple languages support. Dual Bluetooth pairing is another connectivity feature of the Urban FIT S smartwatch.
Battery Life
Featuring 1.78″AMOLED Display with Bluetooth Calling and AI Assistant, the smartwatch offers a battery life of up to 5 days with calling function and 10 days with notifications. The Urban FIT S comes with a standby time of 30 days.
The device features a 3.7 V 250 mAh lithium-ion battery which can be fully charged in around one hour. The new smartwatch by Inbase has zinc alloy housing and a silicone strap. The Urban FITS is water resistant to 50 m. The device can be controlled via the touchscreen or with the rotatable crown.
Also, Read Here: Inbase launches neckband 'Urban X2i', promises 24 hours playtime
Conclusion
The Inbase Urban FIT S offers a great display, a sturdy and durable design, utmost comfort on the wrist, and accurate health-tracking statistics and SpO2 measurement. It looks quite similar to the Apple watch and has an overall elegant look and feel. Battery life is good which means you do not need to be bothered with charging all the time. The Bluetooth calling feature under Rs5000 price point is an added advantage of the Urban FIT S and makes it even more special. It is quite difficult to have a better smartwatch than Urban FIT S at the given price.