Consumer lifestyle accessories brand CLAW has come up with its Shoot Bluetooth Controller for Android phones, tablets, TVs and TV boxes along with PC and laptops. The controller is available for purchase exclusively on Amazon India at price of Rs 2,490.
The CLAW Shoot Controller easily pairs via Bluetooth with Android mobiles, tablets, smart TVs and TV box, whereas the PC mode uses the included 2.4Ghz wireless USB dongle.
With this, you can play your favourite games even if they are not natively supported. Install the 'ShootingPlus V3' app from the Play Store and use pre-configured buttons or configure your own buttons for games like PUBG, Call of Duty, Free Fire, Fornite and many more.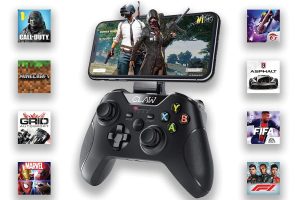 Included in the box is a detachable smartphone bracket capable of holding mobiles between 4 to 7 inches. You'll get up to 8 hours of gaming with the in built-in 400mAh rechargeable battery and a wireless range of up to 10 meters (33 feet).
The streamlined layout features rubberized textured grips along with 2 Analog sticks, 8 Way Directional D-Pad, 4 Action Buttons, 2 Triggers, 2 Shoulder Buttons and Dual Vibration Motors for PC games only.
You'll save up to 4 profiles for quick switching between games. Simply press the D-pad arrow keys + home button to switch between the profiles after a successful connection to the controller.
Thanks to the dual input support (X-Input and D-Input), you can play old and new games by simply changing modes. It supports top games such as FIFA, GTA, PUBG PC, Call of Duty PC, NFS and many more.