The newest and best television sets are slimmer than ever. In the world of electronics, slim is beautiful. But with our TV sets getting slimmer, there is lesser room for built-in speakers. Hence, we might get the best of High-Definition picture quality but we are certainly not getting the best sound output. We might binge watch our favourite Netflix show, but the only device that enhance the sound experience is a high-quality soundbar. The specs of any top television set would suggest that the audio is not up to the mark. To help you, we have put together a list of the best available soundbars at an affordable rate.
Zoook Studio Solo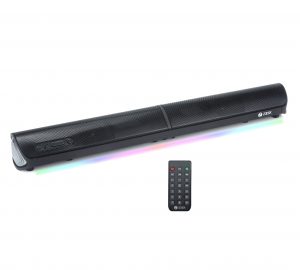 The premium quality Soundbar cum Bluetooth speaker comes with built-in subwoofer to create a magical soundscape. Super sleek in its look, the soundbar has a length of 60 cm. The bar is light weighted and comprises lights of seven distinct attractive colours, effectively creating a divine ambience. It gives a powerful output of 50W and supports USB, Aux Optical cable as well as Bluetooth. While it's fit to be used with TV as a soundbar, it is extremely useful for standalone use as a normal Bluetooth speaker as it has a built-in battery. The soundbar offers HiFi sound with DSP and 3D surround effect as it comes with two speaker drivers, a subwoofer and dual channels. The soundbar cum Bluetooth speaker is also the perfect pick for gaming enthusiasts who want an immersive gaming sound experience. Studio Solo uses the latest Bluetooth version 5.0 to connect instantly with any device. When connected with a smartphone, it consumes less power. Its high capacity rechargeable 1,800mAh lithium battery ensures uninterrupted sound for up to 3 hours. On buying one Zoook Studio Solo, users get remote, one Power Adapter, one Aux cable, one User manual and a certificate of authenticity. The MRP is Rs 6,999 and is currently available at very attractive price on leading ecommerce portals.
Mi Soundbar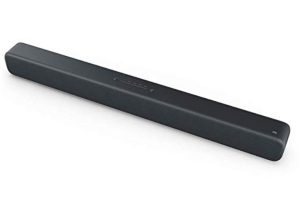 The soundbar offers as many as eight speaker drivers for an enhanced movie viewing or gaming experience. There is a provision to connect your mobile devices via the S/PDIF, Optical, Aux-in and Bluetooth connections. To access it for music, you can connect the soundbar to your phone or laptop through Bluetooth 4.2. The Mi soundbar boasts of minimalist design in modern gray tone. The device can be added in three easy steps and supports wall and table-top installations. The sturdy structure is lightweight, compact and easy to use in a home environment. To function it requires one lithium-ion battery. The MRP of Mi Soundbar, from the house of Xiaomi, is Rs 5,999.
JBL SB110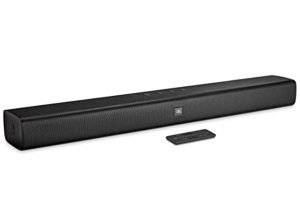 The powerful wireless soundbar with built-in subwoofers offers an output of 110 Watts. Adding power to the soundbar are four woofers and an embedded Dolby Digital Sound. The built-in sub-woofer delivers deep bass. Packed with the signature JBL sound quality, the device is apt for wireless music streaming via Bluetooth connectivity. The soundbar is compatible with audio player, laptop, mobile phone and tablet. Another add on is a built-in microphone. Its one-cable connection with HDMI arc provides a simplified user experience. However, its weight is relatively on the higher side. The soundbar has two 2.5-inch woofers. The MRP of the device is Rs 14,999.
Philips HTL1045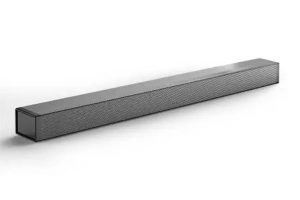 The soundbar is a part of Philips 1000 series. It comes with an integrated subwoofer and its HDMI ARC connectivity lets you control it with your television remote. A robust metal grille enables clear sound quality and the device can be connected through Optical-in as well and supports the latest Bluetooth 5.0 connectivity. Philips HTL1045 offers an output of 45 Watts with rich sound and deep bass. For easy access, the USB input is conveniently located on the side of the soundbar. It can be mounted on a wall or simply placed on a flat surface. It promises to give an incredible home theatre experience. The MRP of the soundbar is Rs 9,990.