Although smartphones are the dominating device category for calling and it will remain so for at least a decade, A smartwatch is fast emerging as a tool to bring instrumental changes in our lifestyle besides being a gadget to track our daily activities. Thanks to the Bluetooth Calling feature and eSim technology, there's no need to constantly carry your phone or plug in an earbud for speaking with someone, as these smartwatches are equipped with in-built microphones and speakers. With convenience being on top of our minds, the smartwatch is of great help as it'll not let you miss a call even if the phone is on silent mode or you are away from it.
Many of us have lived in an era when one phone ring meant everyone rushing to a wired telephone set only to discover that the caller wants to talk to the neighbour. Gradually, telephone sets became a part of every household, eventually leading to a revolution with the innovation of phones that were mobile and could be carried even outside the home. Years and decades went by and these mobile phones kept getting slimmer, sleeker, economical and smarter. But are mobile phones the future of calling too? The developments in the wearable space in the form of Bluetooth calling and eSim equipped smartwatches definitely suggest otherwise.
What is a Bluetooth Calling Smartwatch?
A Bluetooth smartwatch is one that can be connected with a smartphone and then used to make or receive calls. There is no need to constantly carry your phone or plug in an earbud for speaking with someone, as these smartwatches are equipped with in-built microphones and speakers.
Read Here:  Boat launches next-generation smartwatch 'Vertex'
Benefits of Bluetooth Calling Smartwatch
Consider receiving a call while jogging or riding a bicycle. A Bluetooth earbud/earphone would let you receive the call without taking the phone out of pocket, but there's a limitation when it comes to checking the caller ID before taking the call. With Bluetooth smartwatches, you can simply tilt your wrist and see who is calling. Moreover, you can even make calls directly from your smartwatch. There are tools like speed dial contact sync, quick dial pad, in-built microphone and speaker to make two-way communication flawless.
What is eSim?
Taking the experience a notch upward are smartwatches equipped with eSim or electronic Sim, which is essentially a digital Sim with which users can activate a cellular plan without a physical Sim. The eSim is usually an embedded small chip already built inside an eSim-ready device. It has been used in laptops, smartphones, tablets, smartwatches etc.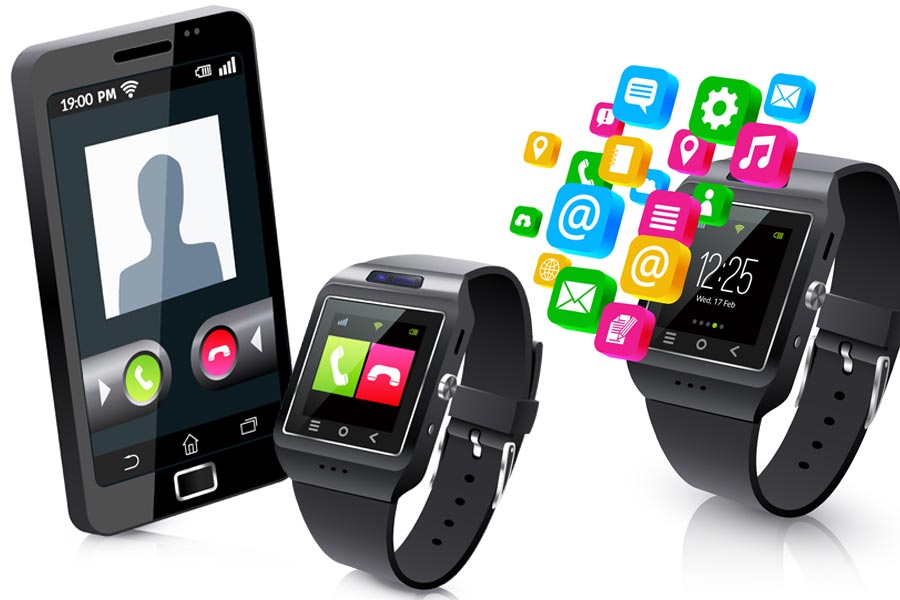 Benefits of eSim
The most remarkable benefit of using eSim is the ease provided in switching networks. There is no need to go through the cycle of ordering a new Sim, waiting for its arrival and then getting it inside the phone. Simply by logging in online or by making a phone call we can easily port from one network to another. Also, you no more need to hunt for a Sim ejector. Another benefit of eSim is that it allows more than one Sim, hence won't let users miss the boons of dual Sim phones.
How The Trend is Shaping Up
As per Aayushi Kishore, who is the Co-founder of "Indian audio" and wearable brand Fire-Boltt, "Many consumers, especially youth, are gradually getting acquainted with the fact that smartwatches are not merely meant to track daily activities. The trends suggest that they perceive it more as a tool to bring instrumental changes in lifestyle. They no longer want to hustle up and leave whatever they're doing just to pick the phone every time it rings. A few taps on smartwatch on the wrist and they are connected with every call. In near future, we can see more innovation, maybe soon we can get smartwatches in affordable range as well that do not require mobile phones for calling."
Read Here: Maxima Max Pro X6 smartwatch with Realtek chipset, Bluetooth calling feature launched now
Archit Agarwal, the Co-founder of another Indian audio and wearable brand Crossbeats, echoes the sentiments. He feels, "The trend is on our face and now many brands are coming up with the same in affordable segment also. This functionality, which has been limited to high end watches, has now trickled down to the affordable segment due to high demand and innovation making the whole technology cheaper and affordable. With the current trend in place, we can see the same technology becoming a common feature in the future."
With consumers being more and more connected to technology, smartwatch demands are definitely on a rise. "Everyone wants to be a part of the tech ecosystem and hence they are investing in good smartwatches that helps them to keep a tab on their everyday fitness level. Apart from fitness, the next big development in smartwatches is definitely going to be the calling feature. It will enable the user to do more with their smartwatches," says Amit Khatri, Co-founder at Noise.
Convenience is what consumers are looking for these days. "Technology that makes their life easier and anything that can be done with a single click will definitely interest the consumers," believes Khatri
Aashish Kumbhat, Founder and Director, Inbase, says, "The Bluetooth calling feature of a smartwatch is moving forward and has proven to be the best tool to handle daily life activities just through our wrist. From answering and making calls, checking notifications such as messages, calls, and payment transactions, to replying to messages right from our wrist, it has made life easier than ever before."
Smartwatch makers are enabling many new features and making us always connected. Smartphone is the dominating device category for calling and it will remain for at least a decade. However, some use cases will become independent of smartphones. Jaipal Singh, Research Manager, Client Devices at IDC India, says, "The calling feature in the eSim enabled smartwatches is truly empowering a new experience. It is slowly getting adoption and the experience is improving with their newer versions. It provides the comfort of leaving your phone and still keeps you connected so that you can attend important calls and enjoy your favourite music."
"In India, while the high-end smartwatches provide eSim connectivity, the Bluetooth calling feature is aggressively getting incorporated in the entry-level watches. Almost 23% of watches launched since April 21 have this feature enabled on them. Bluetooth calling still hangs you to your phone. However, it is working as a differentiator in the crowded market below INR 5,000 in India," adds Singh.
Talking more about eSim, Jaipal Singh says it's surely making smartwatches more powerful and with earwear devices, it further improves the experience. As the wristwear technology matures, we will see many new use cases getting shifting to our wrist and eSim enabled devices will play an integral role in this migration. "In India, eSim is currently incorporated only in high-end devices from Samsung and Apple. This trend is likely to continue with the eSim feature remains limited to premium and mid-premium devices. However, we see greater adoption of the Bluetooth calling feature in India's wearable watch market," he reiterates.
Kumbhat believes eSim will become inseparable from small gadgets because of the rise of IoT devices. "One of the most important benefits of eSim is its size; a Sim card that is embedded into your mobile phone, connecting you to any operator offering eSIM services, where you don't require a physical SIM card to use it," he says, adding that eSim is going to be another remarkable feature in the smartwatches in times to come.
From a business point of view, these features seem to have grown immensely and will keep growing. "It's one of the most awaited one in all smartwatches, hence our aim is to work towards it," asserts Khatri.
Best Affordable Bluetooth Calling Smartwatches
Fire-Boltt Talk
Indian audio and wearable brand Fire-Boltt recently launched Talk, a smartwatch with Bluetooth calling and in-built speaker. The smartwatch comes with features like call history, sync speed dial contacts and a quick dial pad on the screen. The Fire-Boltt Talk has a 3D HD display with a large screen size 44mm Bevel curved glass. The full metallic body makes the smartwatch look different and elegant. The smartwatch comes with SpO2 monitor for blood oxygen monitoring, dynamic heart rate tracker and a feature for blood pressure monitoring.
Read Here: Fire-Boltt Invincible Smartwatch with Bluetooth Calling Launched in India
Crossbeats Orbit Sport
Touted as a passionate adventurer at heart, Crossbeats Orbit Sport is a full metal smartwatch with Bluetooth calling. The smartwatch with a 1.3 inch full HD touch screen and IPS display comes with on-watch dial pad and dedicated speaker plus microphone mounted into the casing. Its round dial further adds to its elegant appearance. An all-black smartwatch with a military grade silicon strap, the Crossbeats Orbit Sport allows users to monitor key health metrics such as blood oxygen level, heart rate, blood pressure, breathing and sleeping pattern. The smartwatch further comes with an in-app GPS tracking system.
Molife Sense500
Molife Sense500 is another smartwatch in the segment with Bluetooth calling feature. The smartwatch comes with a large 1.7 inch infinity display with 2.5D curved edges, along with BP, SpO2, heart rate monitor and sports sensor. The USP of the smartwatch is its integrated calling feature including a mic, speaker and dialing pad. There is further a feature to customize watch face as per choice, occasion and mood. The brand claims that the watch will keep working even if submerged 1.5m deep in water for 15 minutes.
Shopevolves Nextfit Song S
Besides being a Bluetooth calling smartwatch, this smartwatch offers 4GB storage. It is perfect for music lovers as it's equipped with a Bluetooth Music feature and audio recording option. You can play the music directly on the smartwatch or connect it with your Bluetooth headphones. This smartwatch can store up to 750 songs and as many as 1000 contacts. It has a 1.4 inch full touch square display with silicone strap. Other features include step count, heart rate monitoring, SpO2 measurement, blood pressure monitoring and sleep tracking.
Smartwatches With eSim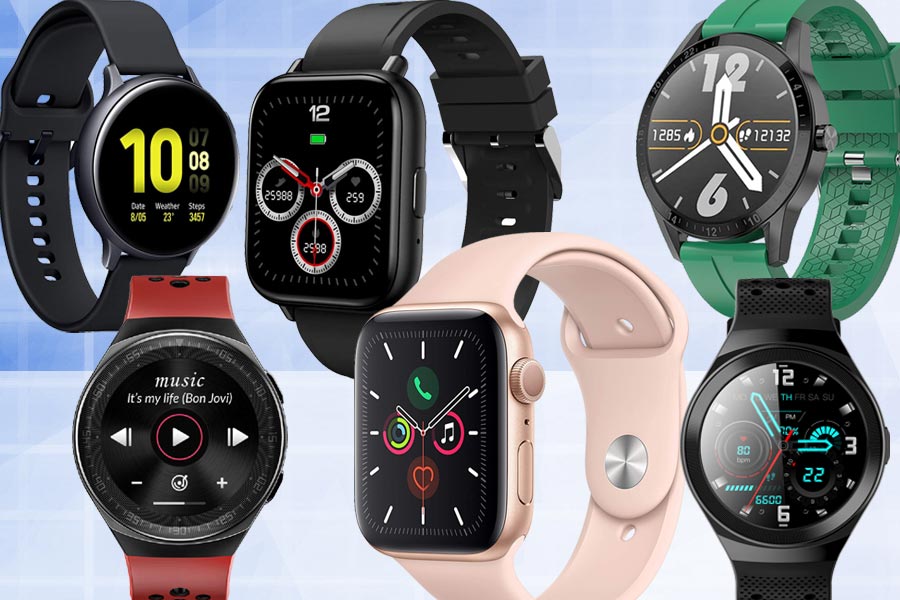 Apple Watch Series 5
Perhaps the costliest in the segment, it is the perfect companion especially for iPhone users. The smartwatch has 1000 nits brightness under sunlight. Apple integrated always on display mode for the first time in this smartwatch, which is laced with fast dual-core processor and a whopping 32GB storage. The features include GPS, Wifi, barometer, accelerometer, heart rate monitor and ECG. Water resistant up to 50 feet, the smartwatch has a loudspeaker. The most talked about cellular variant of the smartwatch is a first where there's eSim integration for taking calls on the go without any smartphone.
Samsung Galaxy Watch Active 2
This smartwatch from the house of Samsung is laced with multiple features such as Wifi support and downloadable watch apps. You can also access your smartphone camera and social media profiles using this smartwatch, with full control on a super AMOLED watch face with touch bezel. Apart from Bluetooth Calling, there are both automatic as well as manual tracking functionalities. Its curved design, molding on the wrist, has eight full photodiodes to monitor heart rate. It alerts if the heart rate fluctuates beyond normal levels. The Samsung Galaxy smartwatches support eSim.
Future Prospects – How will it improve our lifestyle?
According to a report, the global market of smart wearable is expected to reach shipments of 776.23 million units by 2026. "These numbers speak out very clearly about the future of smartwatches and yes, it is certainly the future of calling as so many innovations have taken place within the smartwatch category in a very short span of time," states Aashish Kumbhat.
The future is likely linked to its demand through hugely connected customers today. "Things such as strong internet reach, data-driven analytics, and technology that have been included in people's daily activities have contributed to its increased demand. Hence, many players in the smartwatch category are coming up with a calling feature now. With a smartwatch, one can make and answer the calls right from their wrist. Not only calling but tracking fitness levels as well. So, everything has come under a small portable device that is saving a lot of time in today's busy environment," elucidates Kumbhat.
The aforementioned facts are pretty self explanatory about the benefits of using smartwatches with Bluetooth or eSim calling, but to sum it up we can say that the foremost benefit is that you will never miss a call even if the phone is on silent mode and you are away from it. Secondly, a smartwatch would notify you but won't hinder or interrupt what you are doing. You can continue to work out and get on a call without interrupting your movements, or if you are in the middle of something important like a meeting, you can cancel a call with a single tap on your timepiece.