Taking your smartphone charging a step ahead, homegrown consumer tech brand RAEGR has introduced a new Made in India 20W PD adapter called RapidLink 200, which claims to top up your smart devices faster, almost three times faster than the original stock charger can.
The RAEGR RapidLink 200 delivers up to 20W of pure power with Quick Charge technology. It comes with a single Power Delivery port (USB Type-C) so that you can easily take advantage of the adapter for your recent flagship devices. Get almost 50% of your battery recharged within just 30 minutes, RAEGR said in a press note.
Also Read: RAEGR launches 'RapidLink 1150' GaN charger in India
The all-new 20W PD adapter is BIS-certified which guarantees quality, safety, and reliability. Since it's a Made in India product, the charging device meets the Indian Standards for power sockets (Type C) ensuring there is a snug fit with no room for loose connections that cause sparking and other hazards.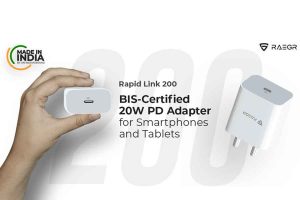 The adapter is said to be suitable for today's power-hungry Android and iOS devices, and has built-in safeguards that support multiple charging protocols which protect your devices against overcharging, overheating, overcurrent and overvoltage. Besides, it is also designed with a compact and lightweight body, making it highly portable and convenient for frequent travellers.
Also Read: RAEGR launches Portable 6-Port USB Type-C Hub 'Arc 2100' with thunderbolt, wireless charging
"The race for longer battery life on smartphones and tablets with larger capacity batteries only opened up a new necessity – faster charging. Who wants to wait for hours to get your smartphone charged? With RapidLink 200's Power Delivery system, your smartphones can rejuvenate almost three times faster so you can get mobile quicker," said Ajesh George, MD, RAEGR.
"While RAEGR not only ensures your device's safety and protection against power hazards, it also makes sure it's light on your pocket. Now you can pick a bunch of RapidLink 200's and have one plugged in every room at home or office," he added.
As for prices, the RAEGR RapidLink 200 20W PD will be available on Amazon for Rs 699. It also comes with a 1-year standard industry warranty.
Also Read: RAEGR Arc 1500 Review: Worth buying sterilizer-cum-wireless charger