Taking another step towards having a digital currency in India, PM Narendra Modi launched a futuristic digital payment solution, e-RUPI, on Monday via video conferencing. The platform is a person and purpose specific digital payment solution. It has been developed by the National Payments Corporation of India (NPCI) on its UPI platform in collaboration of Ministry of Health and Family Welfare, Department of Financial Services and the National Health Authority.
Ahead of launching voucher based digital payment solution, the Prime Minister, in a tweet, said, "Digital technology is transforming lives in a major way and is furthering 'Ease of Living.' At 4:30 PM tomorrow, 2nd August, will launch e-RUPI, a futuristic digital payment solution which offers several benefits for its users."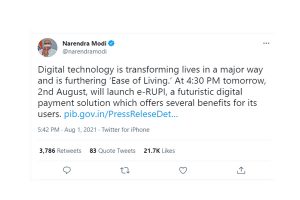 PM Modi, on Sunday, enumerated the advantages of digital payment platform "e-RUPI" and said that digital technology is bringing a massive change in people's life and making their life easier.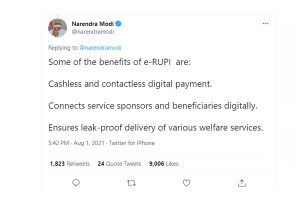 Cashless and Contactless instrument
According to NPCI, the e-RUPI platform is a cashless and contactless instrument for digital payment. In its statement, it is said that this digital payment system is a QR-code or SMS string-based e-voucher which will be delivered to the mobile phones of the beneficiaries. The users will be able to redeem the voucher at specific accepting centers without any credit or debit card, Internet banking access or digital payment apps. e-RUPI will connect the service sponsors and beneficiaries digitally without any physical interface. This could prove to be a revolutionary step towards ensuring leak-proof delivery of wellness services.
How will these e-vouchers be issued?
The new digital payment platform has onboard banks that will be the issuing entities. Any government or corporate agency will have to approach the partner banks, which are both public and private sector lenders with the details of specific persons and the purpose for which payments have to be made. The beneficiaries will be recognized using their phone number and a voucher granted by a bank to the service provider in the name of a given person would only be delivered to that person.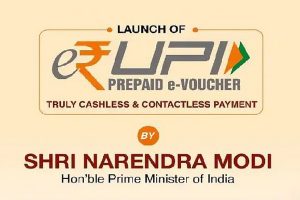 What are the benefits of e-RUPI?
In USA, there's a system of education vouchers or school vouchers through which the government pays for the education of students. The subsidy is given directly to the student's parents for the specific purpose of educating their children. Apart from USA, the school voucher system is also there in countries like Colombia, Chile, Sweden and Hong Kong.
According to the government of India, e-RUPI will ensure a leak-proof delivery of various welfare services. Being prepaid in nature, it will assure timely payment to the service provider without involvement of any intermediary. "It can also be used for delivering services under schemes meant for providing drugs and nutritional support under Mother and Child welfare schemes, TB eradication programmes, drugs & diagnostics under schemes like Ayushman Bharat Pradhan Mantri Jan Arogya Yojana, fertilizer subsidies etc. Even the private sector can leverage these digital vouchers as part of their employee welfare and corporate social responsibility programmes," the official press release notes.
How e-RUPI is different from digital currency?
The central government is working on the central bank RBI's plan to bring digital currency in the country. And with the launch of e-RUPI, it will be possible to access the potential for digital currency in the digital payment infrastructure. At present, e-RUPI is still backed by the existing Indian rupee as the underlying asset. The features of this digital payment system make it different to a virtual currency and put it closer to a voucher-based payment system.