With wearables increasingly becoming a part and parcel of our life, the number of companies making smartwatches have also proliferated. Homegrown brand Play is among the latest in the fray to have come up with yet another smartwatch called Playfit Slim, which comes equipped with features like full-touch display, multiple sports modes, heart rate and fitness tracker, sleep and SpO2 monitor, etc. Priced at Rs 3,999, the smartwatch comes in Galaxy Black and Mystic Blue colour variants, and I had the former for review. Although it looks good on paper, let's find out how it fares on different parameter of excellence.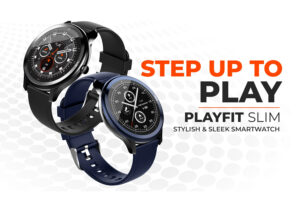 Design and Build
The Playfit Slim smartwatch wears a classic and sophisticated look, featuring a circular dial with TPU (thermoplastic polyurethane) straps attached to it. The round-shaped case consists of aluminum alloy, giving it a very solid build, whereas the back of the watch consists of plastic with a matte finish that makes the watch look polished. The interchangeable straps (having a stainless-steel buckle painted black) paired with the dial are a bit hard and not very skin-friendly, however it'll not cause any sort of discomfort to your wrist.
Talking about the dial, it's quite slim, offering a body dimension of 46.7×9.9mm. The company has used an LCD IPS display that sports a bit thick bezel on the edges, which definitely is a downside of this timepiece. The 1.3-inch display with 240×240 pixels resolution will offer you a good viewing experience indoors. The left side of the dial is basic, whereas on the right there is a tactile button that performs multiple functions and help you navigate the UI. It will take you to the menu and different modes.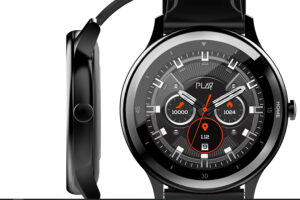 Comfort-wise, the watch offers you a perfect dial size – it is neither too large nor too small and is made for all wrist sizes. It hangs on to the wrist perfectly and will not make you feel heavy. Although the straps are a bit stiff, the smartwatch is comfortable to wear for hours and will not irritate you.
In terms of protection, the all-new Playfit smartwatch offers a IP67 rating that makes it withstand dust, water and dirt, which definitely is a very important feature for any wearable. Overall, it's a decent looking smartwatch justifying its price.
Also Read: Jabra Elite 3 Review: It does the job well with handy features
Features and Functionalities
In terms of user interface, the main screen shows you the time, steps, heart rate and calories burnt, however none of them is clickable. Pairing this watch to your smartphone is very easy and will not take much of your time. First of all, you need to download the Playfit app. The application can be used for getting a detailed view of your activities. Although the device already has four integrated watch faces, the app offers you a number of customisable, cloud-hosted watch faces.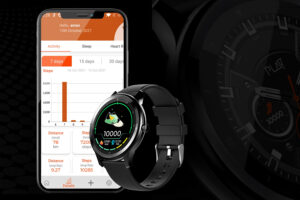 Starting with the SpO2 monitor which happens to be one of the most sought-after health-tracking features in a smartwatch (especially in the wake of COVID-19 pandemic), the results were somewhat accurate, although there was a minute difference of one or two per cent, which is not bad. Moving on to the heart rate sensor, there was consistency in count while measuring my heart rate. The BP (blood pressure) monitor happens to be another important health tracker the smartwatch comes equipped with. The results were fairly convincing with the BP tracker. Sleep tracker, which is present on almost all the smartwatches, wasn't much convincing. The results were unacceptable many times.
While the watch comes with a number of Workout modes (such as basketball, football, badminton, cycling, cricket, dancing and more in terms of sports tracking), counting the footsteps happens to be on everyone's mind while using a smart wearable. Amusingly, the Plafit Slim recorded some extra steps, however it's not that a big issue as it happens with many of the devices.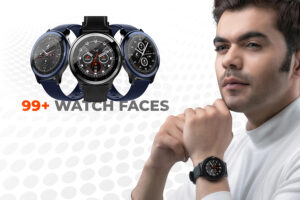 The smartwatch also comes with some other interesting features, such as weather tracking, remote photography, find your device and smart notifications, which are a must for today's lifestyle. Bluetooth Calling, which happens to be a much-sought-after feature nowadays is missing on this smartwatch. The company should have included this feature as it has become a trend now.
Also Read: Vivo X70 Pro Review: The camera king that's worth recommending
Performance
The touch response on this smartwatch is overwhelming. It's very smooth, and will easily take you from one option to the other. There is no issue with icons as they are big and bright. Similarly, the display is bright and readable indoors, however you'll have to struggle a bit under direct sunlight to read content on the smartwatch. Thankfully, there's an option to increase the brightness. Overall, it's a very easy to use smart wearable.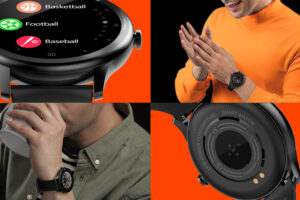 Battery Life
The Playfit Slim is powered by a 180mAh li-polymer battery, offering a working capacity of 7 days with 15 days standby time, which is really amazing. The device comes with two-pin magnetic charger. Following one complete charge, it lasted me for a week, standing tall to its claim. It takes around 2 hours to charge fully.
Conclusion
The smartwatch offers a great display, a sturdy and durable design, good comfort on the wrist, and somewhat accurate health-tracking statistics and SpO2 measurement. It looks quite decent and is stylish. The dial pad is pretty readable and battery life is outstanding. Although the Bluetooth calling feature is not over here, there's enough substance to own Playfit Slim at an affordable price.