Rapidly-growing homegrown brand Play is gearing up to introduce two avant-garde, made-in-India smartwatches – Playfit Slim and Playfit Strength. Adding these top-of-the-line products to its portfolio lays the foundation for the brand's end-goal to offer world class gadgets to millennials and Gen Z crowd.
Both the smartwatch models come equipped with features like full touch display, water and dust protection, multiple sports modes, heart rate and fitness tracker, sleep and SpO2 monitor, Bluetooth notification controller coupled with ingenious application, fulfilling the promises of a 21st-century device.
With this launch, the brand aims to delight their consumers in the festive season; these smartwatches will be available at the competitive pricing of Rs 3,999 (for Playfit Slim) and Rs 4,999 (for Playfit Strength). Consumers will be able to purchase these watches from November 30.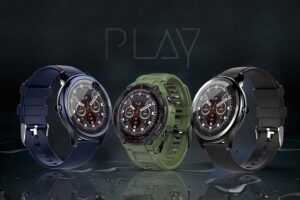 Hamish Patel, Chief Product Officer, Play, said, "These latest product innovations underline our commitment of offering top-notch and high-standard technology experience to our discerning consumers. Since its inception, Play has strived to positively surprise customers with innovatively designed products, weaved around futuristic technologies and at an affordable price. The wearable device industry is still in the infancy stage in India and amazingly rich products are destined to hit the market which shall pleasantly surprise the Indian consumer over the next few months."
"Powered by our design team in India, we are delighted to announce the Playfit series of our smart wearables which are 100% made-in-India too. With the introduction of these newfound smartwatches, Play aims to strengthen its leadership standpoint in the hitherto Indian e-wearable market so that customers can opt for best-in-class products and services in terms of cutting-edge e-gadgets," added Patel.
Also Read: Infinix to soon foray into laptop segment with INBook X1
The smartwatches come with two-pin magnetic chargers and an ingenious and interactive application that significantly improves users' lifestyle decisions. This uniquely-fashioned Playfit application is compatible with both iOS and Android devices.
On the back of energetic design and value proposition hosted in India for data protection, the application will assist the wearers in making better lifestyle-related judgments, resulting in an all-inclusive health-centric future.
Play is also focusing on a renewed packaging style that is more product-centric, thus uplifting the overall charm of these marvelous smartwatches.