Handset maker Oppo has been quite choosy with its operating system ever since the introduction of ColorOS 7 in 2019. Targeting a global audience, it introduced a modern user interface and streamlined its design. Later, with the roll out of ColorOS 11 in 2020, Oppo started maintaining naming parity with Android versions – integrating a host of Google features, including the dialer and Android messages, as default out of the box, and offering a sleek new UI with plenty of customisability as well as a host of extras, such as all the privacy features from Android 11 as standard.
This year's ColorOS build, which is unsurprisingly-dubbed ColorOS 12, further polishes Oppo's software endeavours, bringing in an inclusive design, new customization options, exciting additions, all the latest privacy and security features from Android 12, and less bloatware out of the box. Without further ado, let's get into the detail of ColorOS 12 and see how it performs.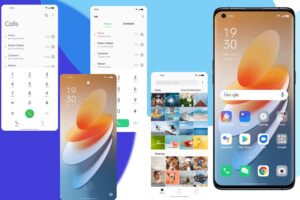 Design and UI: Visually appealing
The first and foremost thing that you will notice about ColorOS 12 is its UI, which looks clean due to the increased spacing between elements. While a majority of the interface features a white layout (black if you switch to dark mode), there are bright colours throughout ColorOS to give it a good contrast. These changes will be instantly noticed in the Settings page. You'll find less information density, larger text labels and the icons for each section housed in rounded bubbles with bright colours. These make the interface easier to read, decrease mess, and make it look more contemporary.
The similar thing can be said about the notification panel. Instead of using Google's gigantic tiles, Oppo has gone on with the rounded icons with text labels beneath. The only alteration you'll find is that the icons are larger, and the brightness slider is lumpy. The all-new ColorOS 12 is very inclusive in nature, as its user interface is available in 67 languages out of the box. These include over a dozen Indian languages. The handset maker has done a good job by localising fonts.
Customisation: An easy way to personalise your phone
ColorOS 12 stands out in terms of customisation, as the smartphone manufacturer has brought the ability to change the UI colours based on your phone's background. However, it isn't using Google's Material You. Oppo says it didn't have access to the feature in time for ColorOS 12, so it went ahead and made its own alternative. The feature is similar to how Material You's colour extraction works in Android 12; every time you change your phone's background, the colour picker will automatically select the dominant colour from the photo and use that system-wide.
There are a few new additions in always-on mode. You get four customizable modes that let you draw patterns or use a combination of text and custom images, and a new one for this year is Portrait silhouette. You can choose a selfie, and it will use machine learning to form a silhouette based on the outlines in the photo and set that as the background for the lock screen (and home screen as well). You'll also find a battery-drain notification that shows up whenever ColorOS 12 detects high power draw, with the option to optimize battery use.
There are a few issues as well. The text labels for icons are set to Extra Large out of the box in the app drawer. So, they look nonsensically large and make the drawer look packed. To make the app drawer look normal, you'll have to go into the Settings and adjust the size.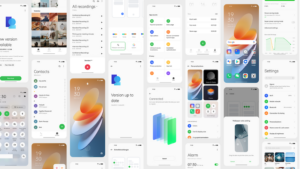 Features: Fun new additions
The all-new ColorOS 12 comes packed with a lot of features: some new and some upgraded with added functionalities. The Oppo's 3-finger screenshot and translation, for instance, has now extended to the Smart Sidebar. Besides, there's a new Background Stream option that pops up in the Smart Sidebar when you are watching any video on a streaming app such as Netflix, Amazon Prime, YouTube etc. This basically means that you can listen to the video in the background.
Although Floating Windows have been around for a while, in ColorOS 12 you can easily extend the size by merely dragging from the corner. And, you can drag and drop a photo from the Photos app into any compatible floating window. Android 12 features like the Conversation Widget and Quick Bubbles are also present. You'll also get Accessibility Features that have been broken down into four easy-to-understand segments and the company has also included GIFs to make it easier to understand these features.
Among other features, there's a new battery dashboard that gives you a better indicator of your phone's power usage, new battery-saving modes, and a Phone Manager dashboard that makes it easier to manage storage, security settings, privacy options, and more. Last, but not the least, RAM expansion feature remains a part of the new ColorOS, with the feature allowing the user to increase the allocation by up to 7GB for increased performance.
System optimisation: Great for multi-tasking
In terms of system optimisation, the ColorOS 12 comes up with a new Quantum Animation Engine 3.0 that's smoother than before, with dynamic scrolling actions and representational animations. While this is great for most tasks such as browsing the web and even multi-tasking, deeper inspection of the ColorOS 12 running device's performance revealed the beta build of the software is probably not being able to fully harness the power of the powerful hardware at hand. There is less bloatware and these user experience changes make the all-new version of ColorOS feel more natural.
Conclusion: Quite mature
The new ColorOS software feels more refined and feature-rich than before, kudos to its design which is well-organised and cohesive. There is a host of useful additions and you'll not feel like missing out on any of the features that Google rolled out in Android 12. In spite of being in the beta state, the operating system managed to deliver smooth and lag-free experience. ColorOS 12 feels quite mature, and with it, Oppo can deliver an UI, which is on par with best Android phones.